Former Mayfield grad, Mitch Longo, tearing it up in single-A
Hang on for a minute...we're trying to find some more stories you might like.
Mitch Longo, former Mayfield student and baseball player, has continued his sports career with Ohio University and the Cleveland Indians organization. He is currently on a 15-game hitting streak with the Lynchburg Hillcats as a part of the Cleveland Indian's minor league.
Longo graduated from Mayfield in 2013, and he was drafted by the Cleveland Indians in the fourteenth round three years later. He recollected that when found out he was drafted he had been driving to watch his younger brother's baseball game. He was so overjoyed that he pulled to the side of the road, stopping to hug his father. He felt "incredible relief" and a "burst of happiness," realizing the stressful draft process had ended positively.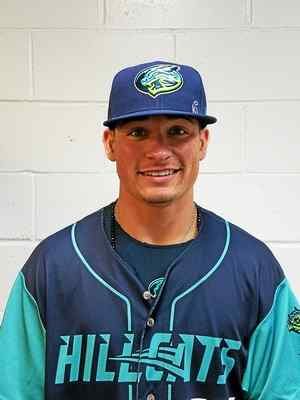 Since being drafted, Longo has played on many different baseball teams. He started with the Mahoning Valley Scrappers, playing 38 games and ending up with a .307 batting average. Then, he joined the Lake County Captains, participating in 55 games with a .361 batting average. After that, he played five games in Lynchburg, maintaining a .561 batting average. This year, he has continued in Lynchburg with the Hillcats, participating in 15 games with a .228 batting average.
Longo said his most memorable game was probably the Carolina League Championship, which his team won. During the three playoff games leading up to the championship, he gained a batting average of .462.
Longo has earned recent praise.  Matt Schlichting from letsgotribe.com said, "Longo tortured pitchers in 2017 in Lake County. Even at Single-A, .361/.431/.530 turns a few heads."   David Gasper from believelandball.com said, "Longo has all the tools of an ideal leadoff hitter. He hits for a high average, he's fast, he doesn't strike out a lot, and he can draw walks…If he stays at his current pace, he could be in line for a Spring Training invite in 2019."
On game days, Longo has a busy schedule. He stated, "I usually get to the stadium at noon and eat lunch. Then we have yoga following by a lift. From there we have cage work and early fielding. After that we hang out for a bit and maybe play ping pong or relax until pregame batting practice. Then our game is usually 6:30 or 7. After the game I do recovery work and stretch, eat dinner, and then home to bed. It's a long day."
Longo also explained his batting process, stating, "[I] stay simple and trust my work and practice I've put in. I make my moves off the pitcher's moves. I focus on the big part of the plate and hunt fastballs."
Before he became a professional baseball player, Longo attended Mayfield High School, where he earned many spots in the record book. He holds the Mayfield record for most doubles in a season (2012- 2013) with 11 both years.  He also has one of the top batting averages. In 2012, he had a .540 batting average, and in 2013, .494. Additionally, Longo has the all-time record in triples: in 2012 he had 9.  He is also mentioned in the record book for total hits with 47 in 2012 and for the most runs batted in (RBIs) with 40. He also has the most runs scored with 38.
Longo explained that he had a great time in Mayfield, making many memories on and off of the field. He also mentioned that he'll never forget the runs he made in baseball and Friday night lights; "Mayfield is a tight knit community," he said, and he is glad he grew up here.
After graduating high school, Longo attended Ohio University for three years, where he maintained a batting average of .355 over 142 career NCAA games.
Longo said that the person he learned the most from was his dad. "He has been around the game for a long time and knows me better than I know myself sometimes." Longo's athletic inspiration is Michael Brantley, an outfielder for the Cleveland Indians, because of his calmness and smoothness. Brantley has had some injuries in the past few years, but still maintains his nickname of Dr. Smooth.
Outside of baseball, Longo's favorite activity is fishing, commenting on how saltwater and freshwater is his escape.
Longo shared some advice for young athletes who aspire to play in college and beyond: "Believe in your abilities and all of the work you put in…Put in time to perfect your craft and take care of your body."
A special thanks goes out to Mitch Longo for his time for the interview, and luck goes out to him for the future.