MHS football impresses with undefeated season
 Mayfield's 2019 high school football season was one of the best they have ever had. They finished their regular season undefeated after a 27-24 win at Kenston on November 1.  This was the team's first undefeated season since 1984. Coach Ross Bandiera was awarded 2019 Division II OPSWA All-Ohio Coach of the Year.
Having taken down Kenston, the defending Division III state champs, the team had their eyes on the State Championship but lost to Archbishop Hoban 21 to 17 in the quarter-finals of the playoffs. This loss was a shock to Mayfield because the last time the two teams met Mayfield beat them 47 to 21.
As Mayfield Middle school assistant coach Chris Mittinger said, a state championship "would mean a lot to Mayfield. It would be the first state championship Mayfield has won since 1934. It would be huge for the school and its sports program from varsity down to the youth showing you can do something if you really buy into it."
Principal Paul Destino said, "we have a good athletic program that's dedicated to the kids."
Even though Mayfield lost to Hoba, the community and players were happy with the way the season ended–an undefeated season after a 35 year wait.
Mayfield's Nicholas Cunningham, one of the senior captains, safety and linebacker said, "I wasn't satisfied with our last game. We played a great game but they beat us on a couple of big plays in the second half. I feel that we should have won that game. At the same time, I think being in that game showed a lot of people how hard we worked throughout the season. Although the season ended earlier than we wished we did accomplish a lot throughout this season and changed Mayfield football forever."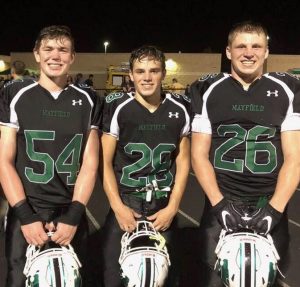 Joseph Isabella, slot receiver with  17 touchdowns chosen for First Team All-District said, "It was extremely sad knowing how hard we worked together to be successful, and almost everyone was crying tears of happiness. People were sad the season was over but happy that we were so successful because there is no group of kids that deserves success more than the players I played with. The guys I played with meant the world to me, and it was amazing how a group of high schoolers were so close together and caring for each other."
Joseph Suchy, running back, finished the year with nearly 1500 yards all-purpose and 12 touchdowns. He said, "Personally, it means a lot to me because my dad has coached at Mayfield since before I was born. For as long as I can remember I have gone to Mayfield football games, and I remember watching some great teams and players that came before us. To be able to finally accomplish a perfect regular season, which all of these great teams came just short of, was a surreal feeling. I think to the team overall it was just a testament to the hard work everyone has put in for years. We all sacrificed a lot to get to this point, and to be able to get to 10-0 showed that our hard work paid off."
Isabella also praised his teammates' hard work for the history-making season: "People were willing to play anywhere and do anything to help this team win. Kids on this team were willing to risk their body every single play for the guy next to them because of how close this team was with each other."
Cunningham reflected, "What made this team so successful is probably the combination of three things, experience, dedication, and love for the game."
For Joseph Isabella, the season was the perfect end to a long journey.  "It means the world to me. I started football in 7th grade and this sports team brought me in with open arms. This team has bonded so much over the years, and it is just so amazing to be able to make history with a group of guys like this."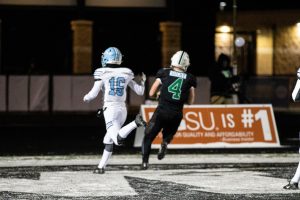 For the senior members, walking away from football marks a difficult moment.  Suchy said, "For it to suddenly come to an end is hard to swallow.  This year, as a Senior and with such a special team, I've definitely had a hard time dealing with the end of the season.  Us seniors put countless hours into Mayfield football, and for it to end it really hard.  But I think we all agree that what we were able to accomplish on the field this year was really special.  We broke records and made incredible memories."