The brand-new Mayfield Heights Aquatic Center is making a big splash in our community, promising an exciting and refreshing experience for people of all ages. The $36 million aquatic oasis has been years in the making.  The final site plan was approved in May 2022, and construction began in June 2022, with an estimated completion date anticipated for Summer 2023.  Open as of July 24, it is set to become the go-to destination for families looking to beat the summer heat and create lasting memories.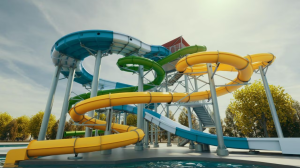 The Mayfield Heights Aquatic Center offers a wide range of attractions, but perhaps the most thrilling feature is its four amazing water slides. These exhilarating slides are sure to get your adrenaline pumping as you twist, turn, and splash your way to the bottom.
The Mayfield Heights Aquatic Center is a testament to the city's commitment to enhancing the quality of life for its residents. This transformative project, funded in part by the passage of Issue 9's income tax increase in 2020, brings a world-class recreational facility to our community.
Operating hours at the Mayfield Heights Aquatic Center are designed to fit your schedule. From Monday through Thursday, you can dive into the excitement from 4:00 PM to 8:00 PM. On weekends, the fun begins early, starting at 11:30 AM and ending at 5:00 PM on both Saturday and Sunday.
The Mayfield Heights Aquatic Center is committed to being accessible to everyone. Children under the age of 2 can enter for free, ensuring that even the littlest members of our community can enjoy the water.
Daily admission is just $7, making it an affordable option for local families. If you're not a resident, the daily rate is still a reasonable $10.
Season passes are also available.   An individual season pass costs $30 for residents and $55 for non-residents. For families looking to make the most of their summer, a family admission pass costs $80 for residents and $140 for non-residents. Seniors aged 65 and over can enjoy the aquatic center for just $20 for the season if they're Mayfield Heights residents or $35 for non-residents.
Remember to keep your identification and pool pass secure during your visit. In case you misplace them, a Lost ID or Pool Pass replacement fee of $5 will apply.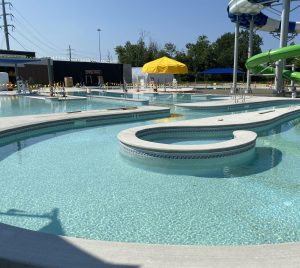 The dynamic design of the 12,000 SF aquatic center is designed to increase the programs available to the community while alleviating spacing limitations the Parks and Recreation Department has faced over the years. The aquatic center features two separate zones catering to specific user groups. The multi-use leisure pool has 3 lap lanes, perfect for learn-to-swim programs, and a zero-depth entry area with an interactive play structure, making it ideal for families with young children. The activity pool appeals to those seeking fitness and skill-based water activities, with 4 additional lap lanes, 3-meter diving, Aqua Zip'n, a basketball hoop, and a climbing wall. A unique feature at Mayfield Heights is the multi-lane racing slide that will create exciting opportunities for thrill-seekers and older users.
In addition to offering an array of activities, the Mayfield Heights Aquatic Center also has you covered when hunger strikes with its very own pizza concession stand called "Pizzazz Pizza." Serving up delicious, mouthwatering slices of pizza, it's the perfect way to refuel and keep the fun going. Just remember to bring cash because "Pizzazz Pizza" is a cash-only establishment.
So, what are you waiting for? Grab your swimsuits, sunscreen, and some cash for pizza, and head to the Mayfield Heights Aquatic Center for a splashing good time. Whether you're a resident or just passing through, this aquatic paradise is sure to make your summer unforgettable.
Come experience the thrill of the slides, the taste of Pizzazz Pizza, and the joy of family fun at the Mayfield Heights Aquatic Center. Get ready to make a splash and create lasting memories at the hottest spot in town!