On September 18 during a Monday-night game against the Pittsburgh Steelers, star running back Nick Chubb suffered a severe knee injury when tackled by Steelers' safety Fitzpatrick.  Chubb's knee buckled at an unnatural angle–an injury so disturbing that networks refused to replay it.
Prior to his injury, Nick Chubb was rated the #1 running back in the NFL according to Pro Football Focus. With 4.0 yards after contact per rush in the 2022 season and at least 1,000 rushing yds in each of his seasons, Chubb continued to put up numbers that impress. Even in the game in which he was injured, he was on pace for 200 yards.
Prior to his injury, Chubb was widely considered the best back in the league. According to Right Down Euclid,  "Chubb's success in Cleveland over the last five years has been due to his impressive talent and ability to run the ball. He is a sheer talent personified when rushing down the field."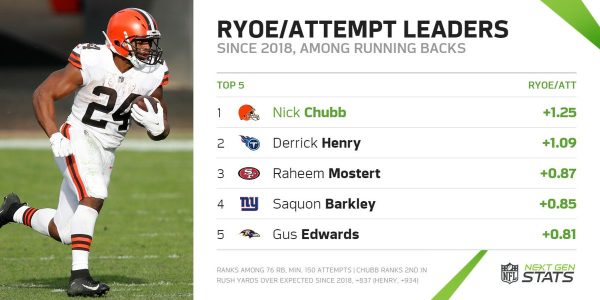 According to Brown's Nation, "Chubb is far and away Cleveland's most talented back. Instead of trying to get cute with the offense, it's probably better to just keep him in on third down. It doesn't have to be every time. He's human and he'll need his breaks."
Nick Chubb proved to all fans that he indeed was the best running back as he had 1060 yards in 2020, 1259 yards in 2021, and 1525 yards in the 2022 season according to ESPN. This streak of continuous improvement left Browns fans feeling hopeful.
Last year, Chubb's standout games were during weeks 1 and 8. In week 1 of the 2022 season against the Panthers, Nick Chubb had 22 carries, 141 rushing yards, and 25 long gains, again proving useful to the Browns. Week 8 against the Cincinnati Bengals,  Chubb had 23 carries, 101 rushing yards, 21 long gains, and 2 touchdowns. With a total of 1525 rushing yards in the 2022 season, he went on to become the best running back in the NFL.
The new season was looking to be another successful one for Chubb. According to ESPN, in week 1 of the 2023 season against the Cincinnati Bengals, Nick Chubb had 18 carries and 106 yards. With Chubb's help, the Browns went on to defeat the Bengals 24 – 3.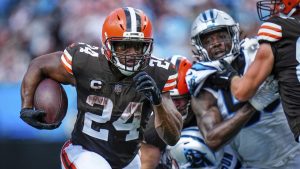 Prior to Chubb's injury, Mr. Rapposelli said, "I think he just continues to set the bar higher. I think he has higher expectations of himself." He also said, " I believe Nick Chubb is by far the best running back in the NFL. If I would put anyone up against him it would be Derrick Henry just because he is absolute power, but as far as a complete back, and just his yards after contact is incredible, so he's just committed, and he is a tough guy."
Mr. Yasenosky said, "I think he is an important part of our offense and because he is so good, and the defenses have to account for him, they might put focus on him and then that will free up the passing game. So when the quarterback fakes a handoff, all the defense might swarm in because they are afraid of Chubb, but then that might open up the passing game. So I just think he is so valuable in the run game because he does so well, and in the passing game because he is a good decoy. He is just awesome, he's in his prime, and he is the best running back in the league."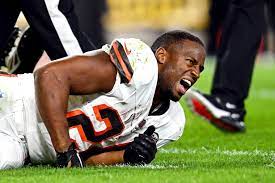 In response to Chubb's injury Coach Stefanski told AP News, "Very disappointed for Nick… He means a lot to this team, means a lot to this organization so he will be missed. But he will bounce back. I have no doubt."  Though former Browns running back Kareeem Hunt was invited to this week's practices, Stefanski said, "You don't replace Nick Chubb…It's always not one person that replaces a player of his caliber, so everybody's got to do a little bit more, got to do a little bit more everywhere."
This is Chubb's second injury to his knee.  He sustained a similar injury in 2015 while playing in Georgia. He is expected to undergo surgery and reconstruction followed by substantial rehab.