The Browns' off-season trades
Hang on for a minute...we're trying to find some more stories you might like.
The Cleveland Browns made some off-season trades that fans hope will make them more competitive in the 2018 season.
In March, prior to the 2018 draft, the Browns tried to remedy the situation at quarterback by getting Tyrod Taylor, formerly from the Buffalo Bills.  They traded their third-round pick, 65th overall, for him.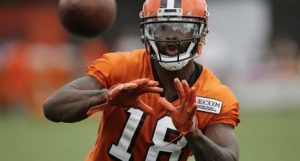 Jarvis Landry, wide receiver, was another off-season addition that had fans excited.  According to Sports Illustrated, Cleveland spent $47 million and a pair of draft picks to get him from the Miami Dolphins.  SI states that he "could be a weapon from any receiver spot."
With Landry at receiver, the Browns made a big trade to trade away Corey Coleman in August.  Coleman was a first round draft pick a few years ago.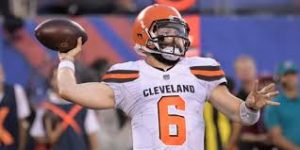 Arguably the biggest move by the Browns was drafting Baker Mayfield in April.  Mayfield, who was taken as the first pick of the first round, had 43 touchdowns in his last season at Oklahoma.  According to the Browns website, he was a unanimous five-time first-team All-American in 2017, and he also won the Heisman Trophy.  Mayfield also golds Big 12 records for yards per pass attempt (9.7), consecutive games with at least one passing score (40), and touchdowns responsible for (153).
They also picked up Carlos Hyde, who was a free agent.  He was formerly the running back for the San Francisco 49ers, where he had two back-to-back seasons with more than 900 rushing yards.  The Browns signed him to a three-year deal.
For the defense, the Browns made a trade for safety Damarious Randall. Randall had been a first round draft pick by the Green Bay Packers in 2015.  According to NFL statistics, Randall had ten interceptions in three years. The Browns site notes, "Since entering the league in 2015, has notched 140 tackles, 10 interceptions for 173 return yards, two touchdowns, 32 passes defensed and one fumble recovery in 39 games played."
With two new options at quarterback, a new receiver, a new running back, and an addition to the defense, it seems the Browns' front office was aggressive in making some big changes to change the team's performance this year. The Browns have not made the playoffs since 2002 and have not had a winning season since 2007, but the off-season trades have fans feeling hopeful.