Delly is back in Cleveland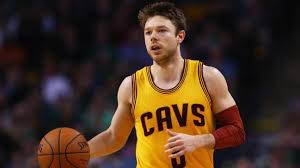 Matthew Dellavedova is back in Cleveland. The NBA champion came home to Cleveland for the first time since leaving the Cavs to go to the Milwaukee Bucks back in 2016. The last time Dellavedova was at the Q for the Cavs was playing in game 6 of the 2016 NBA finals.  Dellavedova had a message for Cleveland when it was announced that he would be back. On Twitter he said "Cleveland, thanks for the love. lets'go!!#18"
Cleveland got Dellavedova back from the Bucks in a three team trade on December 7. The trade was between the Bucks and the Washington Wizards. The Cavs got rid of guard George Hill and a 2021 draft pick to the Bucks. The Cavs also got forward John Henson and 2021 first and second round picks from Milwaukee.
When Dellavedova came back to the Q and met with the media, there were a lot of fans waiting to see  him and get his picture. Fans really like Dellavedova and even gave him the nickname, Delly. Delly became a fan favorite when he was first with the Cavs. Cavs fans know that Delly was an important part of the Cavs winning the NBA championship in 2016. Before the 2016 season, Delly was making a name for himself in Cleveland. Cleveland.com talks about the legend of Delly. They said "The legend of Delly began in earnest during Game 3 of the 2015 NBA Finals when the scrappy guard pestered Warriors superstar Steph Curry up and down the court for 38 minutes, scoring 20 points in an unlikely victory for the Kevin Love/Kyrie Irving-less Cavaliers."
Delly's first game back at the Q was against the New York Knicks. He got a standing ovation from the crowd. Cleveland.com  said, "When he drained his first shot, a 3-pointer from the right of the key, Quicken Loans Arena erupted to a level it perhaps hadn't seen all season long." In his first home game back at the Q, he scored 15 points on seven shots while going 3-of-5 from the three point line. The Cavs won the game.
Cleveland fans appreciate Delly's heart and that he plays hard every game. The fans know that Delly coming back isn't anything like when LeBron came back, but Cleveland's appreciation for Delly was clear from the welcome he's received.