Browns injury update: How will this affect the team?
The Browns won all three preseason games, nearly pulled out a win over the highly-favored Chiefs, then had victories over the Texans, Bears, and Vikings. Fans were excited and abuzz with Super Bowl hopes.  But that momentum abruptly shifted with the injuries of several Browns players and the following losses to the  Chargers, Cardinals, and division rivals, the Pittsburgh Steelers.
These injuries disrupted the Browns season, taking them from a hopeful start to their current record of 4-4.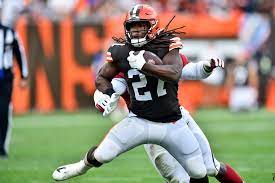 On September 19, in a victory over the Houston Texans Cleveland Browns quarterback Baker Mayfield suffered a shoulder injury. The Beacon Journal stated that he "completely tore the labrum in his left non-throwing shoulder."
Then on the last day of practice during week 6, Nick Chubb suffered a calf injury.  In the same week, in the fourth quarter in the loss to the Cardinals, Kareem Hunt went down with a strained right calf and will be out an estimated four to six weeks. A week later, Jarvis Landry sustained a knee injury.
"
"We have to be fluid in what we do. The truth is we may not know who is available…You have guys who may make it to the game and may not, and that is just life in the big city."
— Coach Kevin Stefanski
Cleveland Browns website lists all  of the players that are injured:
Odell Beckham Jr -Shoulder
Nick Chubb-Calf
Jadeveon Clowney-Ankle/Groin/Knee
Jack Conklin-Knee
Tony Fields II-Illness
A.J. Green-Groin
Blake Hance-Elbow
Kareem Hunt-calf
Malik Jackson-Knee
Jarvis Landry-Knee
Baker Mayfield-Left Shoulder
Jeremiah Owusu-Koramoah-ankle
Donovan Peoples-Jones-Groin
Malcolm Smith-Abdomen
JC Tretter-Knee
Denzel Ward-Hamstring
Jedrick Wills Jr-Ankle
Mack Wilson-Calf
The number of injuries on the roster will inevitably have an impact on the Browns performance and affect the outcome of their season. While the Browns led their division early on, they are now in last place in the AFC North, in jeopardy of securing a playoff spot. People were so excited this year for the Browns because they thought this was going to be the year they were going to get to the Super Bowl, but by the looks of the injuries, this could change the outcome. Some of their best players can't play the full game and some can't even play at all because of these injuries.
Behind the Steel Curtain stated "the shoulder injury to Baker Mayfield's non-throwing shoulder is also a cause for concern for the Cleveland Browns. Reports state Mayfield could play through the pain, but the injury could worsen and eventually affect his throwing mechanics."
The Ringer stated, "Cleveland came into this season still uncertain about the team's future with Mayfield. Now, six games in and with Mayfield out this week, the team seems to have more questions than answers."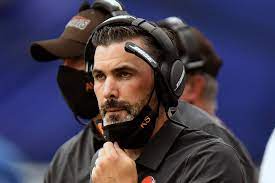 Coach Kevin Stefanski remarked that decisions about player status will be week-to-week. "With any injury, I am not the expert. I am not the medical expert so I will listen to the medical team here and will listen to the player. With every single player here, you treat them, and you have a dialogue with them. You talk to the doctors, and again, we will make good decisions and smart decisions with all of these guys."
"We have to be fluid in what we do, " said Stefanski. "The truth is we may not know who is available…You have guys who may make it to the game and may not, and that is just life in the big city."
MMS staff members shared their thoughts on how injuries are impacting the Browns. Ms. Leonard stated, "Injuries have played a role in our losses, especially because we have had so many on both offense and defense. Mr. Yasenosky stated "I just think that chemistry is the biggest thing that has been affected."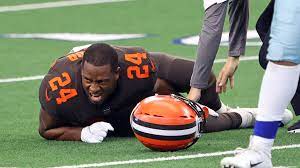 Mr. Shaffer stated "I think that injuries have definitely hurt the Browns this year. This weekend's past game was the first game that Jarvis, Baker, and Odell have been on the field together since last year. The fact that they are all back in the lineup is great, but all three are playing hurt and not 100%. I think you can see that we are still not full strength, and with this schedule, we need to be 100% to win those close games."
When asked which injury has impacted the team the most, Mrs. Leonard chose Nick Chubb. "Not only because of his running, but his leadership on the field as well," she said.
Mr. Yasenosky and Mr. Shaffer both identified Baker's injury as the most concerning. "Kase Keenum is good, but he's not Baker. He's not the starting quarterback," said Yasenosky.
Mr. Shaffer stated, "He is playing hurt, and it is pretty clear that he is not 100%. The other teams know this as well and are feeding off this weakness. He doesn't take as much time in the pocket in fear of taking a big hit, and he rushes some of his throws."
So what is the outlook for the rest of the season? Mrs. Leonard stated, "I'm always hopeful, I've been a lifelong Browns fan and will continue to support them."  Mr. Yasenosky has also not given up on playoff hopes, however expressed, "I feel concerned…It's week 7 and we still have 11 more games.
"I am concerned," echoed Mr. Shaffer, especially with the amount of losses we have already taken. But, even with these injuries we are in every single game we have played. So I am hopeful that with time for our guys to get better and the strength and depth of our lineup, I think we will be okay!"