Running Back J.K. Dobbins has a season-ending injury
J.K. Dobbins, NFL running back who plays for the Baltimore Ravens, pulled his ACL in a game versus Washington on August 28. He is anticipated to be out the remainder of the 2021 season.
Ravenwire detailed, "After catching a screen pass, Dobbins was hit low and immediately crumpled to the ground and grabbed at his knee. The running back had to be carted off of the field after not being able to put any weight on his leg. Just one day after the game, it was revealed that Dobbins had suffered a torn ACL."
Dobbins played college football at Ohio State, where he was the first running back to rush for over 1,000 yards.  He was drafted by the Ravens in the second round of the 2020 NFL Draft, says Arts Culture. He was drafted on a four-year contract for $5.7 million dollars.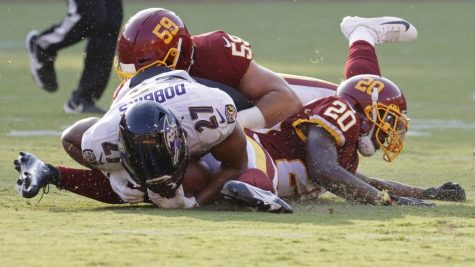 Due to Dobbins' talents on the field, his injury is expected to impact the Ravens, who seemed to be relying on him in a leading role.  Many expected him to have a big second season.
According to ESPN, "The Baltimore Ravens lost their second running back to a season-ending injury in a five-day span when Justice Hill suffered a lower leg injury at Thursday's practice."
After Dobbin's injury, which occurred in the Raven's last pre-season game, the mic that Coach John Harbaugh was wearing picked him up telling Lamar Jackson and safety Anthony Levine, "I just wanted to get the offense one series, you know, just to be together …"
Teammate Lamar Jackson said, "He came in, he [was] working hard… Then he goes down the last game of the preseason. That's tough seeing that. That's my brother, at the end of the day. I wanted to see him ball out this season. But it's all good, because we're going to have him next year. But that was a tough loss, for sure."
Dobbins's injury will also have an impact on Fantasy Football teams as well. Dobbins was ranked 34th  in fantasy football rankings, which means he was supposed to score the 34th most points.  A lot of people were excited because he was supposed to be good and so people picked him for fantasy.  People bet money on fantasy leagues, so now that J.K Dobbins recently tore his ACL, people have to make changes to their rosters and find replacement running backs.
One eighth-grader on Team Revolution gave feedback on how it's going to affect people. "[It] will affect people's fantasy in a negative way. Dobbins was drafted very high in many drafts and a lot of people expected him to be a top RB. Another student in the 8th-grade from Legacy said "Dobbins was said to have a breakout year this year and now all those hopes are gone."
Dobbins, who wears number 27 in honor of his father, who died when Dobbins was just 15, has a long, 12-month recovery ahead of him to rehab in time for the 2022 season.