New ice cream store, Handel's opens on SOM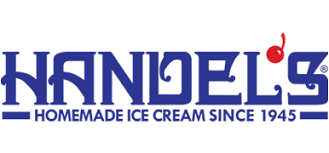 Handel's Homemade Ice Cream opened a new location in Mayfield on August 4. Located at 1249 SOM Center Road in the plaza with Five Guys and Crumbl Cookies, this shop will be open 7 days a week from 11 am- 10pm.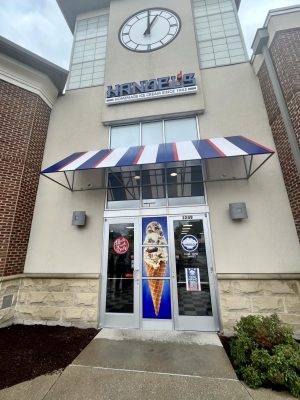 This is the second walk-in store in Ohio, with its daily homemade ice cream gaining lots of popularity. Separating Handel's from its competitors, Handel's is open all year long with frequent changes in seasonal flavors. 
Handel's has over 100 flavors of ice cream. The Mayfield Handel's currently has 42 flavors on their menu.
According to manager Bradley Castle, the best-selling flavors are butter pecan, birthday cake, buckeye, and blue monster. 
In addition to its usual rotation of ice creams, Handel's also offers limited time seasonal flavors. The ones available in September were caramel apple and cinnamon roll. At the beginning of October, ingredients arrived to begin offering  new pumpkin flavors like pumpkin pecan, pumpkin pie, pumpkin ripple, and pumpkin cheesecake chunk. 
This winter they will be adding peppermint stick and peppermint bark to their menu, and other Handel's locations may also offer egg nog.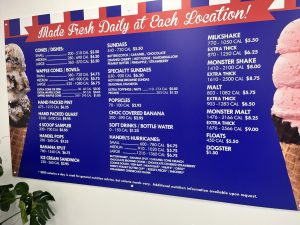 There are Handel's locations  in Twinsburg and in Macedonia. The brand stretches to California, Indiana, Ohio, Pennsylvania, Oregon, Arizona, Alabama, Utah, Texas and Nevada. 
Handel's is an ice cream store that has a very distinct origin story. It all began in the summer of 1945 when Alice Handel developed the perfect formula to beat the summer heat. The Handel's website shares that, "Using fresh fruit from her backyard garden and her own personal recipes, Alice lovingly made ice cream that quickly became a neighborhood favorite. Handel's, and a commitment to quality, was born."
To this day, the ice cream is still made homemade with Alice's original recipe. What makes her recipes special and different is the fact that many ice cream chains do not sell homemade ice cream products, according to Mayfield Heights location manager Bradley Castle. 
Castle explains that he starts his morning making ice cream and then serves customers in the afternoon. Castle concludes his statement by mentioning that, "All of our ice cream is homemade every morning."
Business at the new Mayfield location started strong. When Handel's first opened, a lot of people came, but as the weather has started getting colder, fewer people come.
According to Bradley Castle, "when it's cold and rainy, no one wants ice cream." 
When the weather gets colder, the business hours do decrease. Starting on November 1st the location will open and close an hour less. They will be open from 12:00-9:00. 
The cones and dishes vary from a small that is $3.50 to a large that is $5.50. There are also waffle cones and even waffle bowls available for an additional charge.  
If customers want ice cream to take home or to share, a hand-packed pint of either ice cream or sherbet of choice is $6.25. A quart is $9.95. 
For those with a big appetite or those struggling to choose among Handel's many flavor options, a 4 scoop sampler is $5.50.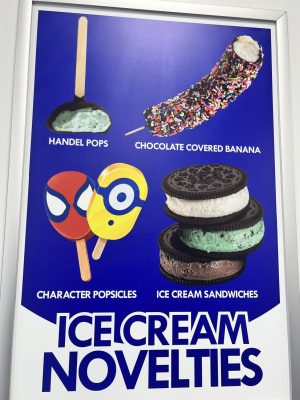 If you don't want a scoop of ice cream there are many other options you can have. They have a variety of items including one for your furry little friends and vegan options. 
They offer hurricanes which are similar to Dairy Queen's Blizzards with mix-ins of favorite candies, toppings, or syrups. They also offer shakes, ice cream sandwiches, and Handel pops, which is any flavor scoop of ice cream dipped in chocolate. They also have classics like banana splits and sundaes. You can get any of your favorite classic flavors of sundaes. 
For those who need a dairy-free option, there are several options: multiple flavors of vegan sorbets, sherbets, chocolate almond milk ice cream, and coconut milk ice cream. 
They also offer character popsicles and chocolate-covered bananas. 
Lastly, Handel's also caters to dogs with options of Dogsters and Frosty Paws ice cream cups.
The Wildcat Voice staff tried and reviewed a dozen different ice cream flavors on a recent visit to the new location.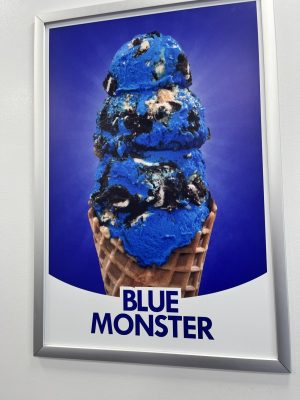 Blue Monster  
The blue monster is a blue vanilla ice cream with Oreo cookies and crumbled Nestle Chocolate Chip Cookies. The Oreo was definitely noticeable; and the chocolate chip cookies tasted like cookie dough but were not completely noticeable. The overall flavor of the ice cream was good; the vanilla went well with the Oreos. But be careful! The blue vanilla ice cream will dye the mouth and teeth blue for a little while! (Reviewed by Logan Gray)
Strawberry Cheesecake
This features a cheesecake base ice cream with strawberry ripple and cheesecake chunks. It tasted like a normal cheesecake but in an ice cream form with cheesecake chunks. It was a light pink color with yellow graham cracker chunks and small pieces of strawberry. I give it an 8/10. I love cheesecake already but if you don't like cheesecake then this might not be for you. (Reviewed by Jocelyn Aviles)
Mint Chocolate Chip
The Mint Chocolate ice cream is mint-flavored ice cream with bits of chocolate mixed in.  It was overall an average mint ice cream, except it was a bit bland. The bright green flavor threw me off a little bit, but it wasn´t an awful experience.  I would recommend this;  the mint isn´t too strong, so you might enjoy this. Overall, my rating for this would be a 7/10, and I would most likely get this again. (Reviewed by Alex Ferenczy-Jones)
Candy Apple
The Candy Apple ice cream is a sour apple-flavored ice cream drizzled with gooey caramel. Sadly, it was a bit too sour to enjoy fully, and the taste makes your tongue feel uncomfortably tingly. However, the caramel was a great touch, and the ice cream did genuinely taste like a sour apple. It was creamy and melty, but I would not get it again. I would give this a 6/10, I would recommend if you like sour desserts. (Reviewed by Alex Ferenczy-Jones)
Caramel Pretzel Crunch
The Caramel Pretzel Crunch ice cream features caramel ice cream with caramel ripple and chocolate-covered pretzels. Unfortunately, the caramel ice cream tasted like vanilla with not a lot of flavor.  She notes that lovers of caramel who order this ice cream may be disappointed with the subtle flavoring. However, the caramel ripple added a great caramel to the ice cream, and the chocolate-covered pretzels pushed it over the top. The pretzels had a great chocolate-to-pretzel ratio, with egg-shaped pretzels dunked in chocolate. Overall, Caramel Pretzel Crunch is an 8/10.  (Reviewed by Jenna Inmon)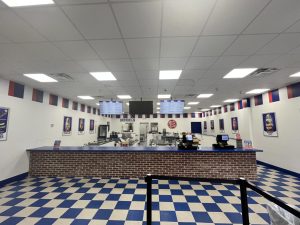 Vanilla with Oreo
The ice cream flavor Vanilla with Oreo showcases classic Oreo cookies mixed into a basic vanilla ice cream base. This ice cream may sound basic to the general ear, but it sure may surprise your taste buds. Oreo cookie pieces are thoughtfully mixed into the ice cream, and you'll be sure to taste them with every bite. The ice cream itself is extremely creamy and smooth, while the creme-filled cookies add an extra layer of crunch. Overall, this ice cream is definitely geared for people who desire crunchy toppings and a crispy taste. With all of these points, the flavor receives a rating of a 7/10. (Reviewed by Ella Garrett)
Banana
This is a banana ice cream made using fresh bananas. It is very good with a strong banana flavor. There are no chunks of banana. It's a nice smooth ice cream. If you are a big fan of bananas, this is an ice cream for you. I would give this ice cream an overall 8/10. (Reviewed by Samantha Coburn)
Cinnamon Roll
This is a cake batter ice cream with a brown sugar cinnamon ripple. This ice cream is sweet and creamy with a nice cinnamon spice. If you love a nice cinnamon roll you should definitely try this. I would give this ice cream a 10/10. (Reviewed by Samantha Coburn)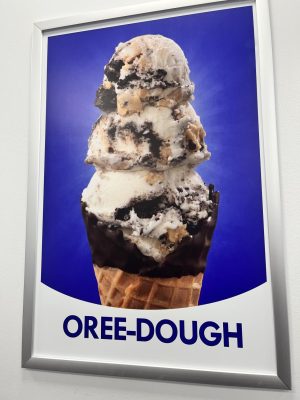 Oree-Dough
Oree-Dough ice cream is vanilla-based ice cream with Oreo cookies and cookie dough pieces. It tastes similar to Handel's vanilla with oreo ice cream. It mixes well with the vanilla, and the cookie dough pieces taste a bit like cinnamon. If you like Oreos, you're okay with crunchy pieces, and you aren't afraid to try something new, then it's highly recommended. All in all, the rating would be 9/10. I'm not a huge fan of crunchy things in my ice cream which is why I took off a point. (Reviewed by Jaeda-Marie Gross)
S'mores
S'mores is graham cracker ice cream with marshmallow ripple, chocolate chips, and mini marshmallows. The  base ice cream, graham cracker, tastes better than it looks–it tastes exactly like a cinnamon flavored graham cracker. The marshmallows are quite creamy but other than that they pretty much taste like regular marshmallows. Lastly though, the chocolate chips are not shaped like mini  kisses like might be expected; they are actually little squares of Hershey chocolate pieces. Overall it has the exact same taste as a classic campfire s'more but cold. I rate it a decent 8/10. The liquidness of the marshmallows weren't my favorite. (Reviewed by Jaeda-Marie Gross)
Coffee Chocolate Chip
Coffee chocolate chip is a coffee-flavored ice cream with chunks of chocolate chips. The ice cream tastes exactly like what is expected. The coffee ice cream wasn't overly sweet and so the ice cream was actually bittersweet–a taste similar to tiramisu. The ice cream had a nice ratio of chips to ice cream. Even though I personally liked it I wouldn't recommend it to teens who are looking for a sweet creamy treat. Overall I give it a 7/10 just because when compared to other coffee-flavored ice creams it was bitter. Adults who enjoy the taste of coffee might love this flavor. (Reviewed by Haley Kerns)
Buckeye
The Buckeye flavor was my favorite. The taste, consistency, and the little buckeye cookies in the ice cream made for an amazing  experience. The taste of the ice cream is a subtle but sweet peanut butter flavor. This achieved by blending vanilla ice cream with peanut butter. Then it has bite-size small buckeye cookies (chocolate covered peanut butter balls) inside of the ice cream that finishes it off.  (Reviewed by Camille Gooden)
Black Cherry
This ice cream is for cherry lovers only! Black cherry features dark, juicy, whole chunks of real cherries within a cherry base ice cream. The flavor looks and feels extravagant. I would definitely order it again. (Reviewed by Camille Gooden)
Cherry Vanilla
If you're not a die-hard cherry fan but still enjoy them, cherry vanilla is the best second choice. It features a vanilla base with maraschino cherries mixed in.  A less tart, sweeter option than the black cherry flavor, this ice cream tastes similar to cherry candies. Overall, this ice cream was enjoyable. (Reviewed by Camille Gooden)
Raspberry Chocolate
Raspberry Chocolate is an amazing flavor–sweet abut also tart from the raspberry and bitter from the dark chocolate chunks.  The complex flavors were enjoyable all together.  If you're a fan of something sweet and tart, this is the ice cream for you. (Reviewed by Camille Gooden)
Just a short walk from the middle school, the new Handel's location offers a prime spot for after-school treats, classroom rewards, and pre-game snacks.