The 25th anniversary of Friends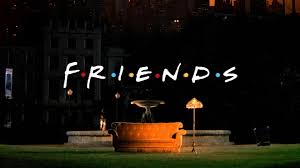 Click HERE for a MMS Friends montage!
In 1994 six people sat in a coffee shop in New York, not knowing that this would change their lives and the whole world. After ten hilarious and emotional seasons, the show came to an end, but through the endless re-runs and the millions of fans, the creativity and humor live on. This year, September 22, 2019, marks the 25th anniversary of the pilot episode of Friends.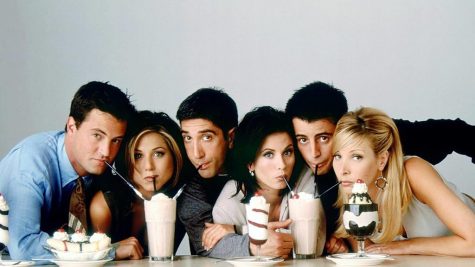 Friends is a TV show based on six people, all with different personalities, coming together to create an inseparable bond. 
The Hang Outs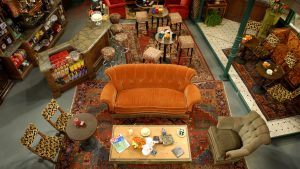 The gang's usual hangout spot in the coffee shop, Central Perk, is now an iconic spot. With its orange couch and giant coffee cups, it become a important part of the sitcom. Gunther, madly in love with Rachel and very under appreciated, runs the coffee shop. There are 97 steps from Joey and Chandler's apartment, counted in The One With George Stephanopoulos. Central Perk was Rachel's first real job, and Joey took a job there when he needed to pay rent. The gang hung out at the coffee shop a lot, more than going to their actual jobs. Before becoming the most popular coffee shop, it was a bar, shown in The One With the Flashback.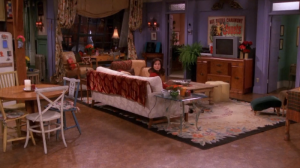 The iconic apartment of Monica Geller was another hangout for the gang, for it was huge, and all six of the friends lived there at one time. A two bedroom, one bath like hers in West Village would cost about $7,000-$8,000 per month, according to hookedonhouses.net.
The Characters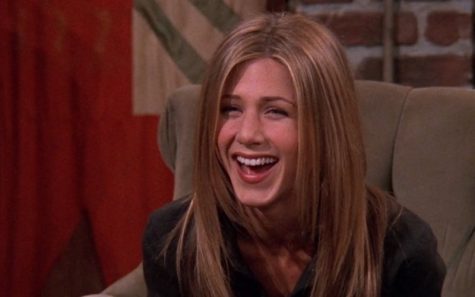 Rachel Green was first introduced running into Central Perk with a wedding dress. Having been very reliant on her father, living in the big city on her own was scary. When she met Monica's friends, she found her home. Rachel is a very outgoing and beautiful person. On and off with Ross, she had her most popular moments on the show when with Ross. A poll of MMS teachers revealed that 9%  like Rachel the best of the show's characters. Mrs. Bartram says that Rachel is her favorite because she can be hilarious, sensitive, serious and compassionate all at the same time, and that you can really feel her emotions. Played by Jennifer Aniston, she was the highest paid T.V.  actress during that time, also winning 3 awards.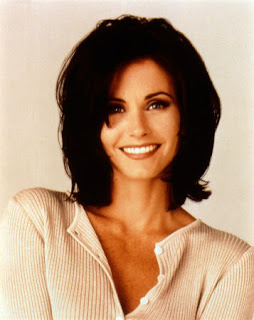 Monica Geller, the organization-obsessed, energetic, and loyal person of the group, cared about others before herself. Always in her brother Ross's shadow in her mother's eyes, she tried her best to be better than Ross her whole life. After hearing about Rachel in the coffee shop, she invited Rachel to help her pay the rent and crash at her place. After this, Rachel and Monica became best friends, recreating the friendship that they had in high school. Monica's character was played by Courtney Cox. The writers thought she was a perfect fit for Rachel, but in the end, her true character shined through and she landed the part as Monica Geller.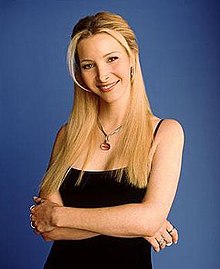 Phoebe Buffay was the crazy, silly, caring friend who didn't care what people thought of her. She was introduced as Monica's former roommate. Having a terrible childhood, she always tried to make the world a better place. Singing silly songs in the Central Perk and running like a kid, Phoebe always taught people that it's okay to stand out. She was played by Lisa Kudrow, who was 31 when the series began, making her older than the rest of the cast. She also won an Emmy for her work. Phoebe tied with Chandler for the favorite; all teachers that voted for her said that her quirkiness made them laugh every week.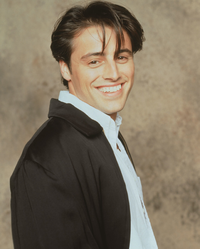 Joey Tribbiani was the caring, childish, and protective friend. Though he was not the smartest of the bunch, he had the biggest heart: love for his friends and food. Joey always wanted to be an actor, and no matter how many times he got knocked down, he always got up and tried out for a new role. Joey never got married, nor did he ever have a serious relationship. Best friends with Chandler, they met when he applied to be Chandler's roommate, and the two became instant best friends. Joey is 18% of the staff's favorite, because he made them laugh. Joey was portrayed by Matt Le Blanc. Le Blanc also played Joey again in the spin-off Joey, which was cancelled after two seasons.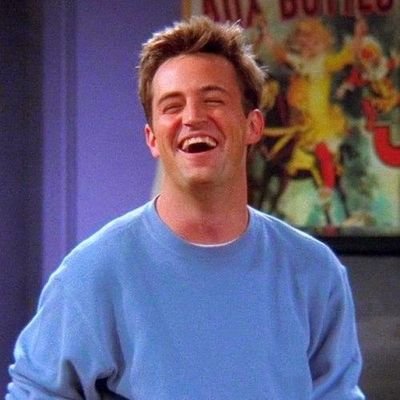 Chandler Bing, the sarcastic, awkward, and lovable character, never failed to make people laugh week after week. Chandler was introduced as Ross's best friend in college. He lived in the apartment across the hall from Monica with Joey. He would make anyone laugh or smile no matter what was bothering him. Chandler is tied for the most-liked character according to the poll, along with Phoebe, both with 27.3%. The teachers enjoy his sarcasm and his humor. Chandler was played by Matthew Perry, who was originally not considered for the part at all. The sitcom would be completely different if he had been turned down.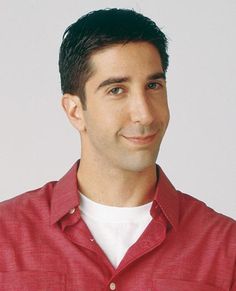 Ross Geller, smart, funny, and caring, was the glue of the whole group. Being Monica's older brother, Chandler's college roomate, and Rachel's on and off boyfriend, the show would be boring without Ross. Ross has a son with his first wife and a daughter with Rachel. He has been married and divorced three times, and the gang always brings it up in arguments or as a joke. Ross would walk to the end of the Earth for all the people in his life, and he cares about those people so much. 18% of the teachers said he was the best. Mrs. Shaffer says "Ross is such a comical character. The best part is that he doesn't even seem like he's trying to make you laugh. He's just hilarious!" Mr. Stephens likes Ross because he's funny, he is an underdog, and he's not afraid to be himself. Ross, played by David Schwimmer, earned an Emmy for his work on the show.
Popularity
All the iconic lines and recurring jokes have people quoting Friends all the time. From "How You Doin'?" to "Pivot!" fans can't choose their favorite.
Friends is so popular that is was streamed on Netflix for 32.6 billion minutes last year, right behind The Office, with 52.1 billion minutes.
The gang got $21,000 in Season 1, $21,000-$40,000 in Season 2, and in Season 3, they all argued for equal pay, each receiving $75,000. Each Season their salaries got higher, in Season 4, earning $85,000, and Season 5 hitting 100 grand. In Season 6, they received $125,000. In Season 7&8 they got $750,000, and in Season 9&10, they finished off their Friends series with a whooping $1 million dollars.
Why is this show so popular? Mr. Bright said, "A show about friends trying to cope in this life…it tickled the funny bone one moment and turned on the tears the next! It felt real! Everyone knew a person in their life who reminded them of at least one of the characters from the show!" Most people would say that the show and its characters were relatable.
81 celebrities guest starred in the span of the 236 episodes. Most have had small lines, but each guest was a surprise.
Because this show is so popular, fans have hoped for a reboot, but directors have shut down the rumor saying that the humor can never be recreated. None of the actors want to step into those roles again. They can't pick off where they left off, or re-create the humor and passion that they had.
The series finale had 52.5 million people tuned in live to watch the friends say their final goodbyes. This was the fifth biggest audience to watch the end of a series. With M*A*S*H in first, Cheers taking second, Fugitive in 3rd, and Seinfeld in 4th, being in the top 5 is not surprising. The cast was so sad to say goodbye, they kept crying, having the make-up team do their make up constantly.
The show ended 15 years ago, but people still can't let go of the sitcom that touched their hearts forever.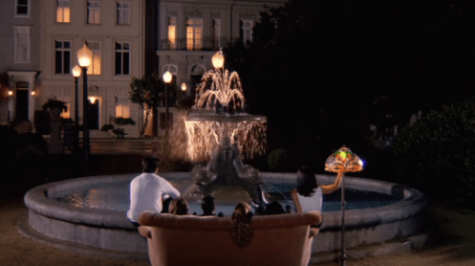 Click HERE for a MMS Friends montage!