Online learning replaces snow days in some districts; is Mayfield next?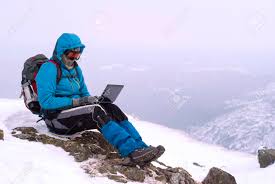 In Anderson, South Carolina, a newly-implemented system has replaced the luxurious snow day with online classes for its students. Through Google Classroom, students are given that day's assignments and are required to complete them. The system is operating through a process that is very different from homework; the teacher monitors the students' screens in real time and tracks their progress.
Anderson District's official goal is to prevent instructional time being lost due to snow days. According to teachers and education officials  in Anderson, the system is working well and has prevented educators from losing valuable instructional time. This idea of replacing snow days with at-home e-learning days is attracting more and more districts. It eliminates the danger of using too many snow days and having to dip into spring breaks or summer vacation to meet the minimum day requirements set by the state.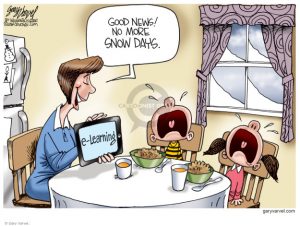 The effectiveness of replacing snow days has been well praised by the educators of Anderson School District 5, but how does the idea go over here in Mayfield?  I consulted Superintendent, Dr. Keith Kelly, about what he thought about the whole system. "The technology tools that are available to students and teachers today could perhaps be some sort of a solution to lost instructional time due to snow days." He added, "We have not yet examined a virtual system for dealing with snow days and the loss of instructional time…without having had the opportunity to learn more about the system, it's not something I can speak to in terms of pros and cons."
Mayfield, along with other districts, are likely looking to models like Anderson's to see how it works. If suitable parameters are assigned, the exchanging of the snow day for an online system of work could become the norm.
Of course this online program has some flaws. Foremost, educators cannot readily regulate their students' work; to clarify, they may monitor their work, but they cannot make them work or offer effective cues or feedback like in the standard classroom. 
Additionally, some students without reliable Wifi connections would be at a disadvantage. According to the 2015 US census, 77 percent of homes have internet access. While the remaining 23 percent can use public access points like libraries under normal circumstances, the travel issues of a snow day make that unrealistic. 
On a less practical and more emotional level, both students and staff would miss out on the carefree magic of a snow day.  Movie marathons, binge-watching TV, playing in the snow, or sleeping in would be powerful temptations preventing teachers and students from logging in to and staying focused on e-learning.
Technology offers new opportunities to easily extend learning outside of the traditional school setting; districts must now decide when and how to take advantage and when to unplug.