Mr. Destino honored as OMLA Educator of theYear
On Wednesday September 14, Mr. Destino won the Ohio Middle Level Association Educator of the Year Award. The entire school celebrated with a surprise assembly.
The Ohio Middle Level Association (OMLA) is a group of middle level educators that provide professional development and resources for middle schools in Ohio. Mr. Destino has been involved with the group for 20 years.
Mr Rapposelli, who teaches 7th grade science and has known Destino for 17 years said, "He has been a member of the Ohio Middle Level Association ever since I have known him. He plays a role in creating conferences that are extremely beneficial to educators."
Mr. Destino first started teaching at Cleveland Heights Middle School as a social studies teacher. He then became the assistant principal there. He was then asked to be the Principal at the Mayfield Middle School.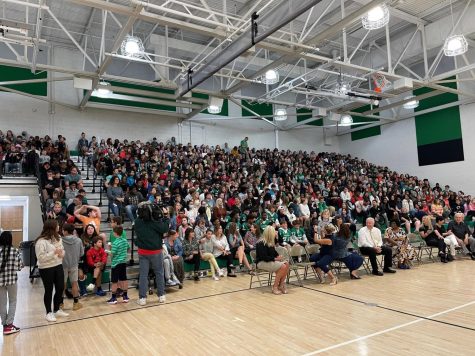 To initiate the celebration and assembly, at 8:00 am, assistant principal Mrs. McLaughlin made the announcement over the speaker that the school would be gathering in Our House Arena.
McLaughlin announced that Destino had won this honorable award and the school was going to be surprising him.
Mayfield Superintendent Dr. Michael Barnes opened the assembly–getting students pumped and making sure they had a lot of energy to welcome Destino into the building.
Dr. Barnes told the students in the gym to get really quiet so we all could surprise him when he heard that Destino was in the building. When Destino walked into the gym, there was an eruption of noise and confetti. The whole school was on their feet and emotions were high.  Destino was moved to tears.
Destino stated, "It was just pure shock and awe. I was humbled. It's great to see what hard work does."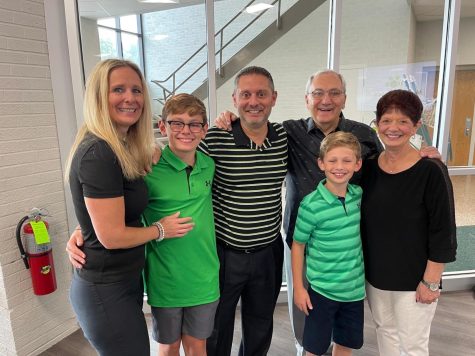 Mr. Destino's wife, Natalie Destino, and two children Anthony and Dominic were at the event. His parents came in from Buffalo, NY, and even his former principal from Cleveland Heights were present for the surprise.
When Mrs. McLaughlin, Mr. Paydo, and a few other teachers got the notice that Destino was chosen as educator of the year, they decided to plan a surprise reveal. They decided to call it "Operation Meatball" says Mr. Paydo. '
Mr. Paydo also states, "We were going to have the assembly last spring but decided to wait until the fall. We had a small team, and we were worried that it would get out, so we kept it small."
McLaughlin states, "Staff was made aware three days prior to the event for planning purposes."
When asked what it is like working with Mr. Destino, Mrs. Vokic, who's known Destino for 15 years states, "he is a leader that allows his staff to make choices that benefit the students for the better." 
Mr. Rapposelli also says, "He is extremely dedicated to making the school a great place for kids, and his passion spreads like wildfire." When asked what he most admires about Destino, he said, "Italian, good looking, enjoys football, strong family man, positive energy, superb outlook on life."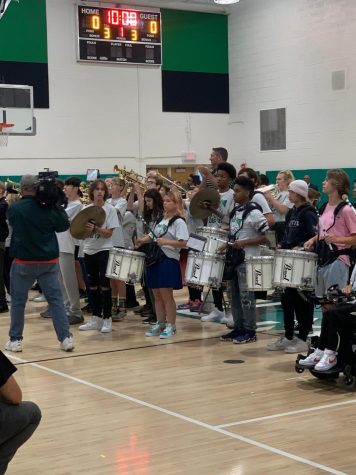 Mrs. McLaughlin, the assistant principal of MMS said, "There is always great energy in the main office. Mr. Destino has taught me so many useful strategies when working with parents and students."
Mr. Paydo says, "He is a motivator; he gets people to do the work that needs to be done, but they have fun doing it."
A memorable story that Mr. Paydo has of Destino is on a field trip in 2021. "He decided to take the 8th graders last year to his hometown. He surprised his parents on their front lawn."
From others' stories, Mr. Destino is a fun-loving guy who likes to keep things positive. He likes to put smiles on people's faces and truly cares for his family, his students, and the Mayfield community.
Congratulations to Mr. Destino for all the hard work put into making Mayfield Middle School a positive place for students, their families, and staff.