7th and 8th grade football season comes to an end
The Mayfield Middle School 7th and 8th grade football teams wrap up a great season. The season started officially on August 1st, and ended on Tuesday, October 11. Seventh grade ended with a 3-4 record and the eighth grade ended with a 6-2 record.
Several players were honored for their success this season. Ryan Eppich is the offensive MVP, leading the 8th-grade team with 14 touchdowns. The Green and White Award went to Gio Iacampo with 1100 passing yards and 14 touchdowns. Co-defensive MVPs Ben Koret and Sonny Arrieta led the team in tackles. Trey Brown led the team in interceptions. Mo Ibriham and Guiseppe Mangelluzzi were co-linemen of the year. 
Commenting on the great season, head 8th-grade coach Brian Stephens says, "Actually this team has great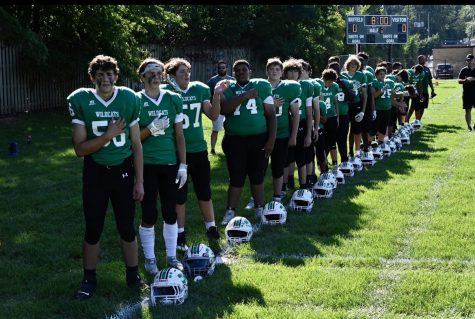 chemistry. I call football the ultimate team sport. There are obviously other team sports but this is the only one where you truly rely on everyone doing their job on every play." 
One of the highlights of the season was on Wednesday, September 28, when the team beat Kenston after being down most of the game. Trey Brown grabbed the ball from a Kenston player and the Wildcats recovered it with less than 2 minutes to go. Ben Koret then scored the touchdown, putting Mayfield ahead with 31 seconds left. Iacampo completed the conversion pass to Manny Rogers, and the Wildcats won the game.
Defensive player Sonny Arrietta reflects on this and says, "The best moment of the season was definitely after we beat Kenston."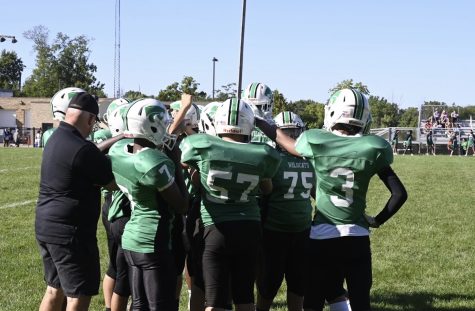 Coach Stephens also comments, "Kenston beat them as 7th graders, and late in the 4th quarter were down 4 points and came back and scored a touchdown in the last 2 minutes." 
Arrietta also mentioned how he gets a thrill out of playing, and how much joy the game brings him. Wide Receiver Ryan Eppich agrees with this and comments, "I get so much happiness from the game ,and it's a big place to realize anything." 
Head 8th grade coach Brain Stephens calls football the ultimate team sport. Elaborating on that, Coach Stephens says, "One of the things that I think about football is that it is a sport where the players really need to rely on each other and I think it brings out things in individuals when they realize they really truly have to rely on each other, and it's really special when that happens."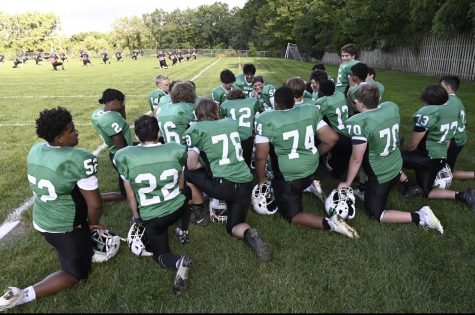 Eppich and Arrietta both agree that their teammates are a big part of why they play, and what inspires them to keep going.
Guiseppe Mangeluzzi talks about why he doesn't quit: "The ability to have that respect of being a player and when you are at practice and it's hard, but you are showing the coaches you want to play."
Head 7th grade coach Christopher Mittinger noted, "I love football because it has the most parallels to actual life and it teaches lessons that no other sport can teach you–accountability, discipline, teamwork, work ethic in general."