An Oscars Disaster? An Academy Awards Recap
The 89th Academy Awards, also known as the Oscars, kicked off at 8:30 P.M, February 26th and has been the topic of discussion for the past few days. While it mostly went as planned, tiny mess-ups, political jabs, and a major mistake that left the crowd reeling made this award ceremony a little different from the last.
Jimmy Kimmel hosted the show, and, along with the usual humor, came a slew of political jokes, all aimed at Donald Trump. From saying "This broadcast is being watched live by millions of Americans and around the world in over 225 countries that now hate us", to thanking Trump for making last year's Oscars no longer look racist, jabs were made at the president like never before. He also referenced the angry tweets against Meryl Streep by Trump that called her "overrated" and "a Hillary flunky", much to the laughter of both Streep and and the audience, before asking them to give her a standing ovation. He also spoke about Trump's tweeting habits, and around two hours in explained his surprise that Trump had not tweeted about them yet, sending him a message on Twitter that said "hey @realdonaldtrump u up?" and "#merylstreepsayshi". He also targeted supposed frenemy Matt Damon with a couple of jokes, even conducting the orchestra beneath the stage to play over him when it was his turn to speak.
But jokes aside, there was one moment that will be forever preserved in Oscars history: the legendary mix-up between La La Land and Moonlight for best picture. The mess-up was due to Warren Beatty, who was to announce the winner, getting the wrong red envelope. What followed were a couple seconds of confusion, before he handed it to fellow announcer Faye Dunaway who read the card out loud: "La La Land". The happy crew came up, on the stage for at least three minutes, giving speeches, before commotion began to take place. People began coming to the stage and speaking with La La Land's crew, causing frowns and concern behind the speech-givers before producer Jordan Horowitz told the confused audience and viewers that La La La Land had lost, Moonlight had won, and it was not a joke.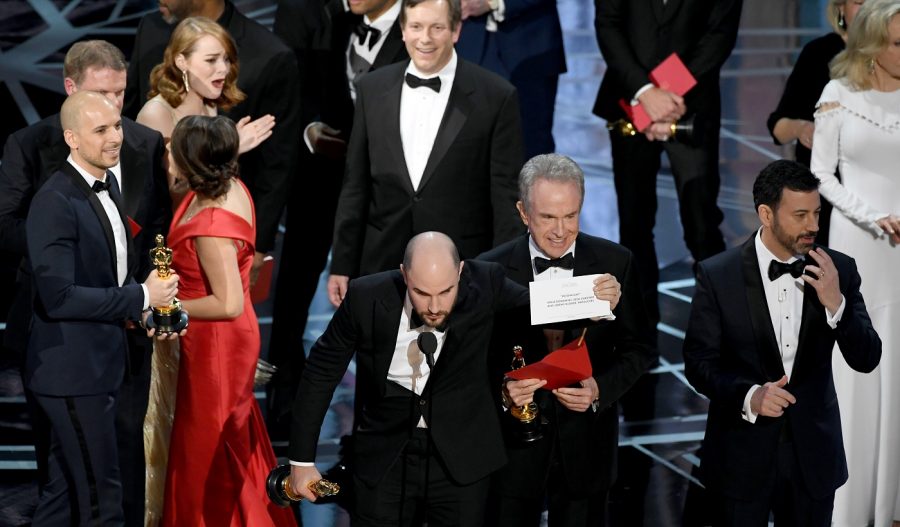 So who was to blame for the fiasco? According to The New York Times, it's the accounting firm PricewaterhouseCoopers (PwC), and its partner Brian Cullinan. He and a fellow partner are responsible for giving the announcers the winners' envelopes. For extra security there are two of them, and Warren Beatty ended up receiving the second envelope for Emma Stone's Best Actress Oscar. This explained his moment of confusion: "I read the card that was in the envelope," Beatty told reporters on his way to the Governors Ball, a post-show party. "I thought, 'This is very strange because it says best actress on the card. And I felt that maybe there was some sort of misprint." Twitter may have been responsible for Cullinan's fatal error: around the time Beatty was set to announce the winner, he tweeted a picture of Emma Stone with her Oscar, pictured below.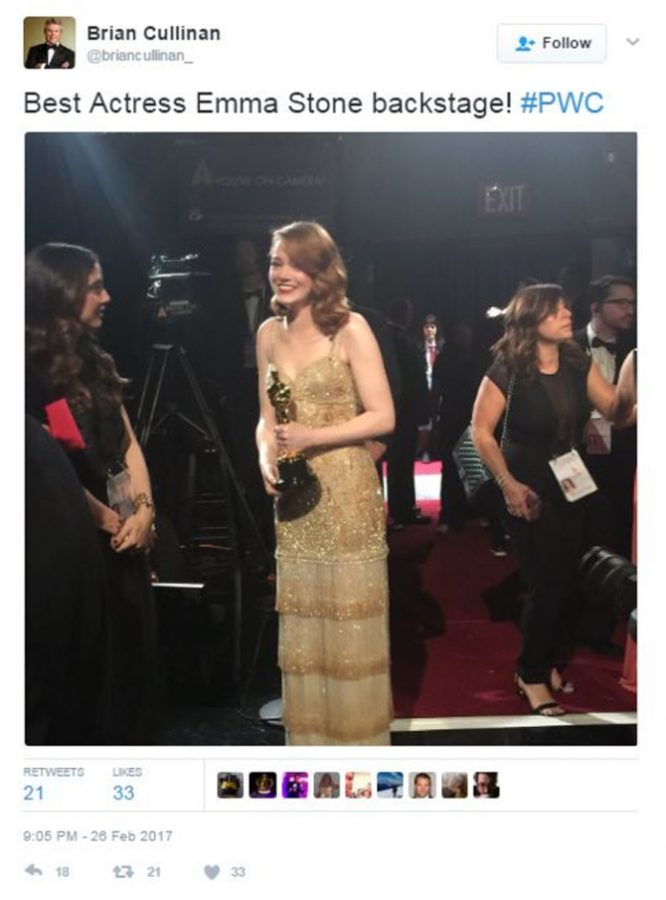 There were other highlights of the night, however, such as Viola Davis' emotional speech for Best Supporting Actress in Fences. This was her third nomination and first win, the prior two nominations for Doubt and The Help (she lost the latter, somewhat controversially, to Meryl Streep). In her acceptance speech, Davis said, "People ask me all the time, what kind of stories do you want to tell, Viola? And I say, exhume those bodies, exhume those stories, the stories of the people who dreamed." She continued on for a long and memorable speech, crying tears of joy as she did so, rewarded at the end by vigorous applause by the A-list audience.
Davis played Rose Maxson in Fences, the down-to-earth housewife of Troy Maxson, and a woman who did what she could to keep her family thriving amid turmoil. She described the movie as "a movie that is about people, and words, and life, and forgiveness, and grace." Her Twitter was full of praise for her achievement, which includes not only the Oscar, but being the first black actress to win a Golden Globe, Tony, and Oscar for acting. Whoopi Goldberg is also an EGOT (Emmy, Golden Globe, Oscar, Tony) winner, but her Tony is for producing.
Another little mess-up, not nearly as immense as the Best Picture mistake, also took place on the awards stage Sunday night. Auli'i Cravalho, the Hawaiian actress who made her debut as the voice of Moana in the hit Disney film Moana, was hit in the face by a dancer's flag while she was singing the song "How Far I'll Go." She was introduced by Dwayne "The Rock" Johnson, a fellow co-star who voices Maui, and Lin-Manuel Miranda, who wrote the song and is accredited with the well-known musical Hamilton, who rapped a few lyrics before she took the stage. Though she winced for only a second during the incident, she smoothly continued the song like nothing had happened.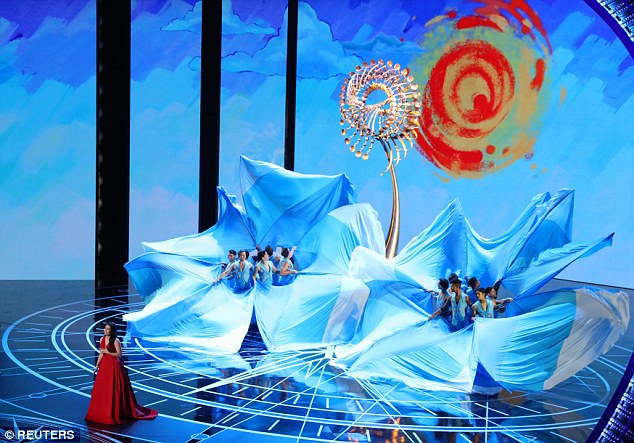 © REUTERS
Jimmy Kimmel also explained a surprise that had been set up: unsuspecting tour bus passengers, who had been told they were going to an Oscars dress exhibition, instead walked through open doors to find themselves at the Academy Awards. Most whipped out their phones to film and record, taking selfies with Mahershala Ali and his Oscar. Jennifer Aniston gave her sunglasses to one lucky passenger, while Ryan Gosling gave a gift to another. Another passenger told Kimmel she was there with her fiance, (nicknamed "Gary from Chicago"), and her favorite actor was Denzel Washington, who got up and pretended to marry the two. They also came up to kiss the hands of Meryl Streep and Halle Berry while Jimmy Kimmel joked that Casey Affleck was not "a vagrant" in the audience.
There was also a political statement against Trump when it came to the foreign film category. An Iranian film, "The Salesman" won, but its director, Asghar Farhadi, chose to boycott the show in protest of Donald Trump's travel ban that forbade people from seven pre-dominantly Muslim countries (Iraq, Syria, Iran, Sudan, Libya, Somalia and Yemen) from entering the U.S. Instead, Anousheh Ansari, an American-Iranian businesswoman, accepted the award and read out a message from Farhadi, explaining that he was not attending to stand up for those "who have been disrespected by the inhumane law," referring to those who were affected by the ban.
Diversity played out too, with a record-breaking six black nominees, and Mahershala Ali the first Muslim actor to take home an Oscar (he played Juan in Moonlight, a film about the struggles of a young gay black man raised in the ghettos in poverty, with Juan, his neighbor, who took care of him). Here is a complete list of the Oscar winners and nominees:
Actor in a Supporting Role
Mahershala Ali, Moonlight (WINNER)
Jeff Bridges, Hell or High Water
Lucas Hedges, Manchester by the Sea
Dev Patel, Lion
Michael Shannon, Nocturnal Animals
Makeup and Hairstyling
A Man Called Ove, Eva von Bahr and Love Larson
Star Trek Beyond, Joel Harlow and Richard Alonzo
Suicide Squad, Alessandro Bertolazzi, Giorgio Gregorini, and Christopher Nelson (WINNER)
Costume Design
Allied, Joanna Johnston
Fantastic Beasts and Where to Find Them, Colleen Atwood (WINNER)
Florence Foster Jenkins, Consolata Boyle
Jackie, Madeline Fontaine
La La Land, Mary Zophres
Documentary Feature
Fire at Sea
I Am Not Your Negro
Life, Animated
O.J.: Made in America (WINNER)
13th
Sound Editing
Arrival, Sylvain Bellemare (WINNER)
Deepwater Horizon, Wylie Stateman and Renée Tondelli
Hacksaw Ridge, Robert Mackenzie and Andy Wright
La La Land, Ai-Ling Lee and Mildred Iatrou Morgan
Sully, Alan Robert Murray and Bub Asman
Sound Mixing
Arrival, Bernard Gariépy Strobl and Claude La Haye
Hacksaw Ridge, Kevin O'Connell, Andy Wright, Robert Mackenzie, and Peter Grace (WINNER)
La La Land, Andy Nelson, Ai-Ling Lee, and Steve A. Morrow
Rogue One: A Star Wars Story, David Parker, Christopher Scarabosio, and Stuart Wilson
13 Hours: The Secret Soldiers of Benghazi, Greg P. Russell, Gary Summers, Jeffrey J. Haboush, and Mac Ruth
Actress in a Supporting Role
Viola Davis, Fences (WINNER)
Naomie Harris, Moonlight
Nicole Kidman, Lion
Octavia Spencer, Hidden Figures
Michelle Williams, Manchester by the Sea
Foreign Language Film
Land of Mine (Denmark)
A Man Called Ove (Sweden)
The Salesman (Iran) (WINNER)
Tanna (Australia)
Toni Erdmann (Germany)
Animated Short Film
Blind Vaysha
Borrowed Time
Pear Cider and Cigarettes
Pearl
Piper (WINNER)
Animated Feature Film
Kubo and the Two Strings
Moana
My Life as a Zucchini
The Red Turtle
Zootopia (WINNER)
Production Design
Arrival, Patrice Vermette and Paul Hotte
Fantastic Beasts and Where to Find Them, Stuart Craig and Anna Pinnock
Hail, Caesar! , Jess Gonchor and Nancy Haigh
La La Land, Davis Wasco and Sandy Reynolds-Wasco (WINNER)
Passengers, Guy Hendrix Dyas and Gene Serdena
Visual Effects
Deepwater Horizon, Craig Hammack, Jason Snell, Justin Billington, and Burt Dalton
Doctor Strange, Stephane Ceretti, Richard Bluff, Vincent Cirelli, and Paul Corbould
The Jungle Book, Robert Legato, Adam Valdez, Andrew R. Jones, and Dan Lemmon (WINNER)
Kubo and the Two Strings, Steve Emerson, Oliver Jones, Brian McLean, and Brad Schiff
Rogue One: A Star Wars Story, John Knoll, Mohen Leo, Hal Hickel, and Neil Corbould
Film Editing
Arrival, Joe Walker
Hacksaw Ridge, John Gilbert (WINNER)
Hell or High Water, Jake Roberts
La La Land, Tom Cross
Moonlight, Nat Sanders and Joi McMillon
Documentary Short Subject
Extremis
4.1 Miles
Joe's Violin
Watani: My Homeland
The White Helmets (WINNER)
Live Action Short Film
Ennemis Intérieurs
La Femme et le TGV
Silent Nights
Sing (WINNER)
Timecode
Cinematography
Arrival, Bradford Young
La La Land, Linus Sandgren (WINNER)
Lion, Greig Fraser
Moonlight, James Laxton
Silence, Rodrigo Prieto
Original Score
Jackie, Mica Levi
La La Land, Justin Hurwitz (WINNER)
Lion, Dustin O'Halloran and Hauschka
Moonlight, Nicholas Britell
Passengers, Thomas Newman
Original Song
"Audition (The Fools who Dream)," La La Land, music by Justin Hurwitz, lyric by Benj Pasek and Justin Paul
"Can't Stop the Feeling," Trolls, music and lyric by Justin Timberlake, Max Martin, and Karl Johan Schuster
"City of Stars," La La Land, music by Justin Hurwitz, lyric by Benj Pasek and Justin Paul (WINNER)
"The Empty Chair," Jim: The James Foley Story, music and lyric by J. Ralph and Sting
"How Far I'll Go," Moana, music and lyric by Lin-Manuel Miranda
Original Screenplay
Hell or High Water, Taylor Sheridan
La La Land, Damien Chazelle
The Lobster, Yorgos Lanthimos and Efthimis Filippou
Manchester by the Sea, Kenneth Lonergan (WINNER)
20th Century Women, Mike Mills
Adapted Screenplay
Arrival, Eric Heisserer
Fences, August Wilson
Hidden Figures, Allison Schroeder and Theodore Melfi
Lion, Luke Davies
Moonlight, Barry Jenkins and Tarell Alvin McCraney (WINNER)
Directing
Denis Villeneuve, Arrival
Mel Gibson, Hacksaw Ridge
Damien Chazelle, La La Land (WINNER)
Kenneth Lonergan, Manchester by the Sea
Barry Jenkins, Moonlight
Actor in a Leading Role
Casey Affleck, Manchester by the Sea (WINNER)
Andrew Garfield, Hacksaw Ridge
Ryan Gosling, La La Land
Viggo Mortensen, Captain Fantastic
Denzel Washington, Fences
Actress in a Leading Role
Isabelle Huppert, Elle
Ruth Negga, Loving
Natalie Portman, Jackie
Emma Stone, La La Land (WINNER)
Meryl Streep, Florence Foster Jenkins
Best Picture
Arrival
Fences
Hacksaw Ridge
Hell or High Water
Hidden Figures
La La Land
Lion
Manchester by the Sea
Moonlight (WINNER)

Loading ...