Youth homelessness on the rise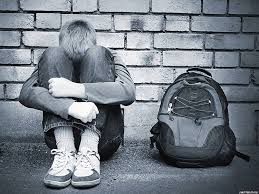 Homelessness is more common than many people realize. With 3.5 people in America losing their homes each year, youth are being increasingly impacted.  The National Center for Housing and Child Welfare states there are between 1 million and 1.7 million homeless youth.
Locally, the problem exists as well. The NEOCH (Northeast Ohio Coalition for the Homeless) estimates 23,000 people in Cuyahoga County experience homelessness each year.  The number of families experiencing homelessness in Northeast Ohio has seen a 24% increase since 2015.  In 2017, the Cleveland Public Schools saw 2,744 homeless students.
It is likely that teachers and students have encountered or will encounter a homeless youth, whether they know it or not.  Students may be homeless without the staff knowing.  Common signs are hunger, a lack of school supplies or clean clothes, poor hygiene, tiredness, and poor school performance.  Without a reliable residence, these students do not have reliable access to a comfortable bed, a place to work or study, a shower, laundry facilities, or consistent meals.
A homeless youth is classified as someone under the age of 18 that lacks parental care or a reliable residence. Commonly, many homeless minors suffer from depression, have experienced physical or sexual abuse, have strained relationships with family members, or even have attempted suicide. Homeless youth are at high risk for dropping out of school, and females are more likely to be or to become pregnant.  They are also more likely to be incarcerated as adults.
Homeless individuals suffer disease and illness at much higher rates due to unsanitary conditions, malnutrition, and stress. They often lack preventative health care due to not having insurance.  Homeless youth also have higher exposure to violence and addictive substances.  
The reasons for youth homelessness can be classified under three categories: family problems, economic issues, and residential instability. 
According to NationalHomeless.org, "many minors that run away or become homeless have suffered from sexual abuse, strained relationships, drug or alcohol addictions, and or parental neglect." 
Roughly half of all homeless youth were asked to leave their homes by a parent or guardian.  A high number of homeless youth, up to 40% according to the National Coalition for the Homeless, identify as LGBT.  Up to 22% of homeless girls are pregnant.  For these conflicts and others, some minors are rejected from their parents' homes. 
A large percentage of homeless youth are also runaways.  According to the National Coalition for the Homeless, "23.8% claim to be physically abused or beaten, or left due to caretaker's drug or alcohol abuse."   
Another leading cause to homelessness is economic problems. If a family is financially struggling, this results in "lack of affordable housing, limited employment opportunities, insufficient wages, no medical insurance, or even inadequate welfare benefits."
In Cleveland, about 18% of the population is living in abject poverty.  This represents about 230,000 people.  As a result of low incomes, many people rely on subsidized housing. In 2017, the Cleveland Courts dealt with 11,000 evictions.
Due to evictions or a lack of affordable housing, families might rely on shelters or transitional housing for a temporary solution. Welfare programs may even remove children from parents when housing is not secured, which results in families being separated.
Many minors in foster care become homeless in the process of being emancipated.  With about a half million children currently in foster care in the United States, about 20,000 of those youth "age-out" each year.  Minors are often discharged from the foster care system without having employment, shelter, or a support system in place.  According to FosterFocus, within 18 months of emancipation, 40 to 50% of foster youth become homeless.  According to National Coalition for the Homeless, "More than one-in-five youth who arrive at shelters came directly from foster care."  
Regardless of the reason for experiencing homelessness, more than one million youth in the United States are without parental support or consistent shelter.  And the number has been on a slow but steady increase for years.  These youth are at high risk for illness, trauma, abuse, addiction, and crime.  Identifying these youth and providing them with support systems can help their chances for survival and success.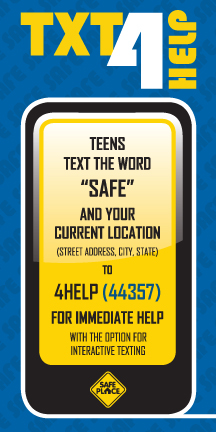 To use TXT 4 HELP, text the word "safe" and your current location (city/state/zip) to 4HELP (44357).
Within seconds, you will receive a message with the closest Safe Place site and phone number for the local youth agency. You will also have the option to text interactively with a professional for more help. It's quick, easy, safe and confidential.