On September 15th, a union called the United Auto Workers (UAW) launched a strike at Ford's assembly plant near Detroit, Michigan, General Motors's assembly plant in Wentzville, Missouri, and Stellantis's (the owner of several car companies, including Chrysler, Jeep, and Ram) assembly plant in Toledo, Ohio.
Then, on September 22nd, UAW workers from 38 General Motors and Stellantis part distribution centers in 20 states joined the strike. Also, on September 29th, Ford's Chicago and GM's Lansing assembly plants joined the strike.
As of the time of publication, over 25,000 workers were on strike. The strike started due to a contract negotiating subjects like wages and benefits not being signed before the midnight deadline on September 14.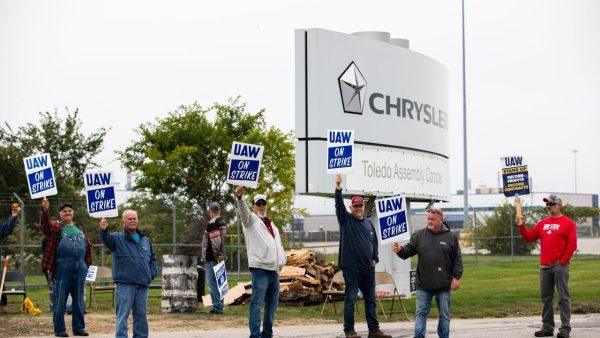 First, let's get into the specifics of this strike. This is the first simultaneous strike against all of the "Big Three" automotive producers in UAW history. The UAW usually strikes against only one company at a time before they achieve a deal with the company, which often prompts other companies to create similar deals.
The contract between the UAW and the aforementioned companies was created, as the UAW states, due to several shortcomings by the companies for workers' pay.
For some context, there are two tiers of workers at these companies: the "top tier" workers, who were hired in or before 2007, and the "bottom tier" workers, who were hired after 2007. According to CBS News, there is a great disparity between these tiers, as those in the bottom tier get paid almost half the amount of those in the top tier. They also do not get defined pensions and get worse health benefits. Additionally, since workers haven't had any cost-of-living adjustments to their wages since the 2008 recession, the value of their wages has fallen about 20% since then.
On the contrary, the Big Three's profits have grown significantly. Since 2013, the combined profits of Ford, GM, and Stellantis (then called Chrysler) have increased by 92%, and the salaries of the CEOs of these companies have increased by 40% according to the Economic Policy Institute.
The companies, according to NBC News, have stated that they need to use these profits to fund their production of electric vehicles, as they are in competition with companies like Tesla and Hyundai, which don't have unionized workers. A statement from Stellantis states, "As we look ahead to that electrified future, we need to maintain our profitability while remaining competitive. At 40% greater cost than conventional technology, passing the additional cost of electrification on to consumers is not an option as it puts EV affordability at risk for middle-class buyers."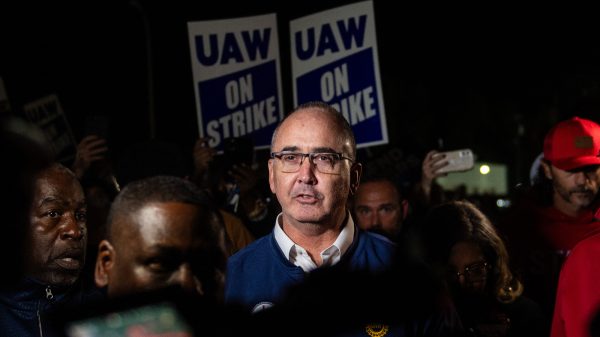 Let's now look at what the UAW is demanding. There are three main things that the UAW is asking for: a wage increase of about 40% over four years, adding cost of living adjustments to their salaries, and removing the top and bottom tier system.
But even the UAW president Shawn Fain may be unsure of these demands, as he has admitted that the strikes have become, in his own words, "audacious." He stated, "I've told the companies repeatedly I'm not the reason that members' expectations are so high."
However, even though some of these demands may seem unreasonable now, factory workers had cost-of-living adjustments to their wages before the 2008 recession, after which cost-of-living adjustments were removed from the contracts of workers. If these workers still had cost-of-living adjustments to their wages, the almost 20% decrease in their wage value since 2008 would not have happened.
The striking factories are spread throughout the country, but most of them are in the Detroit area and the Midwest in general. A map of the striking factories is below.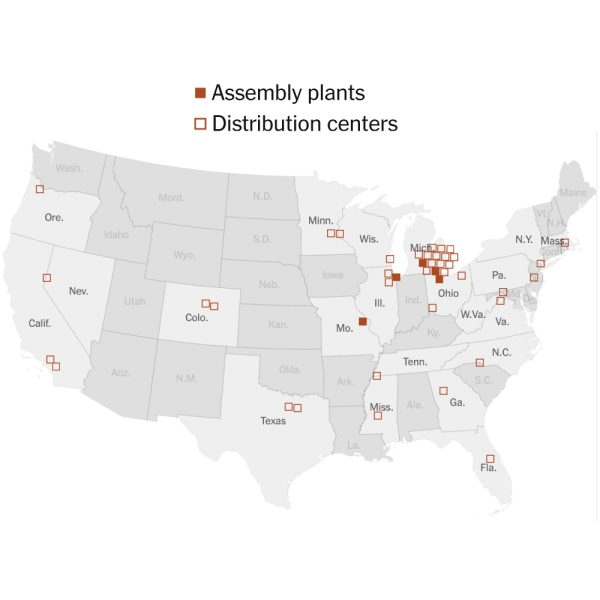 Finally, let's look at the economic impact of this strike. The three assembly plants that are on strike produce some of the most popular car models from each company, including Ford Broncos and Explorers, Chevrolet Colorados, and Jeep Wranglers. Because these models are being produced less, prices for these cars at dealerships will likely rise, and it will become hard to find these models for sale if the strike is long. Additionally, the 38 GM and Stellantis parts distribution centers that are on strike will most likely cause a shortage of car parts. Also, since repairing and servicing cars requires parts from the distribution centers that are on strike, some dealerships might have to stop repairs and lay off mechanics to keep the business profitable. This is because service departments  is where dealerships earn the most money.
The strike had entered its third week at the time of publication. Negotiations are underway, but those on strike state that the companies' offers so far are inadequate. So far, the UAW has consistently announced the plants and distribution centers that will go on strike every Friday afternoon; check their website (uaw.org) for more updates after this article is published.