Las Vegas concert turns to nightmare with deadly mass shooting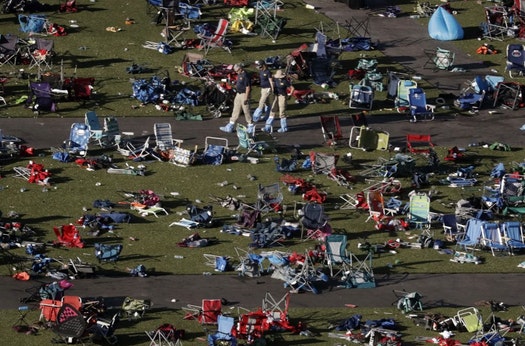 Hang on for a minute...we're trying to find some more stories you might like.
On October 1, 2017, an outdoor concert, the Route 91 Harvest Festival, turned deadly when at 10:05 P.M., a man named Stephen Paddock started shooting at the crowd of 22,000 from the 32d floor of the Mandalay Bay Hotel. Before the police could get to him 59 people were dead, including the shooter, and nearly 500 were wounded. This makes the event the deadliest mass shooting in U.S. history.
Las Vegas police have not yet found the reason for the shooting. Sheriff Lombardo says: "The gunman's motive is still unknown." According to CNN, the shooter's brother identified him as "a poker-playing accountant and real estate investor with no apparent political or religious affiliation."
Stephen Paddock's girlfriend, 62-year-old Marilou Danley, was out of the country during the shooting and told investigators that she had no idea of his plan to shoot all of these people. 
According to CNN, "police found at least 23 weapons inside his hotel room, including multiple rifles, some with scopes." All weapons had been purchased legally over a span of years.  Additionally, when police searched Stephen Paddock's home in Mesquite, they found  19 more firearms as well as explosives and several thousand rounds of ammunition.  His car contained several pounds of ammonium nitrate, a material used to make explosives.
According to CBSN news, Stephen Paddock's motive may have been because of his gambling habits. (A friend reported that Paddock gambled about $1 million each year.) Some said he was following after his bank robber father, who was on the FBIs Most Wanted List for ten years after escaping prison. According to Mirror News, Stephen Paddock's motive may have been because he was working with ISIS.  Newsweek explained that ISIS's online magazine claimed that Paddock converted to Islam six months ago.
President Donald Trump said this about the shooting: "Our nation is heartbroken. We mourn with all whose loved ones were murdered and injured in that horrible tragedy in Las Vegas Nevada. As we grieve, we pray that God may provide comfort and relief to all those suffering.
President Trump ordered that from October 1 to October 6, flags be flown at half-staff at the White House all public buildings and grounds.