Renovations to the gym completed; Our House Arena has its grand opening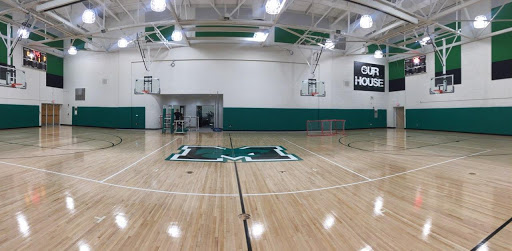 The gym underwent substantial renovations that began during the summer and ended at the close of October–transforming the lower gym into the Our House Arena.  White House Construction oversaw the renovations, which were the second phase of the cafeteria remodel. Changes included changing the direction of the courts, moving and replacing the bleachers, and redoing the ceilings, sound, lights, and more.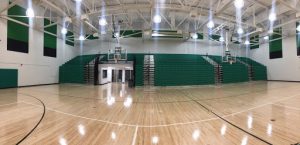 The bleachers, which used to run along both sides of the gym, were replaced by one set of bleachers. The new bleachers are made out of a durable green plastic/acrylic material instead of the wood that the older bleachers were made of.  The bleachers originally sat a couple thousand people and now, with fewer bleachers, they sit nine hundred to nine hundred and fifty. The new bleachers also have railings, whereas the older set did not. The bleachers push in and pull out to make more room for the physical education classes when not needed.
Another large change that was made was getting rid of the stage and moving the fitness room to ground level.  The fitness room was originally on the stage with two sets of stairs. According to Mr. Destino, the reason the fitness room was changed was for more accessibility.  In the previous configuration, some were not able to reach the fitness room because of the lack of a ramp. There are now a set of double doors that lead to the new fitness room.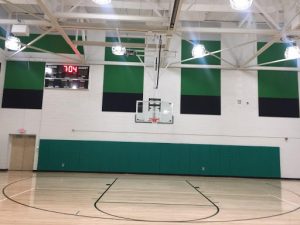 They also added some small details such as green padding on the walls, sound paneling in the ceiling, and two large projection screens that can be lowered for presentations.  The ticketing and concession stand, which used to be in the hallway, is now located in the entryway.  There is also more storage for the physical education equipment.
One thing that stayed the same was the locker rooms. Though the locker room area is dated and in disrepair, the school decided to do the areas that were going to be more visible.  According to Mr. Destino their plan was to "hit areas more visible to kids and community members." 
Physical education teachers, who had been using outdoor spaces, the upper gym, and the auditorium to hold classes, were granted access back into the space at the start of November, and daily P.E. classes now use the large arena space as well as the fitness room.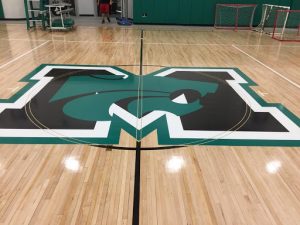 Since the completion of Our House Arena, two assemblies have been held the in the space.  The first introduced the arena with a performance by the Cleveland Cavaliers Scream Team. Their crowd-pleasing dance performance was followed up by a staff-student volleyball game.  The second assembly featured speaker, Justin Bachman, who inspired students and staff with his message of tolerance and self-acceptance.  
When asked about the results Mr. Destino replied, " I love it, it's great. It's a great space for P.E. and other events to take place."