In the Marvel Universe, the symbiotes are a fascinating and complex group of alien beings with the ability to bond with hosts, granting them incredible powers while often driving them to madness. Among the multitude of symbiotes, several have stood out as fan favorites due to their unique abilities and memorable appearances. In the battle for supremacy, let's take a closer look at some of the most formidable Venom symbiotes and determine who claims the title of the strongest.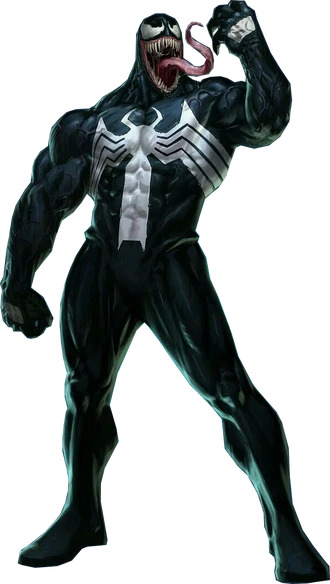 Venom – The Original Sinister Symbiote
Venom, also known as Eddie Brock, is the original and arguably the most iconic Venom symbiote. The bond between Eddie and the symbiote is one of the most potent and enduring in Marvel history. Venom possesses superhuman strength, agility, and durability, making him a formidable opponent even without his host's natural abilities. What truly sets Venom apart is his ability to create webbing, camouflage himself, and even produce tendrils and weapons from his biomass. Over the years, Venom has faced numerous foes, including other symbiotes, and has consistently proven himself to be a formidable adversary. 

Carnage – The Carnal Chaos 
Carnage, born from the offspring of Venom, is arguably one of the most chaotic and dangerous symbiotes in existence. Cletus Kasady, Carnage's host, is a homicidal maniac, making this pairing exceptionally lethal. Carnage possesses the ability to shape his biomass into bladed weapons, tendrils, and projectiles, and his red coloration reflects his heightened aggression and bloodlust. What makes Carnage stand out is his ruthless nature and the sheer brutality with which he dispatches his enemies. He has been a constant thorn in the side of Spider-Man and Venom and has even clashed with other symbiotes.
Riot – The Swarm of Blades
Riot is one of the five symbiotes spawned from Venom in the "Lethal Protector" storyline. While not as well-known as Venom or Carnage, Riot is a force to be reckoned with. What sets Riot apart is his ability to create and project bladed weapons, making him a walking arsenal of destruction. In his first appearance, Riot clashed with Venom and proved to be a formidable adversary due to his lethal versatility.
Scream – The Sonic Menace 
Scream, another of the "Life Foundation" symbiotes, stands out for her unique abilities. Hosted by Donna Diego, Scream has the power to generate and manipulate sonic energy. This power allows her to create devastating sonic blasts, making her a formidable opponent against other symbiotes. Scream's distinctive abilities and striking appearance have made her a fan favorite among symbiote enthusiasts. 
Lasher – The Whip-Wielding Warrior
Lasher, yet another "Life Foundation" symbiote, possesses a power that sets him apart from the others – the ability to generate and control razor-sharp tendrils or whips from his biomass. These whips give Lasher an impressive reach and versatility in combat. Lasher's proficiency with his tendrils has made him a dangerous adversary in battles against other symbiotes. 
Phage – The Toxic Terror 
Phage, the fourth of the "Life Foundation" symbiotes, wields a unique power – the ability to generate and project corrosive toxins. These toxins can dissolve organic and inorganic matter, making Phage a deadly opponent. His corrosive abilities give him an edge in battles, as he can weaken and incapacitate foes quickly.
 Agony – The Acidic Assassin 
Agony, the final member of the "Life Foundation" symbiotes, has the power to generate and project acidic substances. Her acidic attacks can burn through almost anything, making her a formidable adversary. Agony's ability to corrode her enemies' defenses gives her a strategic advantage in battle.
Mania – The Wild Card
Mania, also known as Andi Benton, has a unique bond with a corrupted clone of the Venom symbiote. While not as well-established as other symbiotes, Mania possesses powers similar to Venom, including superhuman strength and agility. What makes her intriguing is her unpredictable nature and her struggle to control the symbiote's darker instincts. 

The Battle
In the heart of New York City, a sinister rift in the multiverse had unleashed a horde of Venom symbiotes. Eight symbiotes, each bonded to a host of formidable powers, have converged in a secluded arena, their eyes ablaze with determination. Among them were Riot, Scream, Lasher, Phage, Agony, Mania, Venom, and Carnage, each seeking dominance over the other alien entities.
Round One: Riot vs. Scream
The battle began with a cacophony of monstrous roars. Riot's brute strength clashed with Scream's agile finesse. The streets trembled as they clashed, creating shockwaves that shattered windows. After a grueling battle, Riot emerged victorious, leaving Scream weakened but not defeated.
Winner: Riot
Round Two: Phage vs. Agony
The battlefield transformed into a chaotic display of tendrils and blinding lights. Phage's formidable armor and lethal weaponry clashed with Agony's corrosive touch and relentless assaults. In a flash of brilliant energy, Agony's relentless onslaught overpowered Phage, claiming victory.
Winner: Agony
Round Three: Mania vs. Venom
The battle of the hosts unfolded, with Mania's dark energy constructs battling Venom's raw, primal might. Mania's unpredictable tactics put Venom on the defensive, but Venom's experience and sheer power eventually turned the tide. With a final, thunderous strike, Mania fell.
Winner: Venom
Round Four: Lasher vs. Carnage
The streets were bathed in a chaotic mix of red and yellow as Lasher's whip-like tendrils clashed with Carnage's sheer brutality. The battle raged on, each symbiote pushing its limits. In a moment of brutal determination, Carnage's ferocity proved too much for Lasher, securing the victory.
Winner: Carnage
Semi-Final: Riot vs. Agony
In a clash of titans, Riot's brute force met Agony's relentless corrosion. The streets were reduced to rubble as they fought tooth and claw. In the end, Agony's insidious touch managed to pierce Riot's defenses, claiming the victory in a final, blinding burst of energy.
Winner: Agony
Semi-Final: Venom vs. Carnage
The stage was set for an epic showdown, as the two most notorious symbiotes faced off. Venom's experience and cunning clashed with Carnage's raw, unbridled savagery. The battle was intense, each strike threatening to shatter the city around them. In a moment of sheer determination, Carnage tapped into a hidden reserve of power, overwhelming Venom and claiming victory.
Winner: Carnage
Final Showdown: Agony vs. Carnage
The final battle loomed, with Agony's corrosive touch poised to challenge Carnage's newfound strength. The cityscape was a battleground of frenzied energy. Carnage, drawing upon the lessons learned from each previous battle, harnessed his power with precision. In a blinding surge of energy, Carnage's final strike pierced through Agony's defenses, sealing his victory.
Overall Winner: Carnage
With the dust settling, Carnage emerged as the ultimate victor, having triumphed in the most grueling of battles. The otherworldly entity, tempered by its host's discipline and strategic mind, proves itself the strongest among its kind. The defeated symbiotes faded away, back to their dimensions. The city, once a witness to chaos, now breathes a sigh of relief, its streets saved from untold destruction.
Conclusion
The question of which Venom symbiote is the strongest is a complex one, as it depends on the context of the battle and the specific circumstances. Each symbiote brings its unique strengths and weaknesses to the table, making them formidable opponents in their own right.
Even though I feel the overall winner would be Carnage, if I were to pick one symbiote that consistently exhibits a combination of raw power, adaptability, and experience, it would have to be Venom. As the original symbiote and a long-standing character in the Marvel Universe, Venom has faced numerous threats and adversaries, consistently proving its mettle in battle. While there are other symbiotes that possess greater strengths and abilities, Venom's experience and adaptability have allowed it to prevail in various situations. Nevertheless, the Marvel Universe is filled with unexpected twists and turns, and the question of the strongest symbiote is likely to remain a subject of debate among fans for years to come.