In the ever-evolving landscape of video games, one title has stood out as a cultural phenomenon: Fortnite Battle Royale. With its widespread popularity among gamers of all ages, including young teenagers, parents often find themselves wondering whether their 13-year-olds should be allowed to play this game. To address this question, we turn to insights from experts in the field and draw upon their perspectives.
Fortnite, developed by Epic Games, is a game known for its accessibility and fun gameplay. It is rated "T for Teen" by the Entertainment Software Rating Board (ESRB), primarily due to its cartoon-like depictions of violence and interactive elements. The game's violence is stylized and lacks blood or gore, making it more whimsical than realistic.
Battle Royale, the most popular mode, is where 100 real players from all over the world compete to be the last one standing. Matches typically last around 20 minutes, and players use various items, including weapons, to eliminate opponents. Concerns about online safety and inappropriate behavior can be addressed through various measures. Epic Games employs automated tools and human review to examine player-created content for suitability.
To gain a deeper understanding of whether 13-year-olds should be allowed to play Fortnite, you might want to look at the perspective of a child clinical psychologist. In a 2019 article, Jessica Schrader, a child clinical psychologist expressed concerns about the video game, Fortnite's violence and its potential impact on young children. She recommended that only older kids (11/12+) should be allowed to play Fortnite, emphasizing that this recommendation is less about the violence and more about the random nature of aggression in the game.
Schrader highlighted that younger children might struggle to comprehend abstract concepts and may interpret the game's messaging in a troubling way. While she did not argue that violent video games directly cause real-world violence, she expressed unease about games that lack empathy and promote random violence, which may not align with the collaborative values society needs.
While Schrader's insights provide a cautious perspective, it's essential to consider the broader context. Fortnite is a highly engaging and prevalent game among today's youth. 
Language Arts teacher Mrs. Reighard reflected on her own son playing the game. "I liked the interaction with his friends. They would play together and it was something they could do together online." She explained that her son was about ten when he began playing. She added, "he didn't become obsessed with it. I didn't see any negative changes in his mood or his attitude so, I don't know, thirteen seems a little high. Especially because it seems like kids nine, ten, eleven would seem to like it."
Skills teacher Mrs. Sharp expresses,  "I think there are some benefits like with [him] playing with his dad; they work on team-building skills and you can see how they work well as a team but there are also some negative things about it because other kids he's playing with are swearing at him. I also see a lack of focus after he's done on there because his mind is focused on Fortnite, nothing else."
She continued, "I think as parents we need to be mindful of what our kids are doing on there, and I think kids shouldn't have access twenty-four hours a day. I think we need to monitor what they're doing and make sure that if they are playing games like that, we have conversations making sure they know what's real and not real."
Mrs. Sharp also thinks "It gives them the chance to be in charge of something cause kids don't always get to be in charge of things, and they have the ability to be creative in some aspects of Fortnite as well."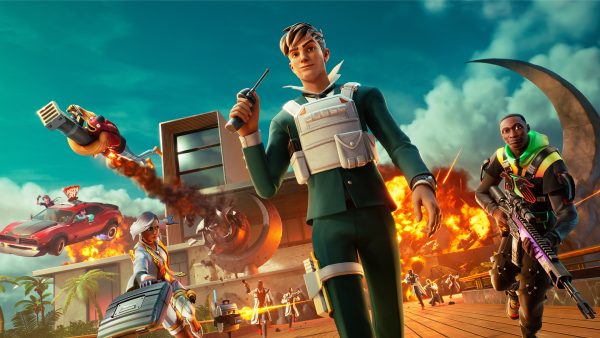 Ultimately, the decision of whether a 13-year-old should play Fortnite should be based on individual circumstances and a parent's judgment. Engaging in open conversations with children about the game's themes and monitoring their gaming habits can help strike a balance between enjoying the game and maintaining a healthy perspective on it.
In a world where gaming is prevalent, making responsible gaming habits and open communication may prove to be valuable tools in navigating the Fortnite phenomenon with young teens and children.