Track team wraps up a successful season of wins and broken records
The track season has officially concluded at MMS.  Both the girls and boys track team were undefeated in their six dual meets against other schools. The girls won the Mentor and Heritage     invitationals and placed second at Strongsville. The boys got 2nd at Mentor and placed 3rd at the other.
The girls team also ended the year as first place champions in the Western Reserve Conference.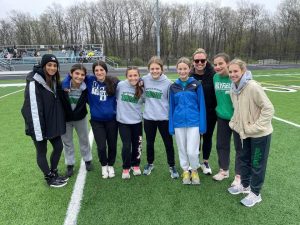 The year's top scorers for the girls' team were the relays.  At the Mentor Invitational , for example, the relay team of Kelsey Pattison, Anna Goff, Makena Bremec and Sophia Palmisano took 1st in the 4×800 meter. Petra Webel, Sharnise Worthams, Sofia Leffler, and Madelyn Williams took 1st in the 4×200 meter and 2nd in the 4×100 meter relay. And the team of Kelsey Pattison, Radha Prasad, Emily Isabella, and Sofia Leffler took 2nd in the 4×400 meter relay.
Other top performers this season were jumpers Kennedy Setlock and Kamilla Fekete, sprinters Radha Prasad and Emily Isabella, hurdler Sharnice Worthams, and distance runners Goff, Palmisano, Bremec, and Pattison.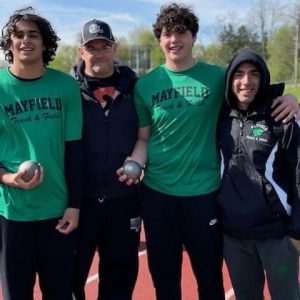 Some of the leading scorers this season for the boys team were throwers Colton Crosley and Nico DeNigris. DeNigris set and broke his own record three times over the course of the season.  Top distance runner Charlie Grim, jumpers and sprinters Dalonte Eaddy and D'Agostino,  and hurdler George Rizk also scored for the team. The relay team of D'Agostino, Eppich, Eaddy, and Jones had consistent success this year as well, as did the 4×800 relay team of Grim, JD Dinnen, Dexter Dombrosky, and Danny Kutsokovich.
Several members of the track team qualified for the State competition held at Hilliard Darby High School on May 14. At states, Crosley had his personal best discus throw and finished 8th with a throw of 146 feet and 6 inches. DeNigris came in 11th for shot put.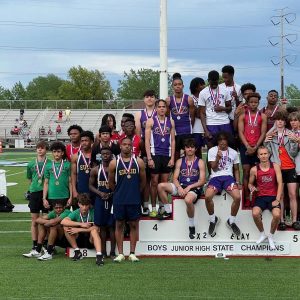 Also, the  boys' 4×200 meter relay team of Danny D'Agostino, Ryan Eppich, Delonte Eaddy, and Jayden Jones earned 8th place in states. This team also set new school records in both the 4×200 and 4×100.  Their 4×100 team beat a record that was established in 1999 and had stood for 23 years.
The girls' relay teams broke several school records at states.  The 4×100 relay team of Gia Trivisonno, Sharnise Worthams, Petra Webel and Sofia Leffler finished 16th in states with a new school record of 52:89. The girls also had a 20th place finish in the 4×200 relay with a new school record of 1:54.03. Lastly, the girls 4×800 relay team of Kelsey Pattison, Anna Goff, Makena Bremec and Sophia Palmisano placed 19th in states with a new school record of 10:47.13.
When asked about why the team has had so much success this year, Danny D'Agostino commented, "We have a lot of talent." Sharnise Warthums added with a smile, "We're just like that."
According to Coach Djukic, the middle school has a very short preseason and that athletes must train harder to get them in shape for the season. During training, it's especially important that the athletes to gain flexibility and endurance. Djukic explained that the track at the middle school is old and uneven so they usually practice indoors. The hard wood floors aren't good for joints, so they spend a lot of time stretching.
George Rizk said, "We train everyday for an hour. Mostly stretching, baton passes, drills or running around the school."
Coach Alex Djukic attributed some of the year's success to some new leadership.  "Coach Mercurio is new this year and she has a lot of track knowledge," she said. Djukic also added that former track runner and coach DeAnn Bartram offered teams some helpful advice throughout the season regarding strategy.
Deciding what athletes participate in which events is not a difficult decision according to Coach Brian Stephens. He mentioned that track is somewhat different: "I like to say that track is the most democratic sport in the world because you generally go with who can run the fastest and throw the farthest." There's little room for bias, which usually makes the decisions easier–the numbers speak for themselves.
When asked about their goals for the season, each athlete had a different response.  Some had set their sights on making it to states, while others aimed to come together as a group, improve their personal times, make invitationals, or simply "not trip" as hurdler George Rizk said.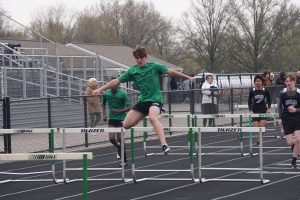 Sophia Palmisano said, "We want to improve our time but we want to have fun doing it."
Teamwork was also an important goal for some. Sophia Leffler mentioned, "when you hear your teammates cheering for you, it pushes you to run harder. You want to do it for them and for yourself."
For track, even though the majority of the time athletes compete individually against each other, the athletes also work together as a team. Anna Goff said, "I think personally it's not hard to work as a team because it almost takes everything out of you because it pushes you, and you want to show your teammates that you should be a part of the team and you deserve to be here." Addison Beck, a sprinter, commented, "when you're running you want to beat whoever you're running against but you still say good luck to your teammates."
Leffler also talked about the emotional aspects of the sport, including the feeling you get after winning a race. "You know that all the work you put in paid off. You feel relieved, like you reached your top goal."