New elective courses available next year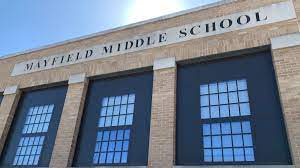 Next school year, a handful of new elective courses will be available to the incoming eighth graders.
Under the current model, students chose from several semester-long courses.  Options were limited, and the 18-week length only allowed some students (those in year-long classes such a language, band, or Vocal Dimensions) with two selections to make. Under the new model, courses will be just 9 weeks long.  Even classes such as Gaming and Journalism, which were previously a full semester, will now be one quarter.
Similarly, STEM classes Automation and Robotics and Medical Detectives were always 9 weeks but had to be taken together. Next year, the classes can be taken separately. A student may choose to take both or just one.
The advantage of this change, according to Dr. Patrick Ward, Curriculum Director of Mayfield City Schools, is to offer more student choice and provide more opportunities for students to pursue their own interests and passions. "We're always looking for new ways to engage, " he said. "Every kid needs something different."
Many of the new classes offered will focus on communication. In Podcasting, students will learn how to make a quality podcast–from research to writing to recording to adding music.  The class will make use of the podcasting student connected to the Upper Learning Space, which has to this point, been underutilized.
Speech and Debate is a class in which students will learn how to improve public speaking skills and learn how to debate through a variety of speech-related exercises and projects.
Drama will also work on students' public speaking skills but with an emphasis on stage interpretation.  Students will practice with monologues, group scenes, and even improvisational acting (acting without a script.) The course description notes " students will work on using their voices faces, and bodies to convey meaning." The class will end with each student sharing a rehearsed piece in a performance.
In Creative Writing, students will create a digital writing portfolio–experimenting with different prompts and writing formats and ultimately choosing one or two pieces to revise and share.
There are also a couple of new music-related courses. Rock Band will teach students about the history of rock 'n' roll. Students will also begin to learn how to play instruments or continue their existing skills.  The goal is to make a band and perform a show in front of MMS.
In Music History students will learn about the musicians of each era of music, "as well as sociological, economic, and cultural factors" according to the MMS course descriptions. 
The Jazz Band will have students learning and performing as part of a jazz band. Students will also learn the history of jazz music.
Another new class, Horticulture, will make use of the greenhouse.  Students will learn how to grow food and will focus on plant care. 
Lastly, Psychology will offer an introduction to the topic and will explore human behavior, the human brain, and mental illness. The class will focus on psychological case studies to examine abnormal behaviors. The course will be largely research- and project-based on topics of interest.
Though there are many changes taking place, some classes will remain the same as previous years. Health and Wellness (Cooking) will continue to be a 9-week offering. Art, Ceramics, Film and Video, and Our House Leadership will still be offered for a full semester. And year-long class offerings such as the Foreign Languages (French, Spanish, and Italian) as well as Vocals and Band will also stay the same.
While elective courses are, as the name implies, mostly up to student choice, all eighth-grade students must take physical education and health.  But they can choose between team sports or lifelong fitness as well as a new course, Speed and Agility. This class will focus on proper techniques for training to improve maximum velocity. Students will track  goals and try to break personal bests.
According to Dr. Ward, "At this middle school, the classes you have here, you won't find in most middle schools in this region." He called the middle school "an exciting place for students" and commented that schools in the area commonly call and ask about our programs. This is because Mayfield offers a unique course program with interesting and innovative classes.
The new course offerings, according to Dr. Ward fit in with the district's "All Access" vision because they mean an increase in student agency and relevance.  All of the new courses end with a meaningful final product or performance. He said that the aim of electives should be to enhance, compliment, and support "the core" –language arts, math, science, and social studies–which Mayfield is "committed to keeping solid."
When presented with the possible criticism that some of the elective courses are "less educational," Dr. Ward said that all courses have students talking, creating, interacting with each other, and thinking about new topics.  He said that one could make the argument that a class like Gaming, for example, "is about more than playing games…It creates interest in a field that is a real and lucrative path that exists outside of school."
Mrs. Saunders, who is helping to develop a few of the new courses, said that the shorter nine-week classes are about "planting a seed."  She hopes students will "get a taste of something new and different, and from that, a new passion, hobby, or career path can bloom."
Dr. Ward said that students should expect to have "more pathways and more opportunities" with each level they advance in school. He mentioned items such as Excel Tecc, Career Tech, and The Option as choices that students can look forward to. "The high school is always innovating for relevance because that's what high schools have to do to stay competitive."