Kanye: divorce from Kim and harassment on social media
      Ye, formerly known as Kanye West, has been popping up all over social media. Posts against Kim Kardashian and Pete Davidson (Kim's boyfriend) were posted and deleted over the span of a couple of weeks.  Last year, Kim Kardashian filed for divorce from Kanye. He has spoken outwardly against it, even sharing private messages between the two.
    It started with a post against Kid Cudi. It was a picture of a scribbled note saying, "Just so everyone knows Cudi will not be on Donda because he's friends with You Know Who…" which seems to be a reference to Davidson, a close friend of Cudi.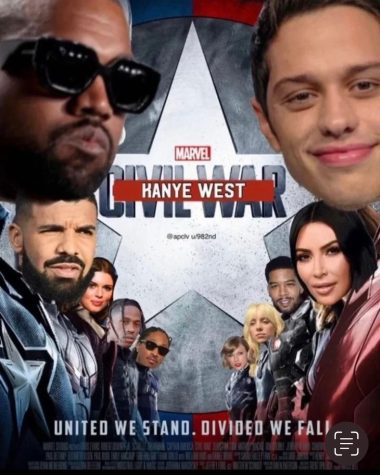 Next came an Avengers Civil War meme where the faces were all replaced. It showed Kanye as Captain America vs. Davidson as Iron Man as well as a number of other celebrities on opposite sides.
     Kanye then posted a screenshot of alleged messages between him and Pete. Pete said, "I'd never get [in the] way of your children. [That's] a promise. How you guys [go about] raising your kids is [your business] and not mine. I do [hope one] day I can meet them and [we can] all be friends. West captioned the post, "NO YOU WILL NEVER MEET MY CHILDREN."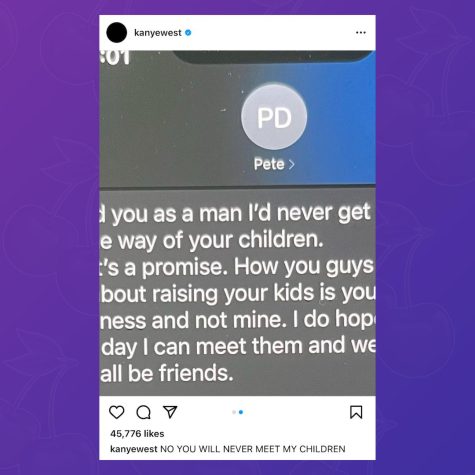 From there, multiple posts emerged about Davidson, calling him, "Skete," "Trash," and "Garbage." After assuring people his account wasn't hacked Kanye wrote, "MAKE SURE THEY KNOW HOW MUCH YOU LOVE AND APPRECIATE THEM BECAUSE THERES A SKETE LURKING IN EVERY DIRTY  ALLEY WAITING TO HELP DESTROY YOUR FAMILY." Kanye was insinuating that Davidson ruined his family.
      The same post, after Kanye took his two oldest children to the Superbowl, said, "I WISH MY WIFE WAS WITH ME AND OUR CHILDREN  SITTING AT THE 50 YARD LINE @KimKardashian ALWAYS REMEMBER WEST WAS YOUR BIGGEST W."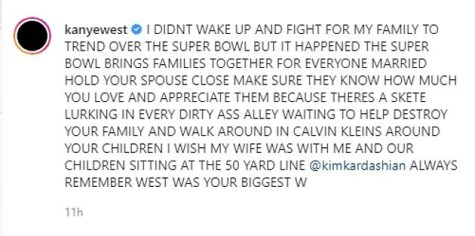 Later, Kanye went back to insulting Pete saying, "IF ANYONE LOVES ME AND MY FAMILY IF YOU SEE SKETE IN REAL LIFE SCREAM AT [THE LOSER] AT THE TOP OF YOUR LUNGS AND SAY KIMYE FOREVER".
     In a caption on a post, West said, "UPON MY WIFE'S REQUEST PLEASE NOBODY DO ANYTHING PHYSICAL TO SKETE IM GOING TO HANDLE THE SITUATION MYSELF."  The same post includes a picture of a guy strangling another guy.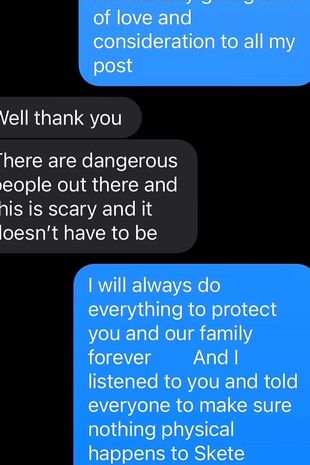 Kim contacted Kanye through a text that he screenshotted and posted. Kim said,  "There are dangerous people out there and this is scary and it doesn't have to be."
Kanye replied, "I will always do everything to protect you and our family. And I listened to you and told everyone to make sure nothing physical happened to Skete."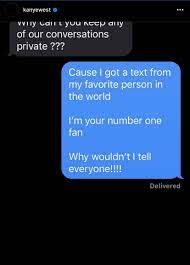 Next came another screenshotted text message where Kim appeared to feel insulted that he disregarded her privacy. "Why can't you keep any of our conversations private?" Kanye responded with, "Cause I got a text from my favorite person in the world. I'm your number one fan. Why wouldn't I tell everyone!"
A fan posted about the situation saying, "What Kim is going through is textbook harassment." While some agree and are on Kim's side, others believe what Kanye is doing is winning back his family. Comments ranged from people congratulating him to others calling him insane.
Later, Kanye apologized for his recent attitude and behavior on social media. "I've learned that using all caps makes people feel like I'm screaming at them. I'm working on my communication. I can benefit from a team of creative professionals." Most of the comments showed that people believe his advertising team took control of his platform and forced him to post the message.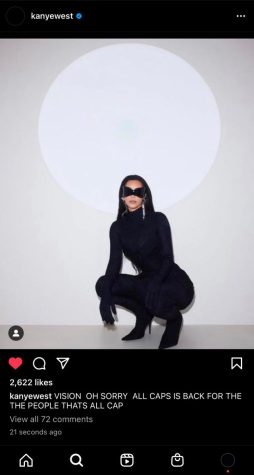 The promise didn't last long as Kanye came back to social media with a picture of Kim Kardashian commenting, "VISION OH SORRY ALL CAPS IS BACK FOR THE PEOPLE THAT ARE ALL CAP." 
March 12, the day of the divorce hearing, Kanye didn't attend. His 4th lawyer, hired just days before, appeared on his behalf. Kardashian was legally declared single again, officially dropping West as her last name despite Kanye's efforts.
Months earlier Ye had made a post saying, "SINCE THIS IS MY FIRST DIVORCE I NEED TO KNOW WHAT I SHOULD DO ABOUT MY DAUGHTER BEING PUT ON TIKTOK AGAINST MY WILL?" 
Recently, Kim released a divorce statement addressing some of Kanye's behavior including this comment. She said, "Kanye's constant attacks on me in interviews and on social media is actually more hurtful than any TikTok North might create." Kardashian went on to say, "Divorce is difficult enough on our children and Kayne's obsession with trying to control and manipulate our situation so negatively and publicly is only causing further pain for all. From the beginning, I have wanted nothing but a healthy and supportive co-parenting relationship because it is what is best for our children and it saddens me that Kanye continues to make it impossible every step of the way." 
Moving on to address the sharing of private text messages on social media Kim says, "I wish to handle all matters regarding our children privately and hopefully he can finally respond to the third attorney he has had in the last year to resolve any issues amicably."