Girls basketball season comes to an end after an amazing season
After an 8-6  basketball season, the Lady Wildcats say goodbye to the courts as their season comes to a close. With 8 wins and 6 losses, there is much to be said from the players and spectators. 
In the Western Reserve Conference, seven other teams have competed against Mayfield. While Kenston and Willowick proved to be fierce competitors, Eastlake, Madison, and Willoughby, were pure victories as the Lady Wildcats won both games against them.  
In the 42-9 game against Eastlake, the Lady Wildcats dominated the courts and took home the victory. The leading scorers were Annie Goff and Sydney Montgomery. The same can be said in the 30-15 game against Willoughby after Mayfield won both games.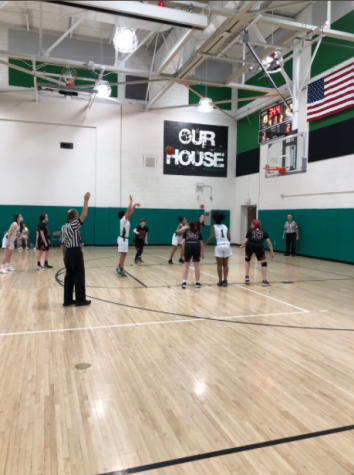 The players gave feedback on how they think they played this season. 
"I think we actually played really well,: said Sofia Leffler. "We did a lot better than last year, so I think it was like an improvement." 
Lucy Moran says, "I feel like we could've been a lot better if everyone, you know, paid attention and stuff." 
"I think we all played really well," said Bella Chilson. "We could've done better defensively but I think we did well." 
Annie Goff added, "I feel like we could've played more like a team than just like individual players."  
Chanelle Austin similarly reflected, "We should've played the right plays more and actually did what the coach said." 
Even though the Lady Wildcats have had a winning season, they do believe there are many things to be fixed: not only as a team but as individuals.
Sofia Leftler feels as if her weakness is offense while Bella Chilson identifies her weaknesses as shooting and aiming.
"My weaknesses are making my layups and shots," Lucy Moran expressed.
All in all, the players enjoyed this season, on the courts and off. When asked how they feel about their final middle school season-ending they gave some sincere responses. 
"I'm happy because I can focus on my other sports that come up next and sad because I'm going to miss my teammates and the bus rides and the fun we had," Chanelle Austin expressed.
Sofia Leffler said, " It's the last time I'm going to ever play basketball so it was a little sad but the season was really good."