Madea Homecoming
On February 25, 2022, Tyler Perry Productions came out with a new movie called Madea Homecoming.  It's only streaming on Netflix.
Netflix promotional summary states, Madea's back, and she's not putting up with any nonsense as family drama erupts at her great-grandson's college graduation celebration.
Mabel "Madea" Earlene Simmons is a character created and portrayed by Tyler Perry. She is described as an elderly and tough African-American woman. Madea is based on Perry's mother and his aunt.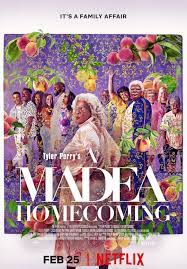 This newest Madea movie release fits with the other movies because it has the background story of Madea's farewell play and also contains most of the same characters.
This movie was made at the Tyler Perry Studios in Atlanta, GA. The cast in  this movie were Tyler Perry, Brendan O'Carroll, Cassi Davis, Gabrielle Dennis, Tamela Mann, David Mann, Brandon Black, Jennifer Gibney, Geneva Maccarone, and Isha Blakker.
Madea homecoming is not for kids. It contains a lot of profanity and is rated TV-MA.
As a fan of the series, I would rate this movie a 9.5/10. Though the plot was predictable and the language and content isn't suitable for younger audiences, I feel like the movie was very funny.  Madea is well-known for the funny things she says and for the way she acts.  For example one of the words Madea says in all her movies is "Hellur." Her brother joe also say pretty funny things like, "Don't come over here. Ever heard of Covid  1920?" Other funny lines were "Who she think she is?" and Auntie Bam's favorite line is "Hootie Hoo." Madea also said "O Lord, I'm finna punch him." 
Tyler Perry Productions and investors spent $600 million dollars for the movie to be made. 
The movie Madea Homecoming got a 3 star rating on Netflix. Most positive reviews said that the movie was great and very funny. A couple of the best parts were when Mr. Brown caught on fire and Cora sees his butt because his pants were halfway brunt off. Another funny part was when Madea dropped Agnes on the floor, and lastly was when Mr. Brown jumped off the roof.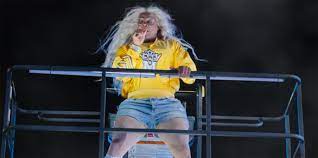 My favorite part in the movie was when Madea was dressed up as Beyonce in the same costume from Beyonce's Coachella performance. Madea was trying to sing most of the songs but it didn't go so well. Madea also had a whole dance team to perform with her.
You should watch this movie if you haven't already seen it because it's very funny and relates to her other movies. If you really love Madea then you will automatically love this one.