Spider-Man: No Way Home breaks records and stuns fans
Spider-man No Way Home has left fans astonished, returning to the number 1 leading movie in the U.S. during its sixth week of release. The movie climbed to number 6 on the list of worldwide of highest-grossing movies at $1.69 billion. Released on December 17, it already surpassed Jurassic Park, Lion King, and the original Avengers movie. Now, it's soared to the largest grossing movie of all time in Mexico with 72M cume. 
At the end of the previous Spider-man movie (Far From Home) Spider-man's identity was revealed.  Spider-Man No Way Home, the most recent release in the MCU (marvel cinematic universe), follows the struggles that Peter Parker faces as he tries to fix his mistake with the help of Doctor Strange. He's forced to truly dig deep to overcome the consequences of his own actions.
The newest installment in the MCU  has a runtime of 2 hours and 28 minutes, which may be a lot for younger viewers but is a "must-see" for true Marvel fans.  Rated PG-13, it has an audience score of 98% on Rotten Tomatoes and a Tomatometer score of 93%. The movie has made over $190 billion dollars worldwide without being shown in China. 
The action flick stars Tom Holland (Peter Parker), Zendaya (M.J), Jacob Batalon (Ned Leeds), Benedict Cumberbatch (Doctor Strange), Marisa Tomel (Aunt May), and more.
When asked about working with Cumberbatch, Zendaya said, "He's very sweet. Just a nice guy to be around. And also, was really cool. I actually have a picture of him skateboarding around the set."
Eigth grader,  Kahmari Givens hasn't seen the movie yet but is excited to. "My Dad's favorite movie is Spiderman… I was raised watching it."
Carly Cellura, another 8th grader, recently saw the film. She said, "It was a good movie, I recommend it." She rated it an 8.5/10.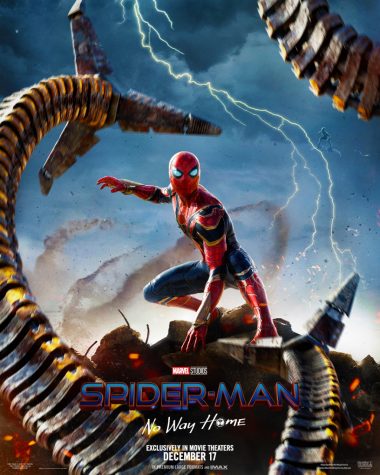 With 27 movies over the span of over 13 years and five recent shows that debuted in 2021, lots of fans have become invested in the characters. More movies are expected, and some fans hope for more starring Tom Holland.
A fan on Rotten Tomatoes typed, "The movie held up nicely and I was left with the urge to binge all the previous Spider-Man movies."
Charlotte O'Sullivan from the London Evening Standard also gave it a great review. She said, "Clever, tender, funny, and rousing, No Way Home is an instant classic." 
The MCU reaches a large audience. About 63% of adults say they're fans. They are the perfect movies for families to watch together.
Another critic, Kristy Puchko, from the Mashable, wrote, "It's not only an enthralling thrill ride, not only a celebration of Spidey fandom, not only a rousing adventure but also an emotionally riveting drama…" She voiced how all the fans were feeling. 
Spider-man:No Way Home is jaw-droppingly amazing with emotional twists and surprises. It far surpasses the expectations and leaves fans in tears of both sadness and joy.