Musical turned movie: Is Dear Evan Hansen worth watching?
Dear Evan Hansen is a very popular Broadway show, but this year it was made into a movie, and critics and fans slammed the film.
The musical won a Grammy Award, the Olivier Award, and six Tony Awards including Best Musical. The New York Times called it "a gorgeous musical for anyone with a beating heart." The Los Angeles Times said it was "a cultural phenomenon." NBC Nightly News called it "an anthem resonating on Broadway and beyond." The musical has grossed $240 million on Broadway and has been seen by nearly 2 million people.
So where did the movie go wrong?
Much of the criticism for the film was due to Ben Platt being cast in the leading role. While he played Evan in the original musical–winning both a Tony and a Grammy and being the vocalist on the best-selling soundtrack, Platt is now 28 years old trying to pass as a high school student. USA Today said, "No thanks to his hair and makeup team, Platt is bizarrely styled to look like a tax auditor who wandered into a high school English class." USA Today said the the film made Platt look older than needed with "tight close-ups."
The Independent UK thinks that the mistakes made were amateur and could have been helped; they say, "Every creative decision feels designed to make Platt appear significantly older than he already is, like Jonah Hill and Channing Tatum were made to look in the 21 Jump Street movies." They added that "the lighting on him is unforgivably harsh, creating lines in his features where there were no lines before."
Many Platt fans noted that he looks older in the movie than he even does in real life, due in part to the odd way his hair was styled and the makeup he had on.
The majority of the reviews might be bad, however, some people think that the movie was great. One review on the movie rating site Rotten Tomatoes' said, "Dear Evan Hansen remains a moving experience, a timeless message for today and a hard-fought journey on acceptance and healing."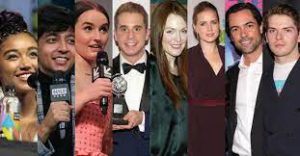 The female roles in the movie were praised for believable acting performances. These included Julianne Moore, Amy Adams, Amandla Stenberg (The Hate U Give), and Kaitlyn Dever (Booksmart).  The vocals in the film were all strong, and the movie addresses mental health, friendship, forgiveness, and family with the same effectiveness as the musical.
But most agree that the musical did not translate well to movie form, and the emotional scenes that impacted audiences so much on the stage same across as cringey on the screen.
The Rolling Stones said, "You see Evan Hansen, all of his flaws and desires and self-loathing laid bare. And there are enough of these goosebump-inducing, epiphanic moments courtesy of the actor that you see why people might love this film as well as cringe at it."