Billionaires in space? : Bezos spends $5.5 billion on an 11 minute flight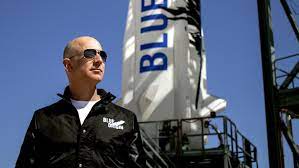 Jeffrey Bezos of Amazon, the richest human on the planet, became the second billionaire to recently journey into space when he and three additional crew, departing from West Texas,  traveled 62 miles above Earth on July 20.  The ship, New Shepard, was built by Bezos's organization Blue Origin. 
Plans for the mission began nearly twenty years ago, according to NPR, and according to Global Citizen, the mission cost $5.5 billion dollars.  Bezos funded the mission in part by selling stocks from his company, Amazon.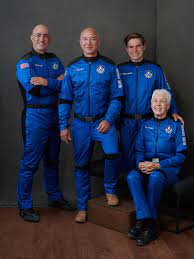 NPR notes that on board with Bezos were his brother Mark, 18-year-old Oliver Daemen, (the son of a wealthy Dutch business man), and 82-year-old Wally Funk (female aviation pioneer).  According to NPR, Daemen's father paid $28 million for his seat aboard–a cost of $2.54 million per minute for the 11 minute trip. 
The date for the flight, July 20, was chosen because it marks the anniversary of Neil Armstrong and Buzz Aldrin's famed 1969 moon landing.
Bezos's journey makes him the second billionaire to travel to space recently.  Richard Branson, CEO of Virgin Records beat Bezos into space; however, his vessel, SpaceShipTwo, created by Virgin Galactic, made it just 50 miles above Earth. 
Elon Musk also has ambitions to settle Mars with his current project SpaceX. Branson, Bezos, and Musk's endeavors  mark a trend that has sparked controversy.  Many question whether "space tourism" is safe or necessary. Some criticize the billionaires for flaunting their wealth.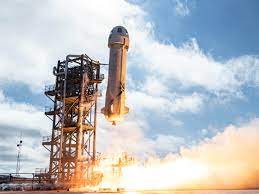 But Bezos claims to have a greater purpose with his space missions. As quoted by Market Watch, Bezos explained, "I'm pursuing this work, because I believe if we don't we will eventually end up with a civilization of stasis, which I find very demoralizing."  Bezos did spend some of his reported $131 billion fortune on philanthropic efforts closer to home.  Market Watch notes that he donated $35 million to cancer research and another $33 million to scholarships for DREAMers, children granted citizenship after being brought into the U.S. by their parents. 
Still, 33 thousand people signed a petition to not allow Bezos to return to Earth.