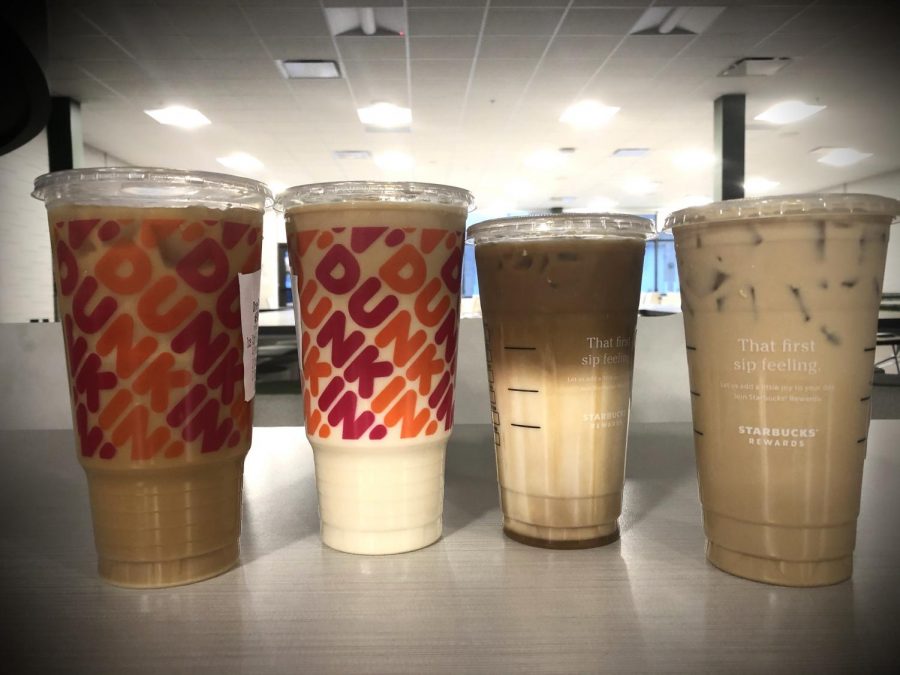 While it has long been typical to see adults with a coffee in hand, especially in the mornings, it has been a growing trend to see teens sporting Starbucks or Dunkin as well.  Let's take a look at both Starbucks and Dunkin–the two most popular to-go options for coffee across America and in Northeast Ohio.
First, Dunkin's prices tend to be a lot lower than Starbucks. The price of a small-sized coffee is $1.99, and their large is $2.79. However, Starbucks is a lot more expensive. A grande-sized Frappuccino costs $4.75, and a venti costs $5.25. Even non-coffee beverages such as the refreshers costs between $3.75 and $4.45.
Both stores offer a lot of variety in terms of drinks and food. Dunkin has many different options, from coffee and donuts to frozen drinks and breakfast items. Dunkin's coffee also has a lot of flavor possibilities. Their flavored swirls are french vanilla, hazelnut, caramel, coconut, and toasted almond, according to the Dunkin Donuts website.  Dunkin also has different flavors of Coolata's, which are frozen slushies. The flavors are watermelon, strawberry, grape, pineapple, and cotton candy.  Dunkin also has a lot of tasty food and dessert items, some of which are donuts, muffins, and croissants. These bakery items range from $1.00 to $2.50. They sell donuts by the dozen and munchkins by the box–offering something that Starbucks does not.  Dunkin also carries some hot breakfast items , too, like the egg and cheese English muffin, wake up wraps with egg and bacon, and egg bacon and cheese on a bagel. These breakfast prices range from $1 to $5.
While Dunkin has added a lot to their menu in recent years to keep up with Starbucks–items like cold brews and macchiatos, Starbucks still has a a greater variety of drinks. Between coffee and handcrafted beverages, the possibilities are endless. With multiple roasts of coffee, an assortment of teas, flavored syrups, espresso, cold brew, and even flavored foams, the appeal of Starbucks is the ability to make any drink the way one wants it.  With a staff of trained baristas, a customer has a virtually endless menu of possibilities.  
Some of their Frappuccino flavors are the Caramel Frappuccino and the Mocha Cookie Crumble Frappuccino. Some of there Refresher options are Pink Drinks, the Mango Dragon Fruit Drink, and the Strawberry Acai Refresher. The Refreshers and the Frappuccinos are more expensive because those drinks are exclusive to Starbucks locations.
Starbucks also has 255 food items to choose from according to Eater. Some of the breakfast items from Starbucks are a double-smoked bacon cheddar and egg sandwich, and a chicken sausage & bacon biscuit. These items at Starbucks usually range from the price of $3 to $5 dollars. Some of their desert items are a birthday cake pop, classic coffee cake, and a cheese danish. Bakery items cost from $2.25 to $3.00. Unlike Dunkin, Starbucks also offers grab-and-go lunch items like wraps, protein boxes, and sandwiches.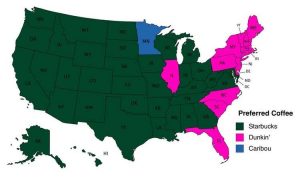 In terms of locations, Starbucks is in the lead. Dunkin has only 9,887 locations across the US, according to Eater. Starbucks has nearly double with 15,123 locations according to Scraphero. That gives Starbucks a win in terms of convenience since it is usually closer to more people's homes than Dunkin.  
In terms of profits, Starbucks wins there too. Last year Starbucks made 26.51 billion dollars, according to Statista. In contrast, last year Dunkin' made 118.7 million dollars, according to Forbes.  (That's right. Starbucks earned 223 times more than Dunkin.)
In terms of taste, based on a series of taste tests and interviews, it seems the thing that separates Starbucks lovers from Dunkin lovers the most is that Dunkin's coffee tends to be sweeter, which appeals more to the younger population.  Even though it's more expensive, more people prefer Starbucks because they like the taste of stronger coffee rather than sweeter coffee. 
Students and teachers at MMS were asked to choose what kind of coffee they liked better during a blind taste test. A caramel macchiato and iced vanilla sweet cream cold brew from both locations were brought in for the taste test.
MMS student, Claire Schend, tried all four drinks and stated that she preferred Dunkin over Starbucks. She stated, "I like Dunkin because it's sweeter."  She even called both Starbucks drinks "sour" upon tasting them.
The second MMS student, Allie Ledsky, also liked Dunkin more. She stated, "Starbucks is too bitter." Similarly, eighth grader Ethan Gay stated, "I like Dunkin because it tastes more like caramel candy."  For Jacen Greene, he recognized the Dunkin coffee immediately.  While he said the Starbucks caramel macchiato was good, he said "it could use a little more cream."  But the Dunkin coffee he spotted right away. "Dunkin always has a lot of sugar in their coffee. It's really really good."
Eighth-grade student, Alina Longino, is the only student that liked Starbucks better. She stated, "Dunkin is way too sweet, I don't like it."
On the other hand, all but one teacher liked Starbucks more than Dunkin.
MMS vice principal, Mr. Sheppard, liked both but he stated, "When I get coffee, I like it to be strong. I don't want it to taste like a milkshake."   Similarly, 6th grade social studies teacher Mrs. Beard stated, "I like Starbucks more because I like strong coffee more than sweet." Art teacher Mrs. Vokic, echoed the same: " When I get coffee I like strong coffee, not sweet coffee."
The MMS Math Edge teacher, Mrs. Witte, was the only adult surveyed who prefers Dunkin.  "I like Dunkin better even though it's sweeter," she said. "It's also not as strong."
Overall, the teachers were more likely to enjoy Starbucks coffee, because it tasted more like coffee. The students were the opposite, preferring Dunkin for its sweetness.