Joe's Journey: The quarterback's trip from OSU dud to LSU's stud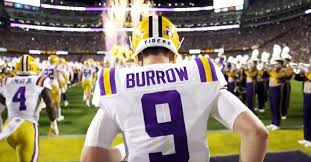 In three years at Ohio State, Joe Burrow only threw 287 yards for 2 touchdowns. Joe was a third-string QB until he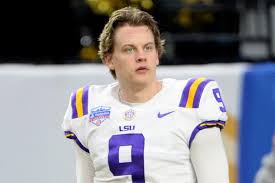 made the decision to transfer from Ohio State to LSU. This decision would pay off,  as in 2018 he would throw for 2,894 yards and throw 16 touchdowns.
One year later his life and chances of being drafted have changed. In 2019, Joe's senior year he would throw for 5,671 yards and throw a record-setting 60 touchdowns and only 6 interceptions. He would go 402-527 and have a 76.3% pass completion. His team would go up against 7 top-10-ranked teams including Alabama, Auburn, Florida, Texas, Georgia, Oklahoma and of course Clemson in the National Championship.
According to ESPN, in the first game of the season against Georgia Southern, Burrow went 23/27 with 287 passing yards and 5 touchdowns. The end score was 3-55 LSU, Their rank was #6.
Week 2 was against the #9 Texas Longhorns. Burrow went 31-39 for 471 yards and 4 touchdowns. They would win this game 45-38 LSU.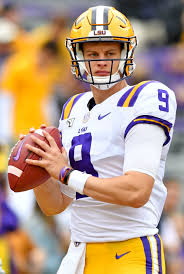 After this game they would be up to #4 in the rankings.
Week 3 was against The Northwestern State Demons, during which Burrow was 21-24 with 373 yards and 2 touchdowns. The end score was 14-65 LSU.
Week 4, against the Vanderbilt Commodores, Burrow went 25-34 with 398 passing yards with 6 touchdowns. LSU would win this game and move down to #5 in the rankings.
The Utah State Aggie's in Week 5 yielded another big game: 27-38 with 344 yards and 5 touchdowns. LSU would win this game 6-42 and stay at #5 in the rankings.
Week 6 was against the #7 ranked Florida Gators. Joe would go 21-24 with 293 yards and 3 TDs. LSU would win that game 42-28 and go up to #2 in the rankings behind Ohio State, his former team.
Week 7 was against the Mississippi State Bulldogs. Joe went 25-32 for 327 yards and 4 TD's. During this game, Joe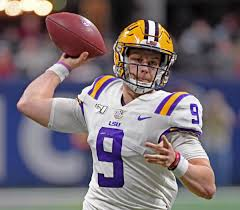 would pass the all time LSU touchdown leader for a quarterback. LSU would win this game 36-13 and stay at #2.
Week 8 was against the #9 ranked Auburn Tigers. Joe would go 32-42 with 321 yards and 1 TD. LSU would win this game in a nail biter 20-23 and remain #2.
Week 9 was against the #3 ranked Alabama Crimson Tide. Burrows went 31-39 with 393 yards and 3 TDs. LSU would win this SEC battle 46-41 and go up to #1 in the rankings, pushing Ohio State to #2.
LSU held their top ranking for the next two weeks. Burrows had a huge game against the Ole Miss Rebels: 489 yards and 5 TD's.  But after defeating the Arkansas Razorbacks, LSU was relegated again to #2 with Ohio State moving to #1.
They faced the Texas A&M Aggie's again in week 12 and won this game 50-7. LSU would remain #2.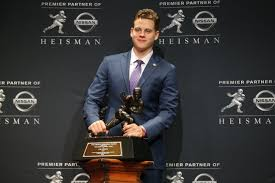 Week 13 was against the #4 ranked Georgia Bulldogs. Another 300+ yard game with 4 touchdowns brought LSU a 37-10 win and earned them back the  #1 rank position.
In the 2019 Peach Bowl the #1 LSU Tigers would face the #4 Oklahoma Sooners. LSU would dominate this game with Joe Burrow getting nearly 500 yards and throwing for seven touchdowns– 6 in the first half alone. LSU would win 63-28 and earn their place in the National Championship.
According to Bleacher Report,  when the LSU Tigers faced the #3 Clemson Tigers in the National championship, Burrow went 31-49 and had 463 yards for 5 TD's. LSU would dominate Clemson's defense by defeating them 42-25 and becoming the National Champions of college football.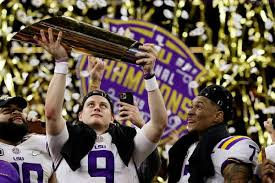 MMS football coach Mr. Stephens, who is a faithful Buckeyes fan, said of Burrow, "When he was at Ohio State he looked like a promising prospect. We only got to see him and the end of blowout games. So it was hard to tell what we had in Joe."
When asked what may have happened if OSU had chosen to start Burrow this year, Stephens said,  "Honestly, I think he would have been successful because he is good. It's hard to say, LSU and OSU run totally different offenses. I don't think the OSU play style would have made him worse."
When asked if he's rather the team have Joe Burrow or Justin Fields, Mr. Stephens joked, "I would rather have a national championship." But he added, "They're both fantastic quarterbacks; on the plus side Joe's college career is done and Fields has another year."
Most sources speculate that Burrow will probably go #1 in the draft and get drafted by the Bengals. Considering his consistent ability to secure yardage and touchdowns, it seems probably that NFL fans will likely hear the name Joe Burrow a lot in the coming years.