The new ceramics class
This school year, MMS introduced its new art offering: ceramic.  Ceramics teaches the skills that students need to create their own pieces of art. The semester-long course is being offered to eighth graders for the first time this year and is taught by Heather Vokic.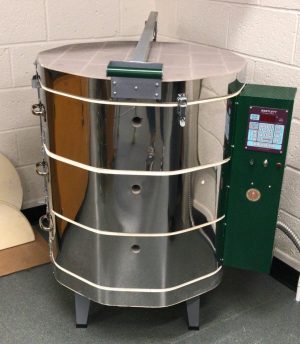 Making ceramic art is a multi-step process.  Artists work with clay and use both tools and their hands to shape it.  Then the clay must dry before it can be trimmed the clay. The clay is then fired in a kiln, which is a furnace that heats the clay at temperatures around 2000 degrees.  After the clay has been fired, it can be painted and glazed.   (See the video at the end of the article to see the process.)
According to Mia Vicchiarelli, a student in the class, her favorite things about the class are being with her friends and all of the projects that they make. Gabriella Fappiano said, "we get to be creative, and it's fun."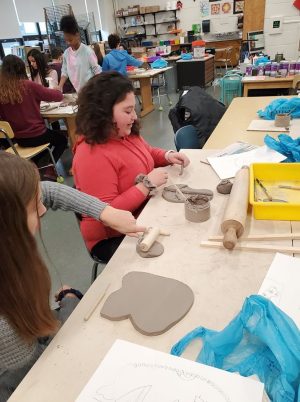 According to Navroop Buttar, "Mrs.Vokic makes the class way better, just the type of person she is. "  Navroop added that the people in the class are really helpful. "With the different clay projects we have, not everyone can do as well or they don't know what to do sometimes. The classmates are very nice and they help each other."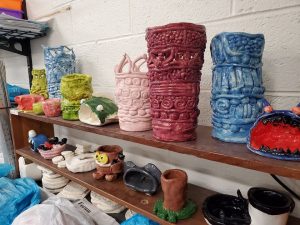 Samuel Boyd explained their current project. "We are free to do whatever we want for this project. We're making a Picasso clay face where you can turn in anything you want. The class is kind of like you can make up whatever you want."
Ethan Gay also enjoys the freedom the class offers: "I get to do my own stuff, and my artwork is different from everybody else's."
Mrs. Vokic, who was excited to finally get a kiln, has added introductory ceramics projects in sixth and seventh grades as well.  She noted that students tend to get more excited about the ceramics projects than the traditional art. She said, "I like teaching it because the students love doing it. I love to teach things that the students love to do, and they really love getting their hands into the material and making and cool designs, projects, and objects."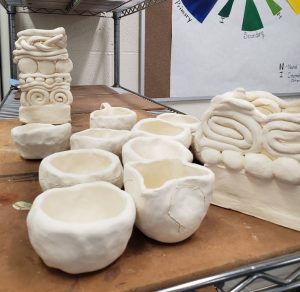 According to the University of Washington, ceramics was created in the beginning of the Bronze Age. It wasn't officially invented until 1,500 BCE. It was first found in Czechoslovakia in the form of animals and human figures, slabs, and balls. They were made out of fat and bones. 
Students interested in ceramics could turn it into a career. According to The Art Career, a ceramics artist made an average amount of $53,080 in 2010.