Careers in the veterinary field
Have you ever thought of becoming a veterinarian? Young people are often interested in the field of veterinary medicine because they love animals. But becoming a professional in the field is so much more than playing with cats and dogs all day; it takes a lot of training and education. 
There are many options in the field. Someone can practice general veterinary medicine or become a specialist, learning skills in specific areas like radiology, dentistry, or surgery.  Not interested in being the main doctor? There are also careers as veterinary technicians or veterinary assistants.
Veterinary Assistant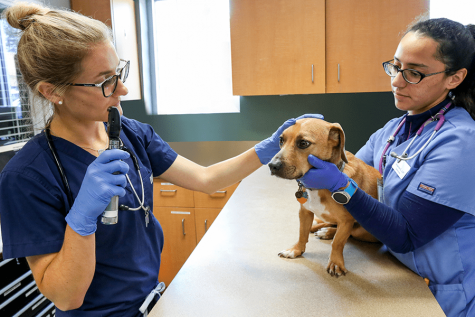 Veterinary Assistants help out around the clinic. An interview with Joylin Malloy, an assistant at Great Lakes Specialist, tells what she does on a daily basis. "My daily tasks in emergency are triaging, holding patients for catheter placement and blood draws, assisting techs with giving medications, cleaning, stocking, going over treatment plans with owners, and updating owners on the well being of their pet if the technicians are busy. For surgery I prepare the Surgery Suites for our procedures scheduled that day. I make sure the Equipment is functioning properly, set up the prep table for anesthesia, and clean and wrap surgical instruments." Veterinary assistants can either get training on the job or go through a one year veterinary assistant program. 
Veterinary Technician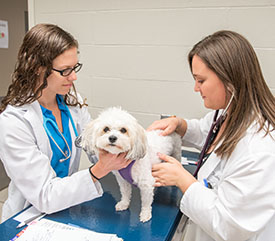 To become a registered Veterinary Technician, one must have an Associate of Applied Science Degree in Veterinary Technology. This is a two year program, where upon graduation, one will have to take an exam to get a license.
Bethany Rohrer, a vet tech supervisor at Great Lakes Specialist, has been working in the field for 20 years and enjoys going to work everyday. She says, "I love being able to help people who are going through hard times with their pets in hopes that I can make it a little easier for them."
A Veterinary Technician has many jobs including drawing blood, running lab tests, taking x-rays, assisting with ultrasounds, running CT scans, placing IVs and urinary catheters, giving epidurals, administering anesthesia, talking with pet owners, and filling medications.
As a supervisor, Roher does all the tasks that the other technicians do, but also makes technicians' schedules, conducts interviews, hires employees, trains new employees,  and has meetings with other managers, doctors, and technicians. 
General Veterinarian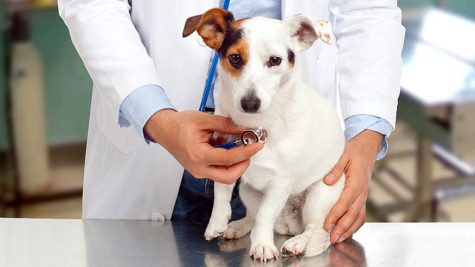 If you own a pet and you have ever taken them in for a check up, you likely saw a general veterinarian. This doctor can prescribe medication, diagnose illnesses, perform surgery, and give a prognosis. If your pet has a special case, your general vet might recommend seeing a specialist.
A general veterinarian needs eight years minimum of education after high school. 
In addition to these jobs, there are also numerous specialist positions. According to the American Veterinary Medical Association, there are 22 recognized specialties. The most common specialties are explained below.
Internal Medicine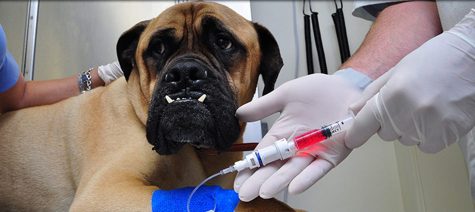 According to Balance Careers, "Internal medicine veterinarians are specialists that are qualified to perform advanced diagnostic services and create treatment plans for illnesses related to the internal body systems of animals." Internal medicine is a large part of the veterinary field, and many doctors and their specialties fall under this category. Internal Medicine is the umbrella that includes oncology, neurology, and cardiology. 
Dr. Amanda Elpiner is an Oncologist at Great Lakes Specialist. Oncology is the study of cancer, and the veterinary oncologist treats pets. When asked what an Oncologist does, Dr. Elpiner responded "[We] diagnose and treat companion animals (dogs and cats) with cancer.  To diagnose an animal we use tools such as blood work, ultrasound, x-ray, CT scan and biopsy/surgery. We use a combination of chemotherapy, surgery, radiation therapy, and medicines to treat depending on the diagnosis."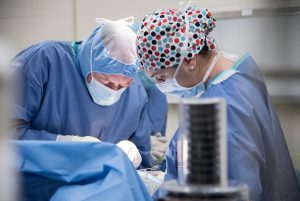 Surgery
All veterinarians that graduate from vet school are also trained in surgery. However, a board certified surgeon has had extensive training in more complicated surgical procedures. Surgeons deal with more complex cases than the general veterinarian. 
Radiology, Pathology, and Microbiology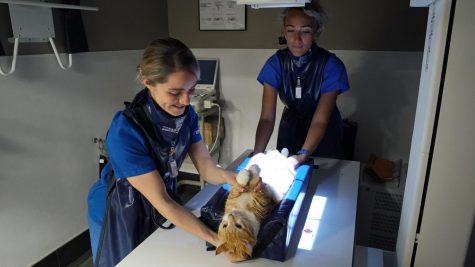 These doctors mainly focus on diagnosing diseases. A radiologist looks at X-rays and performs ultrasounds. They then look at the images and diagnose diseases.
A pathologist and microbiologist both use the microscope to look at samples to make diagnoses. A pathologist will manly look at cells and tissue, and the microbiologist looks at microorganisms.
Emergency and Critical Care
When sick, injured, or in critical condition, animals need to been seen immediately. They are sent to the emergency hospital. General veterinarians will see their own patients in these situations, too, but they usually recommend going to an emergency clinic. These facilities are more equipped to handle these types of patients. Not only do they have more specialized equipment, the veterinarians and staff are trained for these types of patients. These veterinary personnel may miss out on holidays and weekends to be available for pets. 
Dermatology, Ophthalmology, and Dentistry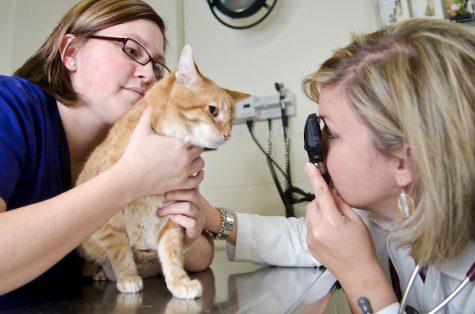 These specialists focus on a single organ system of the body. In Veterinary Dermatology, the specialist treats and diagnoses problems of the animal's skin. Ophthalmology deals with complex cases of the eye. The study of teeth is called dentistry. If a pet has a complicated problem with the teeth, the owner will be recommended to the dentist.
For a complete list of veterinary careers, go to avma.org
With these skills, one can work in a practice dealing with dogs and cats or can work in places such as the zoo, in the military, education programs, on livestock farms, or rehabilitation centers.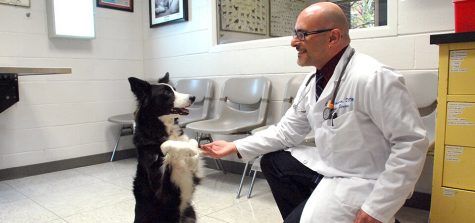 Going into the veterinary field is not just dogs and cats, it is all animals, and it goes beyond what one might initially picture.