The best Halloween movies, according to MMS staff and students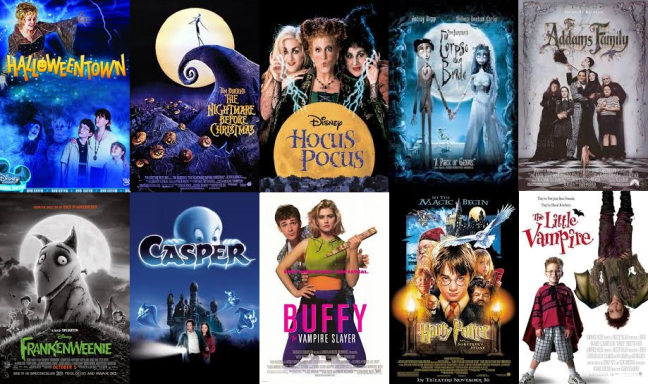 With the arrival of October, "Spooky Season" is here, and that means candy, costumes, and seemingly nonstop Halloween movies all month! 
After speaking to over fifty staff members and students about the best movies to watch on Halloween, the favorites are in:
1st Place
Halloween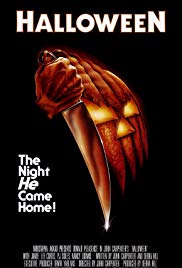 In the movie Halloween, a six-year-old Michael Myers kills his 17-year-old sister, Judith, on Halloween night, resulting in him serving 15 years in prison. Years later, on October 30, 1978, while being transferred for a court date, Myers steals a car and drives to Smith's Grove. He returns to his hometown in Haddonfield, Illinois, to look for more of his victims. The movie, directed by John Carpenter, came out on October 25, 1978 and starred Jamie Lee Curtis as Michael's sister, Laurie Strode. It grossed $47 million in the U.S, and $23 million internationally, which totaled $70 million, making it one of the most successful horror films of all time.   
It also spurred 8 sequels and a remake in 2007.  Altogether, the franchise has made $620 million.
2nd Place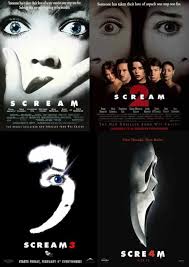 Scream
Inspired by the real-life case of the Gainesville Ripper, Scream is about a masked killer who stalks high school students, often first frightening them with creepy phone calls. The killer's main target is Sydney Prescott, whose mother had been murdered a year prior.  
The movie was released on December 20, 1996. It was directed by Wes Craven, famous for the The Nightmare on Elm Street (Freddy Kruger) films.  The movie grossed $173 million, making it the highest grossing "slasher" film of all time. It starred Neve Campbell as Sydney Prescott and Courtney Cox.  The film led to three sequels, each earning over $100 million. 
3rd Place
Hocus Pocus
After Max Dennison and his sister Dani move to Salem, Massachusetts, they explore an abandoned house with Max's classmate, Allison. The house belonged to the Sanderson sisters, a group of evil witches who plan to make themselves live forever. Getting help from a black cat, Thackery Binks, they have to steal the witches' spellbook before sunrise or the witches will become immortal.
The movie starred Bette Midler, Sarah Jessica Parker, and Kathy Najimy as the Sanderson witches. The movie was directed by Kenny Ortega who also directed the series of High School Musical movies. It made $39.5 million and is has a bit of a cult following. There were rumors of a sequel, and on October 24, Disney confirmed that a sequel is currently in production with many members of the original cast.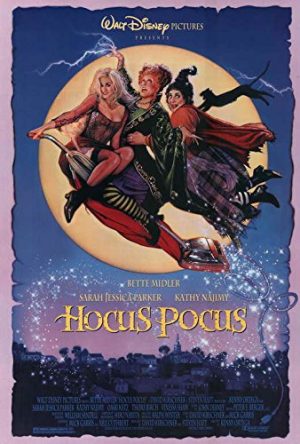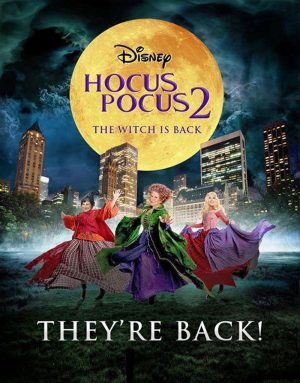 4th Place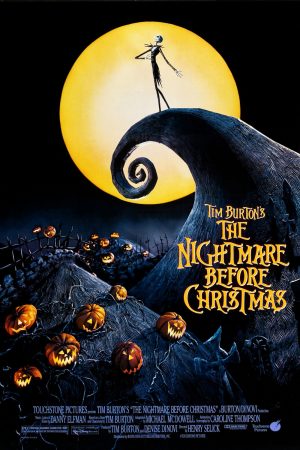 The Nightmare before Christmas
Is it a Halloween movie?  A Christmas movie?  Fans can debate that. This movie follows Jack Skellington, the beloved Pumpkin King of Halloweentown (different from the Halloweentown mentioned before), who becomes bored of the same old thing on Halloween. When he accidentally stumbles into Christmastown, he plans to kidnap "Sandy Claws" and take on his role. A humanoid ragdoll named Sally tries to tell Jack how things will go wrong if he goes along with the idea, but he ignores her, resulting in Christmas being ruined and Santa being taken to the Boogie Man, nicknamed "Oogie Boogie."
The movie starred the voices of Chris Sarandon as Jack Skellington, Danny Elfman as Jack's singing voice, Catherine O'Hara as Sally, Ken Page as Oogie Boogie, and Edward Ivory as Santa Claus. The second film on this list by creator Tim Burton, it was released on October 13, 1993, and it grossed $50 million. 
Honorable Mention
The Addams Family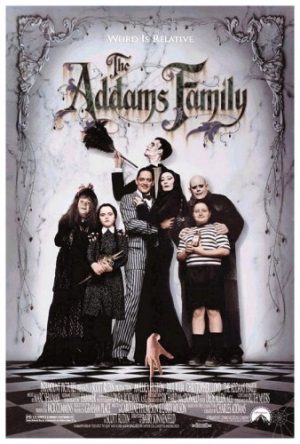 In the original version of The Addams Family, a man claims to be Fester Addams, the missing brother of Gomez Addams, who had been missing in the Bermuda Triangle. Though Gomez welcomes him lovingly and invites him to stay at his home, his wife, Morticia, and his daughter, Wednesday, don't buy it, since he doesn't remember anything from his childhood. After getting some help from a lawyer, Tully, he manages to get the Addams' out of their home for their money. It takes Gomez a while to realize that he had been swindled by the two men. He will have to challenge Fester, his mother, and Tully.
The Addams Family came out on November 22, 1991, directed by Barry Sonnenfield. It starred Angelica Hudson as Morticia Addams, Christina Ricci as Wednesday Addams, and Christopher Lloyd as "Uncle Fester." The movie grossed $133 million, and has even had a modern animated movie come out on October 11, 2019.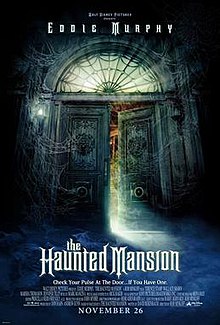 Haunted Mansion
Based off of the Disney World ride, Jim Evers, a real estate agent, takes his family on a vacation after being accused by his wife, Sara, that he neglects their children. Along the way, Jim is asked to sell off a scary-looking mansion, only to find it's haunted by Master Gracey, his butler, Ramsley, and two other servants who want the family's help to break a curse that surrounds the house. The movie had been released on November 26, 2003, and starred Eddie Murphy as Jim Evers.
Grossing $24 million, it was directed by Rob Minkoff, and is one of the oldest rides at Disney World, having opening on August 9, 1969.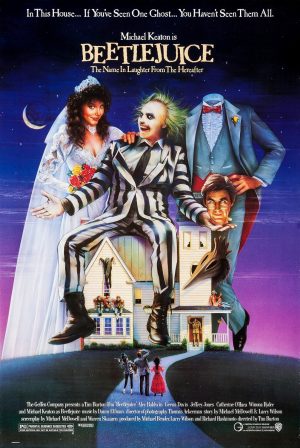 Beetlejuice
After a newlywed couple, Barbra and Adam Mainland, dies in a car accident, they find themselves stuck haunting their home, unable to leave. A few days later, the Deetzes and their daughter, Lydia, move into their home and change almost everything. Desperate to get them out, they call bio-exorcist Beetlejuice for help. 
Well-known actress Winona Ryder played the teenage daughter, Lydia and Michael Keaton starred as Beetlejuice. It was directed by Tim Burton. Released on March 30, 1988, it grossed over $73 million.  The franchise also came out with their own animated show and a musical now appearing on Broadway. It also featured music by Harry Belafonte, including the featured songs "Dayo (The Banana Song)" and "Shake Senora."
Halloweentown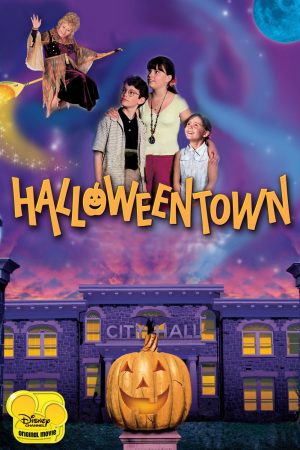 Marnie, a 13-year-old girl, her brother, Dylan, and their younger sister, Sophie, follow their grandmother, Aggie, to her home, Halloweentown, the only place where supernatural beings can live a "normal life." They then discover that Aggie is a witch, and that they come from a long line of witches. Not only does Marnie find out that she is a witch, she also finds out that her family is involved in a fight against evil (which isn't supposed to be named, as it would spoil the movie) that wants to take over the world. Along with her mother and Aggie, Marnie must fight off "the evil" before their lives are over.
The movie was premiered on Disney Channel on October 17, 1998, and was directed by Duwayne Dunham. Kimberly J. Brown starred as Marnie Piper, Joey Zimmerman as Dylan Piper, and Debbie Reynolds as Aggie Cromwell. Eventually, the franchise generated three more movies from 2001-2006. 
Monst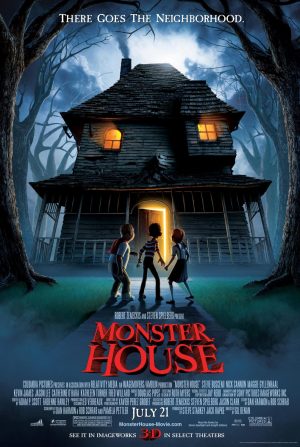 er House
With his parents gone, DJ and his friend Chowder start to suspect that something is wrong with the house across the street. After an accident with the man across the street, the two friends, along with a girl named Jenny, they try to fight off the monster they believe inhabits the house in order to save their neighborhood.
This animated film was released on July 21, 2006 and grossed $140.2 million, the highest of any movie on this list. It starred the voices of Michael Musso as DJ, Spencer Locke as Jenny, Sam Lerner as Chowder, and was directed by Gil Kenan.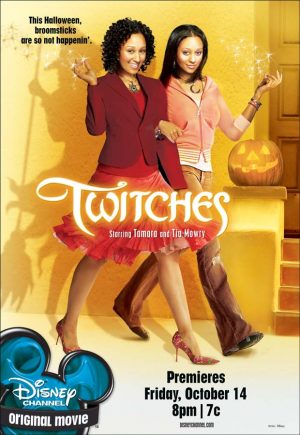 Twitches
Based off of the book series by H. B. Gilmour and Randy Reisfield, Twitches is about twin sisters Apollo and Artemis, named after the Olympian twins. They are adopted by two different families to protect them from an evil being and are renamed Camryn and Alexandra. Years later, on their 21st birthday, they twins are reunited and have to save their kingdom from "the forces of darkness."
The movie stars Tia and Tamera Mowry as Apollo and Artemis and was directed by Stuart Gillard. Made for the Disney Channel, it was never released in theaters. It was released on October 14, 2009, and had one sequel named Twitches Too. 
Did your favorite make the list?