Which one is better: Apple or Samsung?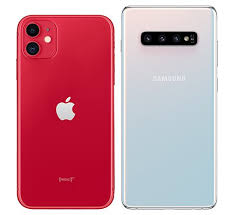 This year Apple and Samsung each released their newest model of phones.  What does each have to offer customers?
On September 20, 2019, Apple released the new iPhone 11 and the iPhone 11 Pro. According to Apple, the iPhone 11 Pro will feature their first triple-camera system with three lenses: Ultra Wide Camera, Wide Camera, and Telephoto.  The iPhone 11 comes with three storage capacities: 64GB, 128GB, 256GB. The Pro comes in  64GB, 256GB, and 512GB. 
The main difference between the new iPhones is their capabilities. The iPhone 11 comes with a dual camera, while the Pro has a  triple-camera system. Apple says its new camera has better night mode. When users take a picture in low light on the iPhone 11 it will take several pictures and will adjust them for the best shot. 
The water resistance on both phones is up to 2 meters for 30 minutes, which is an improvement from the last model. The colors provided are black, green, yellow, purple, white, and red, and the iPhone 11 has a glass back. The front and back are similar to the iPhone XR. Apple says it's made from the toughest glass ever in a smartphone.
Apple users also benefit from their IOS which has frequent updates to be  faster and more efficient.
According to www.tomsguide.com, the iPhone 11 the best phone for the money.  Prices start at $699 for 64GB for storage (or 29.12 per month).  Doubling the storage to 128GB raises the price to $748, and 256GB costs $849.  If customers  trade in their existing iPhones, the price can drop as low as $399. The Pro will cost buyers $1000. 
On March 8, 2019, Samsung released their newest phone, the Samsung Galaxy S10.  Pre-orders began in February. According to www.AndroidCentral.com, both S10 and S10+ have 128GB of storage and 8GB of RAM. All of the new Samsung S10 phones have SD slots so that users can expand more storage capacities to save more photos, movies, and songs to the device. Users can also pay to increase the storage.
MAny believe that the Samsung Galaxy S10 is one of the best phones to buy because of its fast performance, fingerprint sensor, improved cameras, and extra-long battery life.
The Galaxy S10 has a 6.1 inch display, and the Galaxy S10 plus has an 6.4 inch displa.  (The iPhone is smaller with a  5.8 inch display but weighs a few more grams.) Galaxy's screen also has a higher resolution for a clearer picture.
In terms of the camera, Samsung is similar. Both cameras are 12 megapixels, but Samsung allows users to switch between different apertures for a different look. The phones are also similar in terms of video. According to Business Insider, "Both phones can shoot 4K video up to 60 frames per second and slow-motion video in 1080p at up to 240 frames per second."
Samsung also offers a few unique features. One is an in-screen fingerprint reader. It also has a constant display that can show information like the time and battery life while the display is off.  Another feature allows users to charge accessories like wireless earbuds or a smartwatch by just sitting the back of the phone.
The two phones are comparable in features and close in cost with Samsung being around $100 cheaper.  For some, Apple offers more customization when it comes down to accessories, themes, and apps. For others, they like that the Samsung allows for more storage In the end, it likely comes down to preference and loyalty to iOS or Android.