Mr. Yasenosky, behind the scenes
Adam Yasenosky, commonly known as Mr. Yas to students and staff alike, is a social studies teacher turned digital communications educator, a life-long Cleveland Browns fan, a father, and a lover of music. 
Mr. Yas grew up in South Euclid, Ohio, and he went to St. Margaret Mary then moved to Highland Heights for his eighth grade year. He also attended St. Paschal's.  For high school he went to Notre-Dame Cathedral Latin.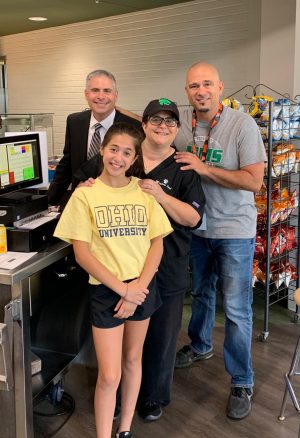 Mr. Yasenosky has two older siblings, one of whom works in Mayfield Food Services; her name is Jennifer.
Mr. Yas had many people impact his life. "Honestly every person you meet has an impact on your life…Every person you meet,shapes who you are." But he said his parents had the biggest influence on him.
As for his most influential teacher, it was Mrs. Lynch from St. Margaret Mary. "She had my siblings, so when I came through, she knew my family and our name, and she knew my parents. So she treated me with kindness because of her relationship with my parents." Mr. Yas says she was a strict teacher but was always silly with him, "Back then I had long hair, not like now, I'm bald. But I had long hair, and I used gel to slick it back, so she would come up to me and tapped her hand on my head to feel how hard and crunchy my hair was."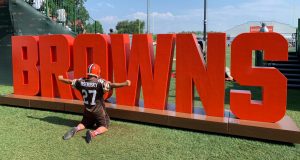 When he was younger, Mr. Yas was interested in mostly sports, and he still loves them now, but he also liked exploring. "When I was a younger kid, we used to take our bikes and go to Bexley Park, and they had these big sewer pipes, and me and my friend used to ride our bikes to the park, climb down the ravine and walk into the sewer pipes to see how far we could go before we were freaked out, and then run back," Mr. Yas reminisced.
After high school, he went to John Carroll University, where he earned a degree in business management. He worked at local Progressive Insurance, where he would sell insurance–mostly motorcycle insurance–for four years. But he wanted to do something more worthwhile. So he went back to John Carrol to get a degree in teaching.
Mr. Yasenosky taught Social Studies for 14 years, but when the opportunity came up to teach digital media and communications, he wanted to try something new. "At first I didn't want to, because I liked Social Studies and I'd been in it, at the time, for 14 years," he explained. "I felt comfortable in my own classroom, but when the opportunity came, I thought, 'I like technology, I've been teaching for a long time in a classroom setting. And this would be a good opportunity to learn something new and to try something different.' And I totally love it."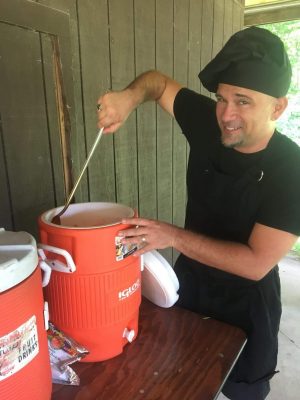 One of the things that Mr. Yas likes best about his new position is that he gets to teach multiple grade levels now.  "Throughout the day, I see kids I taught in the past and get to meet the sixth graders that are coming in. It just keeps me on my toes. There is a lot of excitement going on in this room," he beamed.
Mr. Yas says that for now he has pretty similar plans to past teacher, Mrs. D'Amico, who retired last year, but as he gets comfortable, he has some changes in mind for how to make it his own. "This year I'm learning the course and learning how to use Macs…but already I'm making changes."
One of the big changes will occur with the completion of the upstairs learning space, which will have a recording studio. "I get to go in the recording studio, I can do green screen, I could do audio, music…we could do podcasts, morning announcements, radio shows, TV shows…It's going to be crazy! I can't wait to do all that." 
Mr. Yasenosky believes that the courses that he is teaching are valuable.  He remarked that we are living in a digital world, so the skills being built in his course can potentially prepare students for further education or even careers.  "There are jobs that kids this age will have when they're ready to work that don't even exist yet, because technology changes, quickly." He also noted that with apps like Instagram, Snapchat and others, it is important that students learn how to use technology the right way. 
Mr. Yas says this class is a work in progress, but if he tries something he always tries again if it doesn't work or get the expected response. Most importantly, he says he has fun teaching these classes. "I have a blast everyday."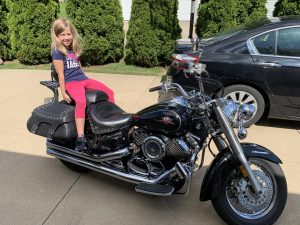 Outside of the school day, Mr. Yasenosky has other interests and passions. One is riding a motorcycle; he recently brought about a Yamaha V-Star 1100 Classic.
Mr. Yasenosky has been married for almost fifteen years now to his wife Carrie.  He has three children. "My son, Evan, he's a 7th grader. My son Jake, he's a 6th grader; and I have a daughter named Aliya, and she is in 3rd grade."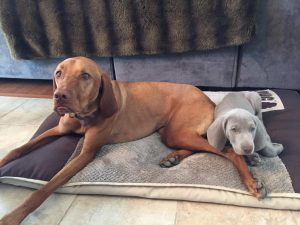 Mr. Yas also has two dogs, a Vizsla named Roxy and a Weimaraner named Willow. He also has a guinea pig named Jimmy and a bird named Phoenix.
Mr. Yasenosky is a lover of music–pretty much any genre or type. "When I was in high school, I loved 90's hip hop and rap," he said. "I used to wear a gold chain and like a basketball jersey, and I usually wore a hat sideways like a goof." He also went through a time where he enjoyed heavy metal. 
But nowadays you might find him making pasta on a Sunday whilst listening to Frank Sinatra and rooting for Cleveland sports.