IT Chapter 2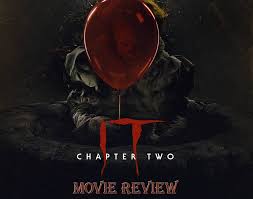 On September 6, It Chapter 2 came out, highly-anticipated after the first one was released in 2017. The films, based on Stephen King's 1985 novel by the same name, are about an evil entity that disguises itself as the fears of its victims.  The evil, called "IT" most often takes the form of a clown called Pennywise.  In the original movie, he terrorizes a group of young people in the town of Derry.
In the previous movie, IT was overpowered by the Losers' Club in 1989, forcing him into hibernation. This motivates the monster to begin to rebuild its strength and exact revenge against the Losers' Club once they return to Derry. 
The budget for the movie was $79 million. The box office earnings through the first three weeks was $215.8 million. 
In comparison, the budget for the original was less than half at just $35 million. The total box office earnings for that film in 2017 was $700.4 million. So the sequel has potential to earn consistently with its original.
It is rated "R" because it contains a lot of violent content and bloody images throughout, crude language, and some crude sexual material.  
The director of the movie is Andrés Muschietti. The actor playing Pennywise was Bill Skarsgård. Beverly Marsh was played by Jessica Chastain, and Richie Tozier was played by Bill Hader. 
On Rotten Tomatoes 63% of people recommended the film. Roger Ebert gave the movie a 2.5/4, and  the overall rating was a 7/10IMDb. 
Peter Beruge from Variety, called the movie "an elaborate fun-house horror movie that springs pop-up gimmicks and boogie-boogie scares steadily enough to excuse its been-there story and self-important 169-minute running time." He remarked that the movie "doesn't feature all that many killings — certainly fewer than one would expect."  He concluded, "It: Chapter Two is much longer than it needs to be, but it builds to something significant."
Johnny Oleksinski on from New York Post, says that It: Chapter Two "handily outdoes most of this year's major summer blockbusters."  He called it "an immensely satisfying, often thrilling adventure film." Oleksinski claims that the film was not very scary but was still entertaining. He said, "Speaking as somebody who's afraid of spoiled milk, I was not unnerved by anything other than Bill Skarsgård's still-freaky Pennywise the Clown. You get "Stranger Things"-style spooks here, and that's just fine."
Alan Zilberman of The Washington Post, says that the first It was such a commercial and critical success because it was "essentially a coming-of-age film with some scary bits thrown in."  But he thinks on the second one falls short.  He said, "Now that the characters are older, there are fewer lessons for them to learn, so "Chapter Two" regresses them into a childlike state."
Reviews vary, but fans of Stephen King and those who enjoyed the first installment two years ago are likely to enjoying seeing what happens next when the kids are forced to face their fears again as adults.