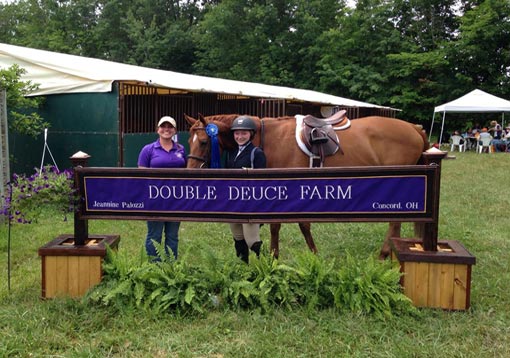 Jeannine Palozzi, owner and head trainer of Double Deuce Farms in Concord, works long hours to maintain her business.  She teaches both Hunt Seat and Western lessons and also coaches riders and teams–some of which have won championships.
Double Deuce Farm's website notes, "Whether you are learning from the very beginning, riding for pleasure, or competing in the show ring, the emphasis is always on good horsemanship."
Jeannine attended Ohio State and studied Equine Production and Management.  She then started her own business in 2004 and has worked hard to build a successful business and reputation.
"Our place has a fun, friendly atmosphere with lots of different ages," she told the News Herald.  "I think my love, passion and dedication that comes with this job shows through in my teaching."
Jeannine teaches all ages starting at four.  According to jeannine, " I think it's harder to teach beginners. They require a lot more attention and a lot more talking." Even though beginning riders are more challenging to teach, they are actually Jeannine's favorite.  
When Jeannine wanted to start her business she didn't know what to name her barn. Since her birthday is February 22 (2/22), and since the farm was opening in 2002, she landed on the name "Double Deuce."  She was planning on changing it during the later years of owning this farm but never committed to it and kept the name Double Deuce. 
Being a horse trainer alongside owning the whole barn is challenging, but somehow Jeannine gets it done. She explained that those who can ride horses can't necessarily also become a trainer; there is a learning process in order to know how to teach others. Jeannine said that while her education did help, of course, she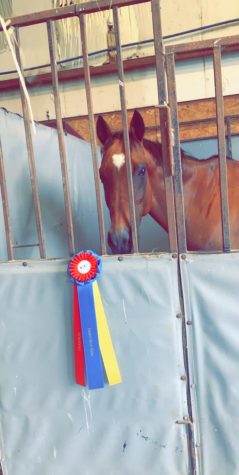 learned mostly by watching and experience. As she has become more experienced, her teaching methods have developed.
For those who may be interested in learning to ride, it is important to know that horseback riding isn't the easiest or cheapest sport. According to pledgesports.org, "The costs of training and maintaining a horse for the events in equestrian sports can be astronomical and include traveling to events and stabling the animal appropriately." The site explains it can exceed $200,000 a year.
For those who own their own horses, there are many associated costs.  Barn space, for example, can be very hard to rent.  And since space is limited and in demand, prices can be high.  Those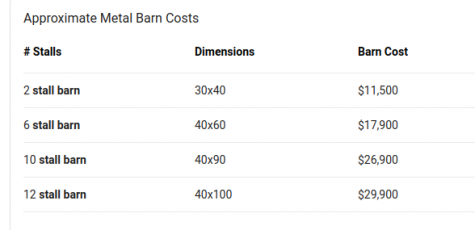 who do not wish to rent, can build their own barn.  This costs between ten and thirty thousand dollars depending on the size and number of stalls (see table).
In addition to shelter, there are also transportation costs.  Whether its to get to a veterinarian, a competition, or a trail, owners need to get their animals from point A to point B. A trailer is needed for this purpose.  A basic horse trailer cost 5,000 to 17,000 dollars.
And of course horses need food. A healthy 1,100 pound horse will most likely cost 100 to 250 dollars to feed per month.
The costs associated with maintaining a horse–whether the rider is the owner or not–makes this sport one of the most expensive.
Places like Double Deuce Farm allow riders to learn on "school horses" before they invest their own money in a horse of their own.  School horses are specially trained and can be matched with riders depending on their skill.  Double Deuce has an indoor training area, so lessons can continue year-round.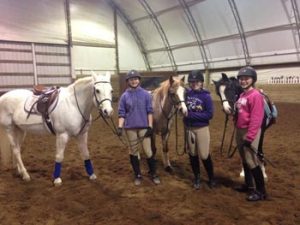 Private lessons start at $50 and there are also group lessons for less.  Jeannine also notes that new riders would need to buy boots, a helmet, and half chaps and breeches for English riding.
In addition to equipment, potential riders should be ready to put in the needed time to get better.
"You have to have to have some talent, yes, but to become a successful rider, just like any other sport, you have to really practice, and you have to be really dedicated," said Jeannine. 
Double Deuce Farm
(440)350-0747
[email protected]
11653 Girdled Road
Concord, OH 44077