SHAZAM shocks the box office
Overview
Shazam is a fictional hero from DC Comics and on April 5, the character got his own movie. It shattered expectations and made $158.6 million in its global opening.
The movie was well-received by critics and fans; Shazam got 91% on the Fresh Tomatoes and 89% in Audience Score.  Shazam is the seventh movie in the DCEU and is one of the most financially successful movies other than Wonder Woman and Aquaman, which made $821.8 million and $1.085 billion respectively.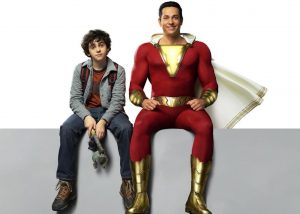 Overall Plot
SHAZAM the movie was about how Billy Batson, an orphaned child, is adopted by the Freemans and becomes close with Freddie Freeman. Billy meets a wizard named Shazam, who tells Billy to say his name; and he turns into a superhero. Billy as Shazam gets huge powers and tests them out, but then a villain shows himself and Shazam must stop him. Shazam has to also learn how to control the powers he has and make sure not to hurt innocent people.
Casting
Billy Batson was played by Asher Angel, and Zachary Levi plays Shazam the hero. Dr. Thaddeus Sivana was played by Mark Strong. Frederick "Freddie" Freeman was played by Jack Dylan Grazer. There are more supporting roles and other roles played by a multitude of actors. All roles and actors did great and the movie was a huge success.

Production info
The movie was directed by David F. Sandberg and produced by Peter Safran.  The music was produced by Benjamin Wallfisch. Shazam went into pre-production in 2008 and was filmed in Toronto and Hamilton, Ontario. Shazam's post-production was filled with a lot of big names like Michael Aller being the editor and Mike Wassel and Kelvin Mclwain as VFX editors. 

Ratings and Fan Reception
According to Cinemablend, in the US, Shazam made $25,140,000 on the first weekend and in total made $94,913,013. Shazam was pretty well-received getting an 89% Audience Score. According to Metacritic, Shazam got a 7.1 out of 10.  Sandie Angulo Chen from Common Sense Media says, "his refreshingly delightful, lighthearted entry in the DC Extended Universe has enough charm for the whole family thanks to standout performances, broad humor, and positive messages."   Chavi Pande from BookMyShow says, "Even though Shazam isn't one of the most well-known superheroes from the DC comics, his origin story has turned out to be the best DC film in years."  In contrast, David Edelstein from Vulture said, "Shazam feels blessedly old-fashioned, which isn't to say it's perfect—or even very good."
Final Thoughts
Shazam was a fun movie that everyone should check out, superhero fan or not. Shazam is not as serious or gripping as some other entries of the DCEU but it is a lighthearted film that maintains the adventure and creativity fans expect from DC.