Renovations to MMS to happen this summer
Beginning in early May and projected to finish at the end of the summer, MMS will be undergoing many renovations, including new learning spaces, new lockers, the addition of a greenhouse, and more.
The upper gym will be renovated into a large learning space, where kids will be designing and creating things. It will include flexible seating and specific rooms with TVs and monitors. The girls' locker room will become a virtual reality room, and the teacher work room will become a sound studio. There will also be an area where students can present with an interactive television as well as a designated quiet area where kids can get work done.
The media center will also become an area for presentations. The front end of the media center will look very similar for presentations, but the back end will be refurbished into an area where students can create, debate, and design things to present in the front. The furniture in the back will also be flexible and will include writable surfaces.
Some smaller renovations will occur as well. The auditorium will be redone. New flooring will be put in, as well as new lights, new paint, and a new sound system.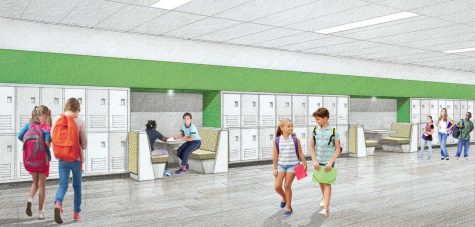 New lockers will also be put in. Rather than the whole locker, the lockers will be split in half, with one half on top and the other on the bottom. Half of the lockers will be removed, leaving extra space. This extra space will become benches and seating areas where students can work in the hallways.
The courtyard will also get a makeover, with new seating for outdoor lunches or learning spaces. Within the re-imagining of the courtyard will be one of the biggest additions to the school: the greenhouse. Located in the courtyard, it will be 900 sq ft and will house many different plants. Half of the greenhouse will grow vegetables such as tomatoes and lettuce. The other half will grow herbs such as basil, thyme, parsley, and garlic. It will also be used as a real life ecosystem for the science classes.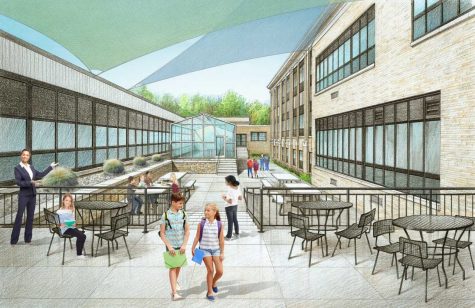 The produce grown in the greenhouse will be used in the new health and wellness class, taught by Mr. Reilly. He will be moved the previous consumer sciences room, and kids will cook the produce.
Including health and wellness, seven new courses will be offered. Project based learning and design thinking, world cultures and diversity, lifelong fitness and recreation, ceramics, and the STEAM circuit (which will include STEM, art, and digital media). A social-emotional learning and artificial intelligence class will also be offered to the sixth and seventh grade.
When asked if the renovations will be linked to the new course offerings, Mr. Destino said, "The point was, we have all these new learning spaces, so how could we create curriculum and classes that are supported by the learning spaces."