Mayfield wrestlers go to states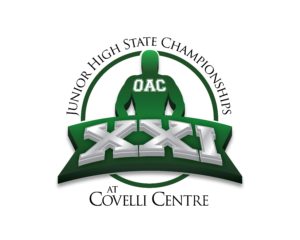 Six wrestlers from Mayfield Middle school went to the state tournament held in Youngstown, Ohio, at the Covelli Center during St. Patrick's weekend.  From the middle school's team, Anthony Santoro, Braden Beck, Sal Palmisano, Mason Arth, and Dwight Fritz attended, as did Vinnie D'Alessandro, who is from Burnett Wrestling Ohio-All-Star-Team.
The state competition is the highest tournament, where the best people in the weight classes come together and wrestle in hopes of being the number one person in their weight class. Just to get there, wrestlers had to qualify through tournaments at the district level.
Anthony Santoro placed 5th at states. He wrestled at the 118 weight class. Anthony went 7 and 2. He shared that his goals for the season were to place at States and Twinsburg. Santoro attributed his success to being "focused on his present match rather than the matches coming up."
Braden Beck placed in the top 12 and was 43 and 11 going into states. He wrestled at the 95 pound weight class. Beck said,  "It's more difficult than people think it is. If you're a qualifier you are considered good. If you placed, you're really good;  if you win, you're at the top, like the best." He was not happy with the results. He missed placing in the top three by just two points.
Sal Palmisano wrestled at the 86-pound weight class.  He went 2 and 2 in states and said he thought he "could have done better" at states.
Mason Arth from the 128-pound class went 0 and 2 st states and ended early on the first day. Still, Arth met his goal to get to states and place at Twinsburg.  He thought it was a great experience.  He described the tournament as "lots of people and fast paced."
Dwight Fritz placed in the top 12 at the 118 pound weight class. Dwight's goal this year was to place at districts, and he did not expect to make to states. He said that at states he was a little nervous and scared.  He was happy with his year and hopes to do even better next year.
Vinnie D'Alessandro, who is from Burnett All-Star Team, placed 5th at states at the 95 pound weight class. Vinnie went 7 and 2 in states. His goal throughout the season was to get increasingly better and to win the title. Even though he placed fifth, he stated that he wish he could have done better at States was not happy with the results. He explained that at the tournament, he tried to always be thinking about the next match and enjoying  the moment.