Actor Luke Perry dies unexpectedly of stroke at age 52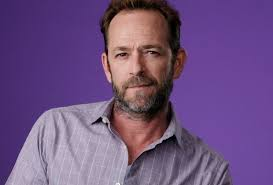 Luke Perry died from a stroke on Monday, March 4, 2019. He was an actor that starred in 'Beverly Hills 90210', 'Riverdale', 'Criminal Minds', 'Law & Order: Special Victims Unit', 'Will & Grace', and more.
According to NBC News, Perry was rushed to the hospital on Wednesday, February 27, after suffering a stroke at his home in Los Angeles. His daughter Sophie, his son Jack, his fiancee Wendy Madison Bauer, and his ex-wife Minnie Sharp accompanied him.
Perry was hospitalized the same day that Fox announced there would be a six-episode revival of "Beverly Hills 90210". Cast members Jason Priestley, Tori Spelling, Jennie Garth, Gabrielle Carteris, Brian Austin Green, and Ian Ziering would be returning.
A stroke is when a blood vessel that carries nutrients and oxygen to the brain is either blocked by a clot or it bursts. When this happens, a part of the brain can not get the oxygen and blood it needs, so it and brain cells die. The American Stroke Association says it is the No. 5 leading cause of death in the U.S. Strokes mostly happen to people over the age of 65. So, Perry was considered young to have a stroke.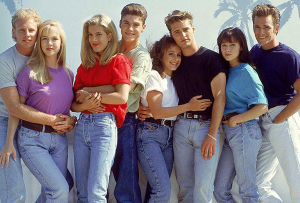 People all over the world are mourning Luke, from his fans to his friends and family to people he has worked with. Since he has been seen in many movies, people know him from different things. But most importantly, he is known for "Beverly Hills 90210".
Luke's career shot up when he was cast in the series. It became a huge hit and Perry was known as the bad-bay in the show. According to USA Today, he left the show to pursue his dream in acting in 1995. But then realized that he didn't enjoy anything as much as "90210".
Another more present TV series he is known for is "Riverdale," which is based off of the "Archie Comics." Perry played as Archie Andrews' dad, Fred. Cast members of "Riverdale" are recovering after hearing about his death says USA Today.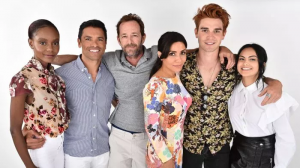 USA Today says that Cole Sprouse mentioned Perry's death on "The Late Late Show with James Corden" on Thursday, March 7, but wanted to keep his comments small for privacy of Luke's family.
KJ Apa, who plays Perry's son in the series, posted a picture of Luke with the caption, "Rest in Love bro" the same day Sprouse made his appearance on the late show.
The Variety says that "Riverdale" shut down production after hearing about Luke Perry's death. But on March sixth, they released an episode with a card that said his name and the years of his birth and death (1966-2019).
Luke Perry will be missed by many people. But he will never be forgotten by his fans, friends, or family.