Upcoming art show displays the work of Mayfield students
April 7 will mark the beginning of Mayfield's sixteenth annual art show with the theme "Art for Art's Sake."  The show will feature the best Mayfield student-made artwork at Hillcrest Hospital's main lobby.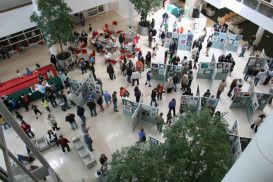 Over 800 pieces of art will be featured in this year's show, coming from art classes from all Mayfield schools. They are displayed in a free event at Hillcrest Hospital, and all are welcome to come any time until the art is taken down on April 22nd.
The event is sponsored by the Wildcat Community Foundation, an organization that supports and runs events by Mayfield City Schools. Art teachers from Mayfield City Schools run the event and are responsible for choosing the artwork to be displayed.
Mayfield Middle School art teacher Mrs. Vokic is in charge of selecting and displaying art from Mayfield Middle School. When asked why people should come to the art show, she said, "It showcases all of the art done throughout the entire district, from K-12, so they get to see all the art that's done through the curriculum, and you can get inspired by all of the great talent from students."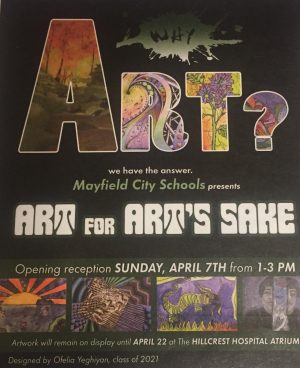 Mrs. Vokic also believes in the value of balancing arts within our community, saying, "I think it's important to see the balance between the different skills that all students have, so from STEM, to art, music, to sports…I think it's important to have a balance of all of those things."
One of many talented artists whose work will be on display, 7th grader Abby Nelson used oil pastels to create her piece, "A One Way Track," which depicts a train track (shown below). Abby says that her favorite part of art classes is "getting to use a lot of art materials that at your house, you probably wouldn't be able to have."
Sixth grader O'mara Hume, another student with work in the art show, says she likes art classes because of the freedom to make what she wants to.
Another student whose art was selected for the art show is 6th grader, Kya Foster, who created her zentangle piece depicting a giraffe.  She created this using her own patterns and designs. She says, "I like how you can show your creativity, and it's really fun. I like the freedom of not having any rules and just drawing whatever I want."
Many praise art's ability to spark creativity and conversation. According to The Artist, "Art is uniquely positioned to move people–inspiring us, inciting new questions and provoking curiosity, excitement and outrage."
In addition, Bebrainfit.com states that art can help relieve stress by putting one's mind in a meditative state, making a person feel relaxed and clear-minded. 
"Why Kids Love Art", Art in Action 1286