The history of McDonald's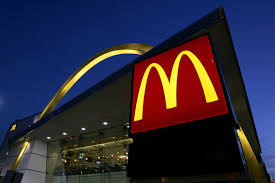 What do you think about when you hear McDonald's?  A Big Mac, chicken nuggets, an Egg McMuffin, or a Quarter Pounder? The fast food chain is seemingly present in nearly every town, so it's easy to forget about the roots of the chain.  In fact, there are more than 36,000 McDonald's restaurants around the world, spanning 101 different countries.  They serve 69 million people every day.  It's hard to imagine that all of this started 70 years ago with a single, small location.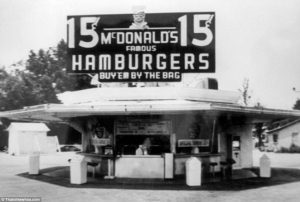 On April 15, 1948  two brothers, Maurice and Richard, McDonald decided to open a business. The two brothers made the decision to move to California, because they thought there was more opportunity there than in New England. They actually did a movie theater first but failed then tried again with a model for a restaurant that would let people get food quickly.  According to Britannica, they created "a simple, efficient format that permitted [them] to produce huge quantities of food at low prices."  Their hamburgers were only 15 cents each, about half of what other places were charging.  They had a self-service counter, one of the first, which eliminated the need for wait staff and saved money. They also made some of the food ahead of time and kept it warm under lamps. At the time, this was all new.
The brothers got the attention of a man named Ray Kroc. Kroc had joined  World War One Red Cross, but the war ended before he went overseas. So he came home and tried to make a  living as a musician. He ended up selling Multimixers–these were a milkshake making machine.  When the McDonald brothers put in an order for eight Multimixers, Ray Kroc was intrigued how one small restaurant could be selling so many milkshakes, so he went to visit them in San Berdadino, CA.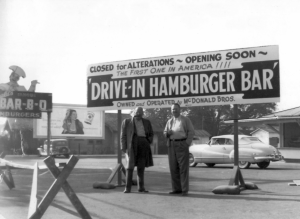 Kroc saw a lot of potential in the model that the brothers had created and became their franchise agent. The first Mcdonald's franchise was opened in Des Plaines, Illinois in April, 1955. When they opened that, they wanted to get people's attention by making the building red and white, tiled with golden arches. According to the McDonald's website, in their first day they made $366.12.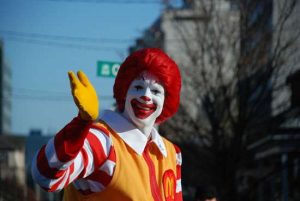 Ray Kroc bought out Maurice and Richard in 1961 and continued to expand the chain. He introduced the clown Ronald McDonald in 1963, and he was the face of the brand for a long time.  Other big milestones for McDonald's included the introduction of the Big Mac in 1963, the Egg McMuffin in 1973, Happy Meals in 1979, and McNuggets in '83.
Fast forwarding to 2019, on January 31, Moscow got its first McDonald's, and 30,000 customers rushed to try it.
Both McDonald brothers have passed, but they left their mark on the world with a model for fast food service and the glow of the golden arches.