Mayfield Middle School Science Olympiad places 8th at Northeastern Regionals
The Mayfield Middle School Science Olympiad team placed 8th at Mentor Regionals on Saturday, February 23. Those who placed include Ryan Nemeth, Grace Sheppard, Jackson Justus, Leah Stiffler, Gia Parker, Sydney Ference, Katie Leskovic, Logan Lograsso, Curtis Bates, Jenny Sakar, and Nassim Aidja.
After competing in several invitationals such as the Solon Invitational and the Mentor Invitational, regionals determined which schools would advance to states. Mayfield will not advance to the state competition. 
Seventh-grader Lauren Furnas says that Science Olympiad is beneficial to her in a way that she gets to "learn about science stuff."  Science Olympiad gives Lauren a way to socialize with her friends and expand her knowledge on what she loves, science.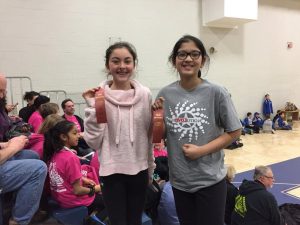 Lauren participated in two events, Roller Coaster and Write It Do It. Roller Coaster is an event in which the student creates a roller coaster prior to the competition, with multiple routes on the device. On the day of the competition, the participants will be given a time that the "ride" should end, and the students want to get it as close as possible to the target time.
In Write It Do It, there are two parts and one person for each part. The first part is that someone creates directions on how to draw or create an object that is shown to them. The second part is that the second person follows those directions in an effort to create something that is similar to the object shown. The person creating does not get to see what is to be created and is to only rely on the directions.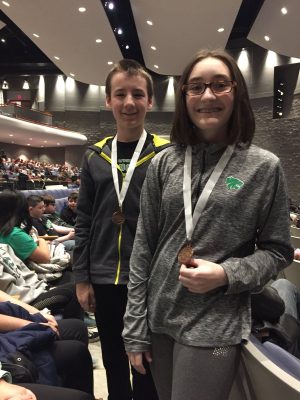 Ryan Nemeth and Grace Sheppard were the two most successful sixth graders on this year's Science Olympiad team. Ryan competes in Science Olympiad because he enjoys the tests and competing. He adds that he does it because he is good at it. Grace enjoys meeting new people and the energy of the tests.
Ryan competed in several events including Anatomy and Physiology, Fossils, Herpetology, Dynamic Planet, and Solar System, while Grace competed in Solar System, Dynamics Planet, and Meteorology.
In Anatomy and Physiology, students are allowed a front and back "cheat sheet" with information to use during the test, and this year's anatomical systems are cardiovascular, lymphatic, and excretory.
According to the Official Science Olympiad Rules Manual, in Fossils, "Teams use fossils to date and correlate rock units as well as demonstrate their knowledge of ancient life by completing tasks related to fossil identification and classification."  
In Herpetology, participants are tested on their knowledge about amphibians and reptiles and are allowed a two-inch binder with information for use during the test.
Dynamic Planet is a topic about the Earth and its geology, and this year's topic is glaciers. Students are tested on their knowledge of glaciers, glaciation, climate change.
Solar System tests participants about the Earth's moon and other bodies in space.
Finally, Meteorology is about meteorological principles and focuses a lot on images and graphs.
Logan Lograsso and Curtis Bates are two 8th grade boys that also competed at Regionals on Saturday. They competed in Thermodynamics together, in which they got 6th place out of 20 teams.  The two learned a lot from the club, including the effects of procrastination and how to build a roller coaster two days prior to the competition.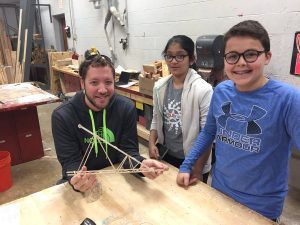 Mr. Mittinger, math teacher on Team Revolution, coached a building event for the second year. A building event is an event in which individuals build an object prior to the competition. He coached Boomilever, in which participants will construct a structure made out of wood and add sand into a bucket attached to the end of the structure to see how much weight the structure can withstand. The catch is to keep the structure light: if the structure weighs too much, then the participants will not get as many points as if they were to construct a structure that weighs less and also holds a lot of weight.
Mrs. D'Amico, Film and Video Production teacher, decided to coach Science Olympiad this year because she believes that students should be given the opportunity to compete in science just as students are given an opportunity to compete in sports. "The happiness the students feel when they win at a competition always makes me feel good," she saidf.  "I also enjoy seeing strong friendships form as the students study and compete together. These friendships are so important, especially during these challenging middle school years. The students belong to a team and that is very special."
This was one of Mayfield Middle School's most successful years for Science Olympiad, leaving coaches as well as returning sixth and seventh graders hopeful for future years.