The dig on Destino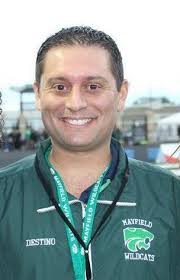 When you're a principal, everyone always asks, "Where's Mr. Destino?," but have we ever stopped to ask, "Who is Mr. Destino?" Well, ponder no more, because with teacher interviews and an exclusive interview with Mr. Destino, we will find out who he really is.  
Paul Destino has a life outside of MMS.  He and his wife Natalie have two sons, Dominic, 9, and Anthony, 6.  He also has one sister. He likes 80's alternative music and Italian food, his favorite being pizza. He enjoys keeping up with Cleveland sports' teams as well ones in Buffalo, New York. And when school's not in session, he likes to travel with his family.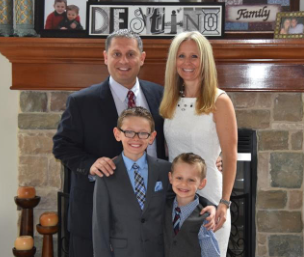 He loves his job as principal of Mayfield Middle School, saying, "My favorite part is getting to interact with kids on a daily basis, and getting to know my staff." But, he says that the most challenging part of being a principal is seeing kids struggle.
Mr. Destino explained, "I think the most important part of my job is creating a culture that is child-centered and a climate where staff are empowered to make decisions." 
When asked to describe Mr. Destino, sixth-grade social studies teacher Mr. Yasenosky stated, "He is fair and always puts students first."
Growing up in Lewiston, New York, Mr. Destino. He was involved in many extracurriculars, including playing soccer and serving as the vice president of his class.
Mr. Destino then went to John Carroll University, where he received an undergraduate degree in education and a graduate degree in administration.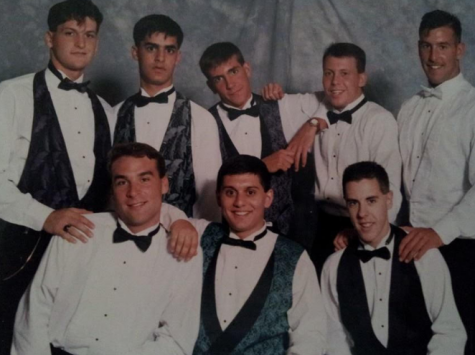 After that, he taught social studies at Cleveland Heights for four years and was Vice Principal there for five years. Although he loved teaching, he says that got into teaching to be an administrator.
Mr. Destino has been principal of Mayfield Middle School for nine years now. He says that his favorite parts of Mayfield are the community support, the families, the kids, and the school pride.
When asked to describe the most important part of his job, Mr. Destino said, "I think we have to give kids learning experiences that are relevant in real life, and we also have to create an atmosphere or a climate where every kid is accepted."
Eighth-grade Hele student Patrick Gerome would describe the MMS principal as "epic." This opinion is shared by 8th grade student Rocco Dipetro, who went on to say, "I like Mr. Destino".
Mrs. Borden, guidance counselor at MMS, would describe Mr. Destino as "an amazing leader that puts kids first. He is really passionate about what he does." Guidance counselor Mrs. Wright said, "He is very passionate; if he puts his mind to something he is going to do it, 1000%. He has a really great way of motivating people."
Eighth grader Albana Selgjekaj would describe Mr. Destino as "a good principal who knows how to keep the school intact and running smoothly." In addition, student Dominic Prince said, "I think he's a good principal because he has good rules."
John Koscho of the seventh-grade Warrior team says, "I like the way he does things; he always has everything in order."
Physical education teacher Mr. Shields  described Mr. Destino as "energetic, funny, caring, and short."
Mr. Face would describe him as "a leader who who truly cares about students and supports teachers in the building. He wants to make this school the best it can possibly be."
Mrs. Fasola, eighth-grade language arts teacher, would describe him as "Passionate about what he does." She added that he puts kids first and is "genuine."
When asked how he felt about Mr. Destino, eighth-grade Hele student Myles Castleberry said, "I think he's a good principal especially because of what he did for us last year when the Chicago trip money was taken. He got the community together to get the money so we could go."  In addition, eighth grader  Taniya Ransom would describe Mr. Destino as "really nice," and student Jimmera McCoy-Johnson says, "I think he's a really good principal."
As Mr. Destino says, "It's more than me just being the principal now. I've gotten to know so many of these staff members."  He says the highlight of his job is "just coming to this school and knowing that the community supports us."