Cleveland's 3rd annual Women's March takes place amidst snowstorm
January 19, an estimated 750 people marched amidst a snowstorm from Cleveland Public Square to Ontario Square for the 3rd Annual Women's March. The purpose was to advocate for for voting rights, disability rights, environmental justice, the equal rights act, universal healthcare, LGBTQ+ rights, immigrant rights, economic justice, and workers' rights for women and minorities.
The first national women's march was to protest the inauguration of President Donald Trump, and millions of women around the country marched. This year is a continuation of what was started in 2017. According to Women's March.com, "The 2019 Women's March marks two years of resistance to the Trump presidency, two years of training new activists, and two years of building power."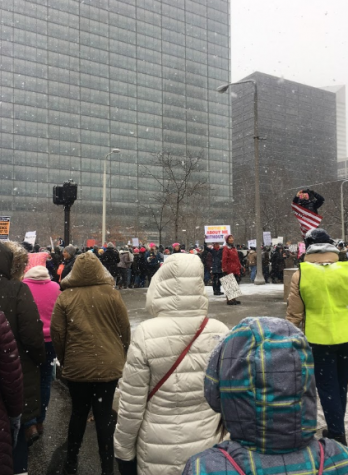 According to Cleveland.com, the attendance of the 2017 event was around 15,000. This year though, it was near 1,000, most likely due to the weather conditions. As stated by News 5, the temperature during the march was in the high 20's and low 30's, in addition to a forecast of up to 8 inches of snow.
People began to arrive around 10:30 at Cleveland Public Square. At 11, the rally began. Guest speakers included Mayor Frank Jackson, Speakers from the National Congress of Black Women, State Representative Odetta Grant, and many more. 
Ohio Senator Nikki Antonio, the first openly LGBT women to serve in the Ohio General Assembly, spoke at the march, saying, "We get strength from each other. We get energy from each other. We get out there and we tell the world that we will not go back… The only way for the women in this state, in this country is forward, and we do that with equality and equal rights."
Cleveland Mayor Frank Jackson also spoke at the rally, saying,  "There has to be the ability to overcome those differences in order for the one movement to succeed."
At 11:00, the march began. Hundreds of women marched in below freezing weather. Many carried signs featuring statements like "Girl Power," "Shut down Trump, not the government" and "Together we fight for all." Many wore pink cat ears hats as a statement of unity. Phrases like "No justice, no peace" and "What do we want? Equal rights!" were chanted by the marchers.
One of the many people in attendance at the rally, eighth-grade Mayfield Middle School student Katie Cohen said,  "Being at the march meant that I could represent women and counter injustices that people are facing everywhere, because there is too much sexism, racism, homophobia, and xenophobia in the world."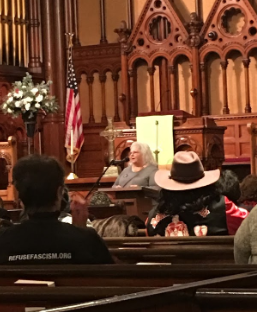 The event ended at Oldstone Church, where keynote speaker Susan Bro, the mother of a slain civil rights activist, spoke of equal rights for minorities.
The event spurred hope for the women's rights movement, highlighted the agenda of women in government, and raised awareness of both the problems and successes of women this year. As Cleveland councilwoman Phyllis Cleveland said at the rally, "It's all about making sure as women that our voices are heard. That our presence is felt. That our bodies are seen and respected. That our futures are bright and as wide open as anyone else's."
*Note from the Wildcat Voice adviser: Author, Hannah Kloppman, attended the event to do live research and coverage.  Rather than gathering information from online sources, she did the work of a true journalist and experienced the march firsthand.