The Cleveland Browns names new head coach, Freddie Kitchens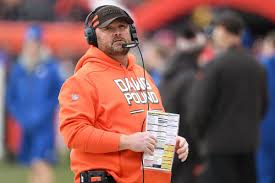 On January 9,  the Cleveland Browns promoted Freddie Kitchens from offensive coordinator to head coach–making him the Browns' 17th head coach in franchise history.
Kitchens was named interim offensive coordinator at end of October after Hue Jackson and Todd Haley were fired.  After he moved into that position the Browns' went 5-3.  Quarterback Baker Mayfield started performing–racking up 19 touchdowns and earning a 106.2 passer rating.  Adam Stites from SBNation states,  "The Browns' turnaround was enough to vault Kitchens into an unlikely head coaching candidate."
Freddie Kitchens was a starting quarterback for Alabama then went on to coach the team. His next position was with the Arizona Cardinals, where he coached running backs. The Browns brought him on as the same position; then with the firing of the former head coach, he was promoted to offensive coordinator. Overall, he has 13 years of NFL coaching experience. This will be his first head coaching job.
Many Browns fans are in favor of the hire.  Kitchens reportedly has a good relationship with the team. Lifetime Cleveland fan, Mr. Race, a seventh-grade science teacher, said he is  "very excited" about the hire.  "He's got a good relationship with the front office and Baker Mayfield," Race added. 
Another fan, seventh grade intervention specialist Mr. Capadona stated, "I like that he comes from a football background, and I like the fact he was a quarterback at Alabama… it's going to be interesting season."
The Browns General Manager John Dorsey said of Kitchens,  "he moved the bar on the offensive side of the ball."
Kitchens made several changes to the coaching staff. He hired Steve Wilks as the Defensive Coordinator and Todd Monken as his Offensive Coordinator, though Kitchens said he will still call many of the offensive plays.
Some fans were surprised that Greg Williams was not kept on as Defensive Coordinator given the defense's fairly solid performance in the 2018 season.  Mr. Capadona speculated, "He was part of Hue Jackson's staff; he probably did not want anybody from Hue Jackson staff ."  
With Baker Mayfield, who put up record rookie QB stats, and a new coach, Browns fans are hopeful for next season. Mayfield told Mad Dog Sports Radio, "I believe in him…We had something special and I want to build on it."