Children of Blood and Bone ranks as one of the most-liked YA novels
The first book of the Legacy of Orïsha called Children of Blood and Bone by Tomi Adeyemi was released on March 6 of 2018 by Henry Holt. It remains 9th on The New York Times Bestsellers list.
The fantasy book that takes place in a kingdom called Orïsha where there used to be magic, but when the magic mysteriously disappeared, the king captured and killed thousands of maji. Royals dislike maji because they used to be maji themselves but had their magic taken away when they gave into their greed.  Maji are magical people, and after the magic disappeared, if they are free, there are high taxes imposed on them.
The book shifts perspectives among three different characters narrating the chapters.  Zélie, Adebola's mother, was a maji and was killed in the raid, and she now trains with Mama Agba to protect herself.  In another side, Amari, the princess runs away after seeing her best friend killed by her father–taking an artifact of the maji with her.  She runs into Zélie, who is selling fish with her brother, Tzain. They run away with Amari but are followed by her brother Inan who does not have the same feelings about the maji as his sister.
He does not  want the maji to be free and  thinks that they are all bad people because his father's family was attacked by the maji.  After tracking them to a village and burning it down, he starts to have symptoms of being a maji.
They eventually find each other and team after trying to fight each other.  They start to work together to try to bring magic back before it disappears forever.  Traveling across her country while being pursued by the king, she races against time to bring magic back to a desperate country.
The book draws readers in by the first page.  The plot has so many twists and turns that it simply cannot be put it down the last page has been reached.
The book has also won many awards and honors, including peaking at number one on The New York Times bestsellers list.  The book has since then moved down to the ninth place. The author has also been called the new J.K. Rowling.  Adeyemi says these comparisons are stressful but she thinks the impact is important because the impact of  Harry Potter has been quite large; she wants the themes in her book to have that same impact on people.
This book does have scenes of violence in some parts and does have some deaths, but these scenes are turning points in the books.  This book would be appropriate for young adult readers who are not completely turned off by violence.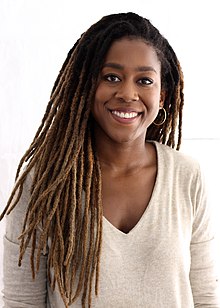 The author Tomi Adeyemi is a Harvard graduate with an honors degree in English literature.  She is a Nigerian American writer and has studied West African mythology, religion, and culture in Salvador, Brazil.  She also is a creative writing coach.
Children of Blood and Bone is the first book in a West African Young Adult series with Children of Vice and Virtue being the second book coming out this year.  The book starts out where the first book left off. There were consequences for the magic, and the second book explores the problem that would occur if the magic were to come back.  The third book is untitled and will come out in 2020.
Children of Blood and Bone is also going to be turned into a movie.  The movie is in development with Fox 2000/Temple Hill Productions. The producers are Karen Rosenfelt  and Wyrk Godfrey. The movie has not yet been cast.