2nd annual staff cookie contest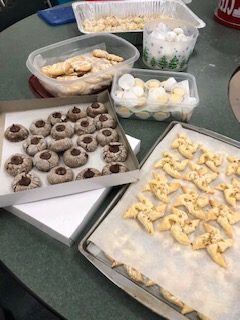 The Wildcat Voice hosted its second annual staff cookie contest on December 13, with seven cookies submitted to be judged by students and staff. The twenty-six tasters, comprised of eleven students and fifteen adults, rated the cookies on appearance, texture, and taste. The winner was Mrs. DeBaltzo with her ricotta cheese cookies.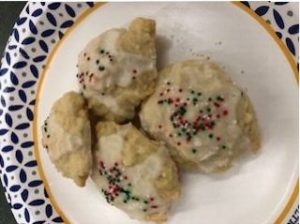 The ricotta cheese cookies features a soft base with a light icing and colorful sprinkles. One taster exclaimed, "So fluffy! Great taste. Not too sweet, not too bitter. Great combo!" Nine out of the twenty-six judges chose this cookie as their favorite, and four more people chose it as their second favorite.  One common comment about the cookie was that it was very light and moist. Mrs. Saunders proclaimed, "These cookies are incredibly soft, and just the right amount of sweet. If I had a whole plate of these I could see myself eating one after another, after another."  A recipe for these cookies can be found at the end of this article. 
In a close second place were Mr. Paydo's Hot Cocoa Crinkle Cookies. Although they had a higher average rating than the ricotta cheese cookies in all three categories, more people chose the ricotta cookies as their favorite. Hot cocoa had seven favorite votes and eight second-place votes. Statistically, 58% of tasters chose this in their top two.  They are a moist chocolate cookies with a hot cocoa Hershey kiss. This cookie earned the highest taste average with an average of 4.22. Mr. Mittinger said, "really captures the flavor of hot cocoa. Definitely an advanced cookie." Another judge, Mrs. Saunders said, "The body of the cookie had a subtle chocolate flavor just like hot cocoa. The kiss on the top made it a bit too sweet for me personally, but I'm sure many would love the chocolatey addition of the special Hershey's kiss.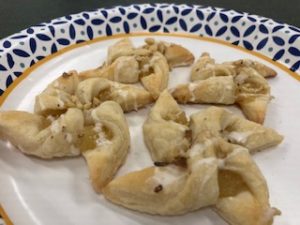 In third place were Mrs.Bakeman's pineapple star cookies.  Mrs. Bakeman won the 2017 contest with her Berry Shortbread Dream cookies.  The defending champion earned four first-place votes and six second-place votes with this year's cookie. These attractive cookies featured a cream cheese dough, pineapple filling, and nut topping.  The pineapple stars paced first in appearance with an average rating of a 4.65 out of five.  One student, Marissa Mauceri, stated, "The pineapple was very tasty. The dough was very soft and it was very pretty."  Another judge, Mr. Catullo states, "Soft and delicious! Really flavorful and easy to eat!
*The remaining cookies are presented in alphabetical order by baker.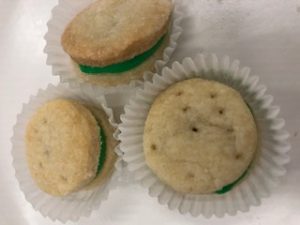 The cream wafers, made by Mrs. Leonard, earned one first place vote and two second place votes.  The wafer is a sandwich cookie with a puffy outside and a cream filling. The outside of the cookie was very crumbly and was complemented by the cream in the middle.  One judge, remarked, "They fall apart in you mouth with their light, buttery goodness. Excellent combination of filling and sandwich cookie." Another judge, Mrs. Farmer, complimented, "Light and airy with a nice bite of sweetness."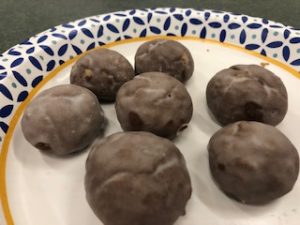 Miss Martorello made traditional Italian cookies called Dodos. These ball-shaped cookies feature cocoa and spice. This cookie had three first-place votes and one second place vote. Student Marissa Mauceri stated, "It tastes like Christmas to me. It tastes very spicy, and I love the icing on top." Another judge, Connie Carlone said, "Very good. Nice texture and flavorful."  This cookie was also the favorite of Principal Destino, who said it reminded him of Christmas as a kid. To many people, the spicy flavor of the cookie was unexpected.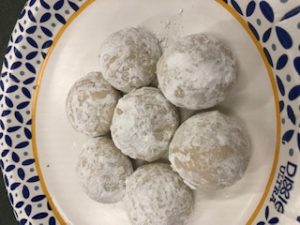 Mrs. Shaffer made Russian Tea Cakes. These round cookies featured a nutty dough and a heavy coating of powdered sugar. The cookies earned three second place votes.  While many people enjoyed them stating, "This is such a classic cookie" or "light, nutty flavor," some people misunderstood the purpose of the cookie. One taster stated, "Doesn't taste like tea that much." The Russian Tea Cakes are meant to be eaten with tea, and are not meant to taste like tea (nor Russia!)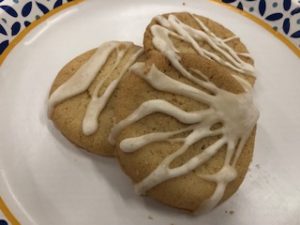 Markedly Maple Sweeties, made by Mrs. Vouk, resembled a sugar cookie but were made with maple syrup and drizzled with maple icing.  They got two first place votes and two second place votes. They were very sweet and thin. Mrs. Satink approved: "I enjoyed how it was a little chewy in the middle, but light and crunchy on the outside."  Mr. Sheppard declared, "Delicious!! My favorite of all the cookies."
The Wildcat Voice staff extends their thanks to all staff who baked for the competition.  It was delicious holiday fun for all of the tasters.  Congratulations to Mrs. DeBaltzo, who wins the title of 2018 Best Cookie and a Giant Eagle gift card. 
Here is a recipe for Ricotta Cheese Cookies from cookingclassy.com.
Ingredients
3 1/2

 

cups

 

(495g) all-purpose flour*

2

 

tsp

 

baking soda

3/4

 

tsp

 

salt

1

 

cup

 

(8 oz) unsalted butter, softened

1 3/4

 

cups

 

(370g) granulated sugar

1

 

tsp

 

lemon zest

15

 

oz

 

ricotta

 

, whole milk or fresh (1 3/4 cups)

1

 

Tbsp

 

vanilla extract

2

 

large eggs
Glaze
1

 

Tbsp

 

butter

 

(salted or unsalted), melted

3 3/4

 

cups

 

(460g) powdered sugar

2

 

Tbsp

 

fresh lemon juice**

1

 

tsp

 

vanilla extract

4 – 6

 

Tbsp

 

milk
Instructions
For the cookies:
In a mixing bowl whisk together flour, baking soda and salt for 20 seconds, set aside.

In the bowl of an electric stand mixer fitted with the paddle attachment whip together butter, granulated sugar and lemon zest until pale and fluffy (scrape down sides and bottom of bowl occasionally throughout entire mixing process).

Mix in ricotta and vanilla extract then blend in eggs one at a time. Set mixer on low speed and slowly add in flour mixture and mix until combined. Cover bowl with plastic wrap and chill 2 hours or up to 2 days. Preheat oven to 350 degrees during last 20 minutes of dough chilling.

Scoop chilled dough out 1 Tbsp at a time and shape into balls (if it's too sticky just drop onto sheet using two spoons), drop onto a baking sheet lined with parchment paper or a silicone baking mat (I don't recommend using dark non-stick pans for this recipe since the bottoms will already become pretty golden. Dark pans brown more than uncoated pans do).

Bake in preheated oven 12 – 14 minutes until underside of cookies are golden. Cool on baking sheet several minutes then transfer to a wire rack to cool completely.

Once cool dip tops of cookies in glaze and return to wire rack, immediately add sprinkles if using. Allow glaze to set at room temperature. Store in an airtight container in a single layer.
For the glaze:
In a mixing bowl whisk together powdered sugar, melted butter, lemon juice or almond extract, vanilla and 4 Tbsp milk until smooth, adding in more milk 1 tsp at a time to thin as needed (you don't want it to be very thin, it should be quite a bit thicker than a doughnut glaze).