How Dear Evan Hansen Connects To Teen Audiences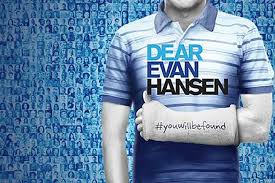 Have you ever felt alone? Have you ever felt like you don't matter and no one cares? Do you feel like you're not mentally okay? These are only a few topics that the Broadway musical Dear Evan Hansen tackles.
Dear Evan Hansen is the story of a high school senior who has social anxiety. Evan, after the death of classmate Connor Murphy, lies to the Murphy family about a fabricated friendship between him and Connor. This lie leads to him starting 'The Connor Project." The show focuses on how Evan's lie grows and comes to a climax as Evan admits his lie to the Murphy's.
There are three characters in the show that many teens say they relate to the most.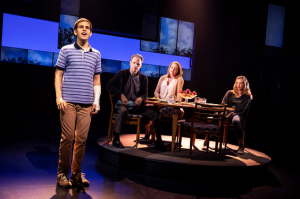 Evan Hansen is the title character of the show. He struggles with severe social anxiety. He has had a long time crush on Zoe Murphy. Evan feels like an outsider in the midst of his peers. He has to write letters to himself to let himself know that the day is going to be good. When Evan writes a letter to himself, Connor Murphy finds it and becomes angry because it mentions Zoe, his sister. After Connor dies, Evan feels like it's right to tell the Murphy's that he and Connor had been friends. But this leads to more lies, and Evan eventually starts The Connor Project to raise money for the Murphy's beloved orchard. After Evan admits his lie, a year goes by and he reflects on the previous year–telling himself how he doesn't need to pretend and that being himself is enough.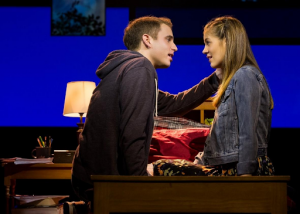 Zoe Murphy is a high school junior and Evan's longtime crush. She and her brother Connor have a terrible relationship. She mentions how Connor used to punch on her door and scream that he was going to kill her. After Connor dies, Zoe doesn't care. It even seems like she is happy he's gone. She doesn't believe Evan when he says that Connor was a good person. She refuses to mourn him, as he was horrible to her. Evan tells  Zoe that Connor really loved her, Zoe starts to believe him. When Evan starts the Connor Project, she is taken aback by the impact her brother has made. Overcome with emotion over her brother, Zoe begins a relationship with Evan. But later, she tells him that she doesn't want their relationship to be about her brother. When Evan admits he was lying, Zoe is heartbroken. She eventually forgives Evan and talks to him a year later.
Connor Murphy is whom the show mainly focuses on. He often did drugs. After he commits suicide, his family finally realizes that he felt alone, unloved, and unwanted. We don't learn much about his character, but he ends up becoming Evan's conscience for the rest of the show.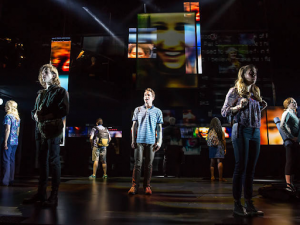 Dear Evan Hansen mainly focuses on mental health. It tackles many topics like suicide, depression, anxiety, and more. Some teens say that after seeing this show, they talked to their parents about their own mental health and depression.
The plot of the show was based off of an actual high school experience of the writer and creator, Benj Pasek. This is the same Pasek of 'Pasek and Paul,' who wrote The Greatest Showman and La La Land. When Benj was in high school, a classmate committed suicide, and it seemed like the whole school was trying to put themselves in that person's life. It seemed everyone was saying that they had some kind of relationship with the classmate.
The show pretty much focuses on the idea that being yourself is the best thing you can be and that you don't have to lie to get others to like you.
Dear Evan Hansen will be coming to Cleveland June 11 to 30, 2019, at the Connor Palace. Ticket prices range from $25.00-$110.00.
You will be found.